Whether you are a keen cook or you simply want absolute precision when preparing food in your kitchen at home, you would certainly want to have the best food scale. There is a huge variety of options to choose from as most reputable appliance brands offer at least one model.
Here you will find a selection of the best food scales which you can buy right now plus advice on how to make the ideal choice for you. All presented models are reviewed objectively to give you perfect confidence when taking a decision.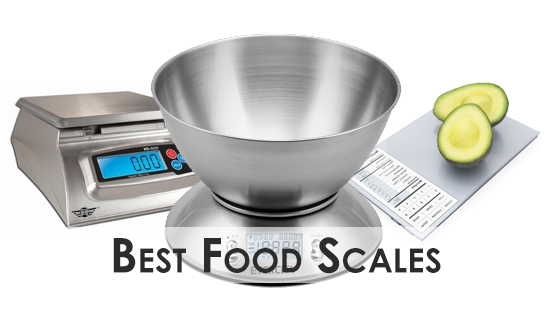 Before you take a closer look at the best food scales for your kitchen divided into categories, you should know that there are two main types at present – mechanical and digital. The mechanical ones are more rarely used nowadays because the digital models are more compact and usually more accurate.
While the features of a scale are always extremely important, you should always evaluate the different options based on your individual needs. If you bake often, you would want to get a device which has a large surface for weighing large amounts of flour and dough.
Top Food Scales in 2019
This is what the best kitchen scale for baking bread should offer. Now that you have a clear idea of how to make the right choice, let's proceed to the top options.
Best Portable Food Scale: Overall
What are the requirements which the winner in this category must meet? The best portable food scale should operate using battery. Without cable, you can take the device anywhere you need it – to the kitchen island or even to the dining table.
Perfect portability requires a small size and a small weight too. The more compact and lightweight a kitchen scale is, the easier it is to carry around. Ideally, you'll be able to slip it in the pocket of your kitchen apron so that it's always at hand, even if you need to take it outside for preparing delicious BBQ.
Besides, the compact the device could be the best kitchen scale for coffee, tea, herbs and spices which are generally used in very small amounts.
The best portable food scale is durable and easy to clean in addition to being convenient to move around. Remember that you should not compromise on functionality, reliability and strength for the sake of portability. It's now time to check out the winner in this category. You can be certain that it will meet the requirements mentioned here.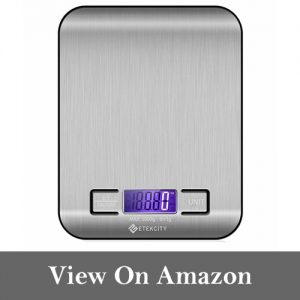 Buy from Amazon.com
Before you read the evaluation of the product itself, you should know that Etekcity is a brand specializing in the production of scales so you can expect precision and high quality from their products in general.
This digital food kitchen scale, in particular, uses 2 AAA batteries to work so you can take it freely anywhere you want. It measures 5.5 by 7.1 by 0.6 inches so it will easily fit in the palm of your hand. It has 11-pound capacity which is impressive for its size. Let's take a look at the main features now:
Features:
Stainless steel platform – It's hygienic and easy to clean. You shouldn't worry about fingertip marks.
4 sensors with high precision – They guarantee the accuracy of the Etekcity digital kitchen scale which uses 0.01-ounce division.
Tare function – It's extremely useful as it lets you reset the scale to zero when you place a container and measure just the content which you put in.
Unit conversion – This is more than helpful when you're using a recipe from a foreign cuisine.
Volume measurement – You can easily weigh liquids.
Backlit display – It is clear and the digits are quite large.
Low battery indicator – Another practical feature showing this could be the best portable food scale for you.
Pros
Compact and light
Perfectly accurate
Advanced functions
Strong and durable
Easy to clean and to maintain
Cons
The backlight of the display turns off after 10 seconds for saving battery
May not weight well the most lightweight of items (below 0.1 ounces)
You must ensure the battery cover fits snugly
Direct light may make the display somewhat challenging to read
Beautiful Kitchen Scale by Ozeri
Over the past few years, digital products have become increasingly used because of their advanced features and the fact that they are getting ever more affordable for the average person. Ozeri is a brand specialized in the manufacturing of digital devices for home and individual use.
It is best known for its sleek designs and for the integration of features which are not commonly found. The kitchen scale by Ozeri that you will learn more about in a few moments is a genuine example of the philosophy of the brand.
This particular model not only looks amazing, but can measure the calories of some of the most widely used products. Given this, it could be the best kitchen weighing scale for those who are on a weight loss diet and for those who are trying to lead a healthy lifestyle in general. It's great to be able to calculate the calories in a dish and in a meal with a high degree of accuracy.
This will give you peace of mind and motivate you to be more disciplined when it comes to dieting. Read the review of this product to decide if it could be the best food scale for your kitchen.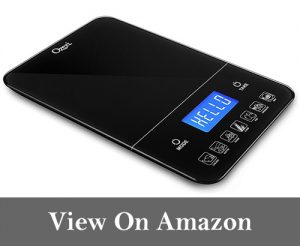 Buy from Amazon.com
This model measures 7.3 by 10.6 by 0.9 inches so it is quite compact. It is very elegant too with its glossy surface and curved edges. It runs on 4 AAA batteries and you will find a set of these in the package. The Ozeri ZK19 Touch III scale can measure weights from 0.05 ounces to 22 pounds in units of 0.05 ounces.
The calorie counting feature undoubtedly deserves greater attention so it is worth looking at it more closely. It works for the 7 most commonly measured foods – chicken, beef, sugar, flour, butter, eggs and chocolate. You just need to push the button with the respective food item and that's it. Here are the other features of the Ozeri ZK19 Touch III scale:
Features:
Tare function – With this feature, you measure just the weight of the food and not of the container which you put it in.
Unit conversion – You can measure the weight of food items in ounces, pounds, grams and milliliters, with the latter being suitable for liquids too.
LCD display with high contrast – It offers great visibility.
Low battery and overload indicators – These guarantee reliable and safe operation of this one of the best food scales for your kitchen.
Auto shutoff after 2 minutes of inactivity for preserving battery life
Pros
Calorie counter feature
Elegant modern design
Dependable performance
Completely portable
Very durable
Cons
The chosen measurement unit isn't saved automatically
The surface may get scratched if you're careless
To use the tare function consecutively, you must remove the weighed item first
Could have featured calorie counting for potatoes
Best Multifunction Food Scale
Some people cook intuitively, but this isn't the case with most of us and so we need tools to do a good job. There's nothing embarrassing about that given that the best modern chefs rely on the most sophisticated equipment.
Given all this, you would benefit a great deal from the best multifunction food scale if you love cooking at home. Ideally, it will not simply weigh ingredients, but perform other functions which are important for food preparation.
The best food scale for meal prep should come with its own container as this brings two important advantages. Firstly, you will not have to worry about finding a suitable container which will fit precisely. Furthermore, you will be able to use the provided container to wash, combine and mix ingredients.
This is super convenient and you won't have to worry about wasting precious material and time which would be the case if you have to transfer single ingredients and mixtures. Now that you know what to look for, it's time to evaluate the winner in this category.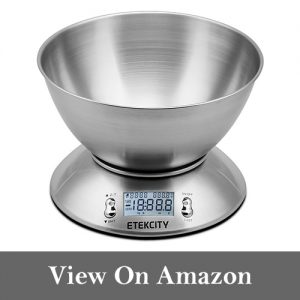 Buy from Amazon.com
With its classic round design, this digital scale will match the decor of any kitchen. It uses 2 AAA batteries to operate so you can move it around as much as you want to. Both the surface of the scale and the bowl, which has a volume of 2.15 liters (approximately 73 ounces), have stainless steel make.
The capacity of this scale is 11 pounds with a division of 0.1 ounces. This Etekcity model can do much more than weighing ingredients. Here are the features and capabilities which deserve your attention:
Features:
Timer – You don't have to buy a separate one when you have this scale.
Environmental temperature indicator – This is particularly useful when you have to prepare certain types of dough.
Tare function – You can put any ingredient in any container and measure solely its weight with accuracy.
Auto-zero function – It enables you to measure the weight of each ingredient separately as you add it to the others in the bowl.
Unit conversion – You can choose to measure the ingredients in ounces, pounds, grams and kilograms.
Backlit display – The readings are quite clear.
Indicators for low battery and overload – These are extremely important features to have.
Pros
Multifunctional use
Totally accurate
Measuring flexibility
Completely hygienic
Simple operation
Cons
The tare button is highly sensitive
No milligram measurement
You must keep the base away from water for protection
The round base makes storage somewhat inconvenient
Best Food Scale for Baking
While it is possible to put ingredients to taste in some cooking recipes, you need the highest possible level of accuracy when it comes to backing. You must have precise ingredient proportions based on how much flour you have decide to use to ensure that you will get a soft and light loaf of bread with crunch crust.
To achieve this, you will need the best kitchen scale for baking bread and it is very different compared to the best food scale for meal prep. It is worth taking a closer look at what you will need precisely for baking.
Large capacity is important since you usually prepare a bigger amount of bread than what would be needed for a single meal. The measuring surface should also be big enough to accommodate flour and dough comfortably.
You will also need a function which enables you to get the ingredient proportions right. It's better to leave the math to the scale while you experience the joys of baking. What is the best food scale for baking in the market at present? Learn about it in detail now.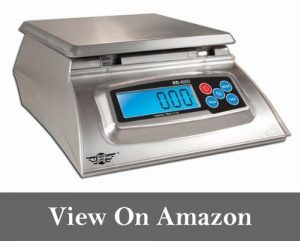 Buy from Amazon.com
You can expect all scales by My Weight to work accurately and this one is not an exception. The brand has excellent reputation in the market and is completely trustworthy. The KD8000 scale has a capacity of 8000 grams which corresponds to around 17 pounds.
This is more than sufficient for baking at home. Additionally, the measuring platform is quite large, measuring 7.48 by 9.84 by 3.54 inches. It is made of stainless steel for perfect hygiene and easy cleaning. Consider all major features and accessories of this match kitchen scale for bakers:
Features:
Percentage weighing function – This is the math function enabling you to weigh your ingredients in proportion to flour.
Tare function – You can use any kind of bowl or other container for the ingredients and measure only their weight.
4 weighting modes – pounds, pound/ounce, ounce and kilogram
Calibration feature – This is another advanced feature allowing you to achieve complete accuracy every time you measure ingredients.
Backlit LCD display – It is very large and quite bright so you will always see the digits easily.
LCD display cover – With it, you can protect the display from accidently spilled flour and other ingredients.
Battery operation with an option for connecting the KD8000 math kitchen scale to the power grid of your house via an AC adaptor
Programmable auto shutoff feature – You can increase the time before shutoff for maximum convenience and still save battery.
Pros
Large capacity and measuring surface
Impressive accuracy
Advanced measuring features
Customization options
Hygienic and easy to clean
Cons
Calibration isn't simple, but an instructional video is available
The protective display cover requires some effort to set up
The AC adaptor is available separately
Could have come with a bowl
Best Scale for Tracking Macros
Healthy living is based on good nutrition. If you want to know exactly what amounts of carbs, protein and fat you get with the food that you ear, you need to have the best scale for tracking macros in your kitchen. This type of scale doesn't differ much to its counterparts when it comes to design, but it has special features which help you get these essential details.
The best scale for tracking macros covers a large number of foods. It would be awesome if you could make custom entries too. It also gives you a detailed account of the macros present in the food that you weigh based on its weight.
You should not be forced to do the math. You can expect such a sophisticated device to have the major features typical for the best food scales in general. The digits on the display should be easy to read, especially given the fact that there is a lot more data than with the typical scale which measures only the weight of the products that you put on it. Here is the top pick in this category.
Check out its review which includes pros and cons to make up your mind about it.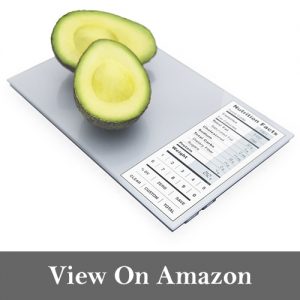 Buy from Amazon.com
The sleek rectangular design of this one of the best food scales for your kitchen is sufficient to enchant you. When you look at the display, you will be even more impressed.
This device gives you details not only on the carbs, protein and fat contained in each product that you weigh, but also the calorie count, the calories that come directly from fat and the amounts of cholesterol, sodium, sugar and dietary fiber. This is invaluable for people who want to lose weight and for those suffering from heat disease like atherosclerosis and diabetes type 2.
With this Greater Goods scale, you can get the macros for 2000 different foods of all kinds. You will also have the opportunity to enter another 99 foods, depending on your individual nutrition needs and diet. When it comes to the technical details, this elegant digital scales measures 6.1 by 9.25 by 1 inches so it can easily fit on any kitchen countertop. Its capacity is 11 pounds. Here is a list of its major features:
Features:
Tempered glass top – It's hygienic, easy to clean and hard to scratch and to break.
4 weighing sensors – These are designed to guarantee the highest level of precision.
Switch between ounces and grams – This is convenient when you are using different types of recipes.
Tare function – You can easily measure the precise amount of each ingredient as you add it.
Non-slip feet – They are quite durable as well.
Pros
Detailed nutrition facts
Highly accurate
Customization options
Sufficiently large display and buttons
Hygienic and durable
Cons
The digits could be bigger
The display could be brighter
Somewhat steep learning curve
You have to watch out whether the macros are for raw or cooked food
Buy This 1
–
Buy This 2
–
Buy This 3
–
Buy This 4