The toaster is a very common and also useful appliance found in most households. But it becomes necessary for a family to switch to a 4 slice toaster when it grows in size as a 2 slice toaster takes a lot of time to fulfill the requirements for toasts which all the members have.
If you are in a hurry in the morning to get ready for work, you would definitely prefer the efficiency and convenience of a 4 slice toaster.
Top 4-Slice Toasters in 2019
The market is full of different models making it very difficult for the average shopper to find the best 4 slice toaster for his needs and requirements. These toasters come in all shapes and sizes and are perfectly capable of making delicious toasts.
This is the reason why we have prepared a list of the best 4 slice toasters sold in the market based on their features and popularity among consumers.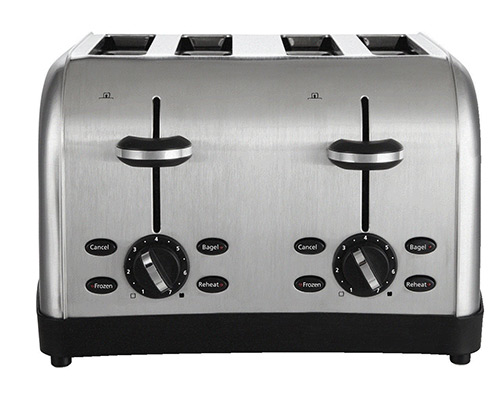 The name of Oster needs no presentation in the world of electrical appliances for the kitchen. This 4 slice toaster is loved an appreciated by millions of families around the country because of its ease of operation and high degree of efficiency.
It is indeed a very beautiful brushed stainless steel which can easily and quickly give you toasts of all sizes. This is because of the extra wide slots that allow you to prepare a wide variety of bread products from bagels to thick and large homemade bread slices.
The TSSTTRWF4S 4-Slice Toaster toasts evenly irrespective of the thickness of the bread slice. This is because it has a special feature -auto adjusting bread guides. This toaster has push buttons for toasting different breads like bagels, pastries and frozen bread. One stand-out feature loved by consumers is its retractable cord that makes it very easy to store.
2. Cuisinart CPT-435 Countdown 4-Slice Stainless Steel Toaster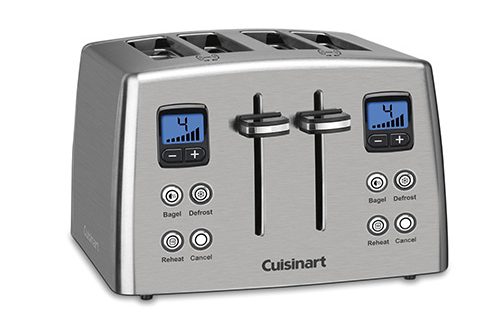 The Cuisinart CPT-435 Countdown 4-slice stainless steel toaster is a smart offering from Cuisinart, a brand known for making appliances with excellent reliability and durability. With digital control and a solid body made of stainless steel, this 4 slice toaster comes with many new features.
It is a very popular choice with families interested in buying a 4 slice toaster. The USP of this stainless steel toaster lies with its LCD countdown timer which tells how much time is left for your slices to become toasted.
The function buttons of this toaster are fitted with blue LED lights. You have the option of 7 different shade settings for your bread while the slots are wide enough to toast bagels and breads of different thickness. In short, this toaster is a marvel of digital technology and offers toasting of the highest standards.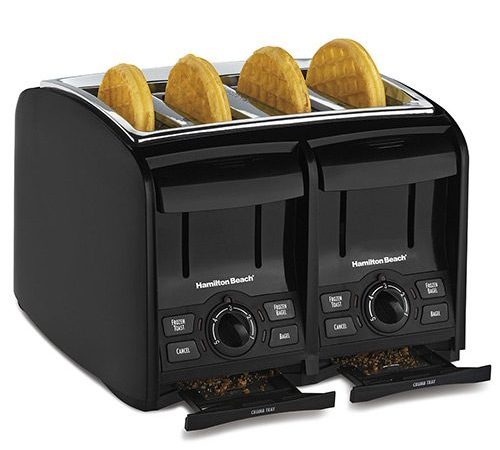 As the name implies, this is a great 4 slice toaster from Hamilton Beach that has become popular because of its cool looks. It comes fitted with a browning dial to get the desired hade for your slices. It is a black toaster with a design that is simple but practical when it comes to use and storage.
With 1.5-inch wide slots, you can toast a wide variety of breads in this toaster. It comes fitted with a crumbs tray to collect the crumbs so as to prevent mess in the adjoining area.
One interesting thing about the Hamilton Beach 4 slice cool touch toaster is the fact that both of its sides function independently. This means that you can toast your slices dark brown on one side and light brown on the other. The automatic boost makes removing the toasts very easy.
ALSO Read: Best 4-Slice Toasters from KitchenAid.
4. Cuisinart CPT-440 Touch to Toast Lever less 4-Slice Toaster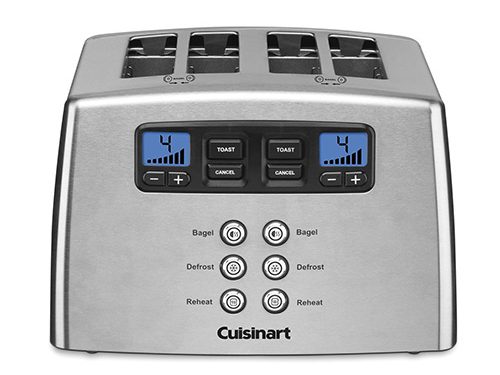 This 4 slice toaster from Cuisinart enjoys great popularity because of its advanced technological features. The toaster is housed inside a stainless steel box fitted with a motorized lift. It is a lever less toaster allowing you to push the slices inside with the touch of a button. Both panels are fitted with LCD countdown timers that work independently.
Cuisinart CPT-440 Touch to Toast lever less 4-slice toaster has many functions like toasting bagels, reheating defrost, 7 shade settings, and an alert system audible signal. This toaster is made from brushed stainless steel and it is a marvel of digital technology.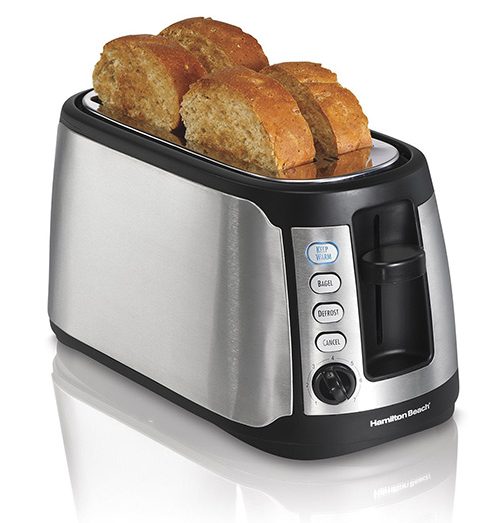 Hamilton Beach is a respected name in the world of electric appliances and this 4 slice toaster is another great offering from the company. This toaster has long and wide slots to toast slices of bread of all shape and sizes. The highlight of this wonderful model is its keep warm feature that allows you to keep the toasts warm for another three minutes if you so desire. It has bagel, defrost, and cancel functions.
Hamilton Beach 24810 4-slice long slot keep warm toasteris loved by users because of the easy removal ofthe toasts with the help of a feature called Toast Boost. Another favourite is the cord wrap that has been provided under the base of the toaster.
Made from stainless steel, this toaster from Hamilton Beach is a delight for all those who do hate it when they find that their toast has turned cold.
6. Cuisinart CPT-180 Metal Classic 4-Slice Toaster, Brushed Stainless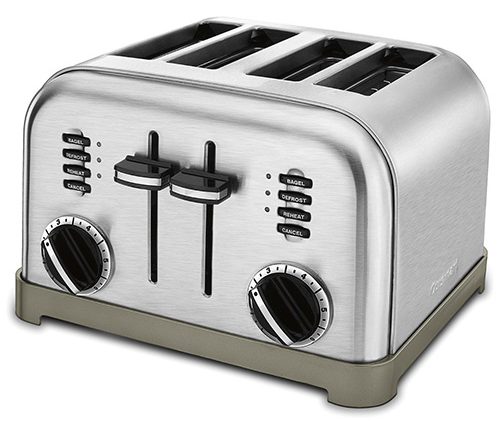 This is a 4 slice toaster from Cuisinart that is creating waves in the market these days. It has a beautiful design and a solid body that attracts buyers. It is also quite efficient and toasts bread slices in no time. It is housed inside brushed stainless steel body and boasts a browning dial which comes with 6 different browning settings.
Owners love this toaster because of its 1.5-inch wide slots that fit all types of bread products. It has an easy slide-out crumb tray which makes cleaning super easy and looks smart with LED backlit buttons for defrost, bagel, and dual reheat. The cord wrap under the base makes storing of this toaster very easy.It is a must have for all those who yearn for a classical design.
7. Breville BTA830XL Die-Cast 4-Slice Long Slot Smart Toaster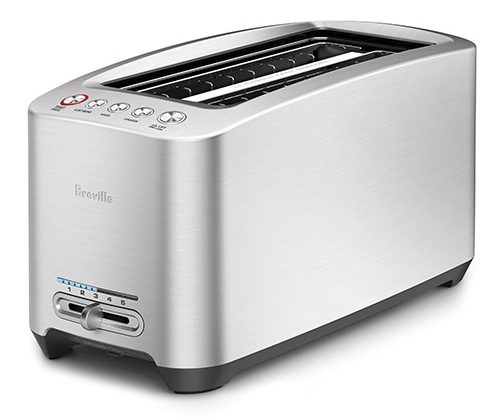 This is a very efficient toaster having long slot design to toast bread of all shapes and sizes. It is fitted with LED buttons that indicate the progress of toasting. It makes a sound to alert you when the bread has been completely toasted.
You have the option to keep this feature muted when using the appliance. The toaster is housed in a die cast metal case with cool exterior while having 1600 watts of power. You can not only toast any type of bread but also have it as brown and crunchy as you like.
One interesting feature of this toaster is its A Bit More button that allows the user to increase the toasting time by a few extra seconds.
8. Cuisinart CPT-340 Compact Stainless 4-Slice Toaster, Brushed Stainless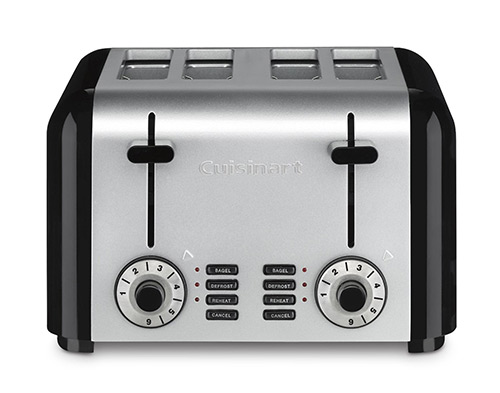 Made from stainless steel, this is a sleek and compact 4 slice toaster from Cuisinart. It is fitted with a 6-setting browning dial to allow you to have your bread toasted exactly as you like it. It has controls for reheat, bagel and defrost. With 1.5-inch slots, it allows you to toast bread products of any size.
It boasts with an easy slide-out crumb tray to keep the table or the countertop of your kitchen perfectly clean. No mess allowed.
This toaster has a space-saving design to fit into any corner in your kitchen. With easy and convenient toasting, the Cuisinart CPT-340 compact stainless 4-slice toaster has become a favourite of numerous families across the country.
Lucky for you, if you need more compact solution, check out our best picks for compact 2-slice toasters.
9. Sunbeam 3823-100 4-Slice Wide Slot Toaster, White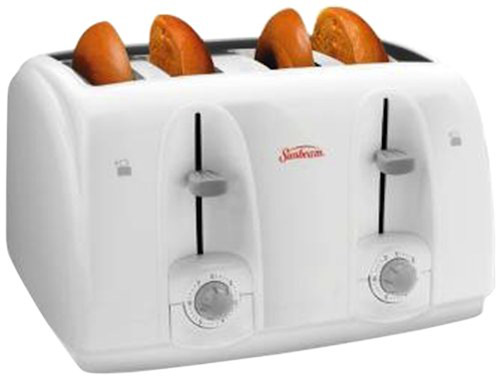 This is a beautiful 4 slice toaster from Sunbeam that boasts with an anti-jam mechanism. It has extra wide slots to enable you to toast all types of bread. There are separate controls to allow for the toasting of different breads at the same time. Once toasted, you can easily remove the slices with the help of the high rise toast lift.
The Sunbeam 3823-100 4-slice wide slot toaster has cool exterior that will never cause any burning of your fingers while toasting your bread. It has a crumb tray which is removable to make cleaning of the toaster very easy.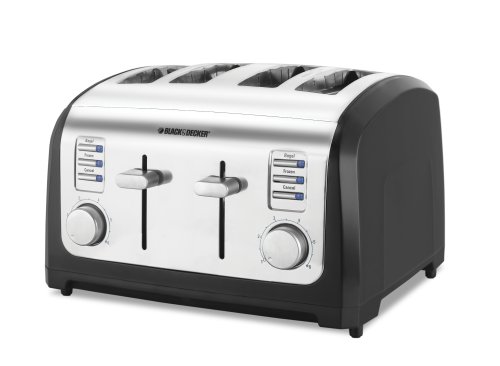 This is a classic looking 4 slice toaster from Black and Decker. It has extra wide slots and cool exteriors for the safety of the owner. You can toast bread and muffins of all sizes in this toaster. There are push button controls – bagel, frozen and cancel.
There is also a feature to allow you to select the browning shade based on your preferences. This is a very efficient toaster with a classic design. It is ideal for families that love to hold on to the vintage appliances. This appliances quite powerful with 1400 watts of power.
The 4 slice toaster has a crumbs tray that can be taken out quickly and conveniently to make the cleaning of the internal slots very easy.