There is nothing more delicious than freshly cooked pasta with your favorite sauce. With the best pasta maker, you can prepare such a fantastic dish at home. You will have everything exactly as you like it to enjoy fabulous meals over and over again.
But how do you know which pasta maker will be right for you? Check out the detailed reviews of the top picks for 2019 plus some essential buying information and advance. Here you will get all the help which you need for making the right choice.
Top Pasta Makers in 2019
While looking for the best pasta makers, there are variety of features that need to be considered. We have mentioned in detail the list of things you should consider while buying a pasta maker at the end of this page.
Meanwhile, look at the detailed review with pros and cons of each Pasta maker.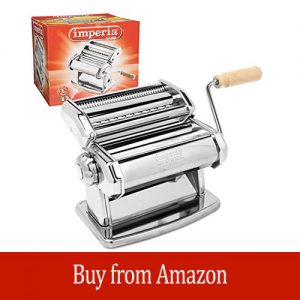 This pasta maker has a classic roller design and is operated manually. It comes with a double cutter head and allows for roller adjustment. Another thing which is worth mentioning is that it is made in Italy.
This is surely an advantage given that the Italians are absolutely meticulous when it comes to the quality of cooking equipment, especially when it is used for making their favorite dish. Furthermore, Cucina Pro is a brand which holds excellent reputation in the market.
How about size, design and make? Imperia 150 measures 8.1 by 7.2 by 6.2 inches and this is quite reasonable for a machine of its kind. You can easily fit it on a kitchen countertop, island or table. It is made from chrome plated steel.
This material is quite strong and resistant to rust and corrosion.
However, you should be careful not to harm the chrome coating.
Regular cleaning will prevent the formation of patina.
Is this pasta maker reliable easy to work with? The machine is quite stable when positioned on the countertop. It comes with a clamp, whose use is strongly recommended. The clamp will keep the machine securely in place and this will make turning the arm easier while ensuring optimal results.
The handle is made from wood and this makes it quite durable as well as beautiful. You can expect to enjoy a sufficiently firm grip of the handle and the arm to turn smoothly with little effort on your part. The machine is generally easy to use, but the instructions in English aren't particularly clear. Still, this most certainly won't prevent you from using it.
The Imperia 150 pasta making machine comes with a 6-inch wide roller. This means that you can make pretty wide pasta sheets, if you wish. The roller can be set into six different positions, depending on how thick you want your pasta to be. This gives you plenty of room for experimentation. It is worth noting that the positions are set with a knob, which is very easy to turn.
The double cutter head enables you to make spaghetti and fettucine – two of the most popular types of pasta. They come out simply perfect. You shouldn't worry about pieces sticking to one another or other issues of this sort. Without the cutter head, you can make lasagna sheets. You will need extra attachments for making other types of pasta.
They are available separately. The pasta recipe book which comes in the box is a great bonus to have.
Could this be the best pasta maker for you? Check out the list of pros and cons ofImperia 150 before making a decision.
Pros
Strong and durable
Stable and fairly compact
Easy to adjust and to use
Quite versatile
Excellent performer
Cons
Additional attachments are available only separately
The instructions in English aren't very clear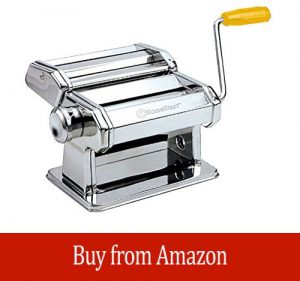 This mechanical roller pasta maker comes from HomeStart, which is a fairly new player in the market. It is designed to make the most popular types of pasta – spaghetti, fettuccine and noodles. One interesting thing about it is that some of its components are made from case-hardened steel while others are made from anodized aluminum. Let's evaluate the model's features and capabilities.
HST5018 measures 7.85 by 8.25 by 6.15 and weighs 6.3 pounds. This means that it doesn't take too much space and weighs just enough to be stable while being easy to carry around, at the same time. The clamp, which is included in the package, is an invaluable feature as it makes the unit completely stable while you work with it. This allows for greater accuracy without extra effort on your part.
Could this be the best pasta maker around because of its unique make? The rollers and cutters of this machine are made from anodized aluminum. This allows them to have better traction with the dough and so the risk of getting less than perfect thickness or perforated sheets rather than pieces of pasta is minimized.
Besides, this metal is extremely durable in addition to being quite lightweight. It is not particularly strong, though. The machine's gears, on the other hand are made from case-hardened steel which has good resistance to damage while being very tough. It could be safely said that this model is quite durable.
The long arm of the HST5018 pasta maker is quite easy to turn.
The resistance is just right to give you pasta cut with precision without you getting a workout.
The handle is made from plastic so it is not particularly appealing aesthetically, but it is quite ergonomic.
You can expect to have a firm and comfortable grip and this minimizes the risk of errors during the pasta making process. When it comes to maintenance, you have to follow the instructions strictly to keep the unit in good shape.
KitchenAid pasta machines are similar and might be suitable for you. Unfortunately none of kitchenaid pasta makers could make it to our top list though.
One of the best things about this pasta making machine from HomeStart is that it enables you to pick from 9 different roller positions for getting the desired pasta thickness. You can make it super thin, just 0.3 mm, or quite thick, 2.5 mm, or anything in between. It's fabulous to have this kind of versatility.
Additionally, you can use the cutters to make spaghetti, fettuccini, noodles and lasagna sheets, to name the main options.
To help you make up your mind about the HomeStart HST5018 pasta maker, here is a detailed list of its pros and cons.

Pros
Innovative make
Sturdy construction
A wide range of thickness options
Easy to use
Effective performance
Cons
Less than perfect looking plastic handle
Maintenance instructions must be followed strictly for protecting the unit
Also check out our detailed review of HomeStart HST-5018 Pasta Maker to know more about it.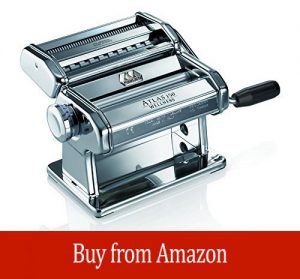 If you consider buying a pasta maker which comes from Italy, you should definitely check out what Marcato Atlas Wellness 150 has to offer. This mechanical roller machine is designed for home use. Some of its notable features include anodized aluminum rollers and cutters and 9 settings for dough thickness. Check out their detailed evaluation.
Even though the brand is not among the best known, the manufacturer has done a good job with designing this pasta maker. It measures 8 by 8 by 7 inches. It may seem a bit larger than its counterparts, but it actually fits quite well even on narrower and more crowded countertops and tables.
The base is wide enough to give stability to the entire machine. This is practically the foundation for a good performance. Still, it is better to use the clamp for securing the unit firmly to the surface, especially when you don't have someone around to help you out. The clamp is quite reliable.
When it comes to the make of Marcato Atlas Wellness 150, the anodized aluminum rollers and cutters definitely stand out.
Because of their surface, they grab the dough better and this naturally leads to more accurate results – even thickness across the entire dough sheet and accurately cut pieces of pasta.
Additionally, this metal gives you a high level of safety when it comes to food preparation. It is very durable. The machine's gears, on the other hand, are made from case-hardened tempered steel. This makes them quite strong and dependable.
The arm is easy to turn when the pasta maker is securely positioned on the countertop. You don't have to use much effort to turn it. You should not have any kind of trouble holding the handle firmly for as long as necessary. It is made from ABS plastic and this doesn't make it very good looking, but it serves its job well. Proper cleaning is essential.
The best pasta maker has to be highly versatile and this Marcato model scores quite well in this category. With the standard cutter included in the box, you can prepare spaghetti and fettuccine. It is also possible to get attachments for linguini, capellini and vermicelli separately. You can prepare lasagna sheets just by using the rollers.
There is a dial enabling you to choose from 9 different pasta thicknesses, depending on your preferences and on the type of dish which you'd like to cook. These range from 0.3 to 2.5 millimeters. If you wonder where to start from, you can readily check out the included recipe book.
It could be a great guide for those who are new to pasta making. When it comes to performance, this machine does a superb job. It cuts the sheets with precision. As long as you have prepared the dough properly, you should not expect simply perforation.
To complete the Marcato Atlas Wellness 150 pasta maker review, here is a list of the model's pros and cons.
Pros
Quite durable
Stable and reliable
Very versatile
Easy to use
Superb performance
Cons
The arm's handle could be better made
Specific maintenance requirements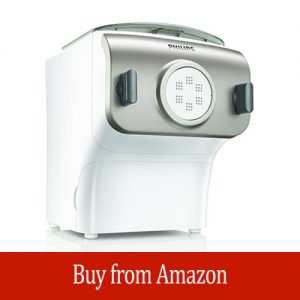 The brand's name is sufficient to attract the interest to this tool. After all, Philips is one of the leaders in the market for kitchen appliances. Their creation is an extrusion pasta maker. It is designed to do all the work, from mixing the dough to cutting it into your preferred type of pasta. This critical review will help you decide if it could be right for you.
This Philips appliance offers a completely automated pasta making process. It will do the dough mixing, kneading and extruding for you. You just need to place the right ingredients in the right amounts inside.
This is also something which you will get help with as there is a recipe book inside the box. Features like the preset cooking function and the ready signal and the measuring cup simplify the job even further. If you are very busy or if you are not sure about your dough making skills, this pasta maker could be just right for you.
It is easy to notice that this appliance is considerably bigger compared to the traditional roller machines. It measures 13.4 by 15.9 by 12 inches. While it takes more countertop space, it doesn't require any additional features such as a clamp for setup. The non-slip feet guarantee stability.
How about versatility? The Philips pasta maker features 4 differently shaped discs. They are designed to control both the shape and thickness of the pasta. With them, you can make spaghetti, fettuccine, penne and lasagna sheets. There is a special storage drawer for them in the appliance. Additional discs are available separately.
What can be said about the ease of use and maintenance? You just need to add the ingredients, push a few buttons and check the LED display from time to time to see what's going on. When the time for extrusion comes, you should place a plate or a bowl below the openings of the disc so that you can collect the pasta.
You will get effective help with maintenance too. There is a specially designed disc cleaning tool included in the package. Regrettably, it doesn't match all discs, but it is quite useful.
Is this the best pasta maker when it comes to performance? The truth is that this Philips appliance prepares absolutely flawless pasta without any effort on your part. It boasts with a sufficient amount of power and perfect accuracy.
Approximately 1600 pounds of force are applied to the dough to push it through the openings of the disc. This is quite impressive.You can prepare fresh pasta in just 15 minutes. The appliance has reliable safety features too. These include the power-on light and the automatic shutoff.
It is easy to weigh the pros and cons of the Philips pasta maker with the following list.
Pros
Fully automated pasta making
Super easy to use
Highly versatile
Reliable performance
Fabulous extra accessories
Cons
The included cleaning tool cannot be used for all discs.
It's not possible to control the dough's thickness separately
5. Viante CUC-26PM Pasta Perfetto Electric Pasta Maker and Extruder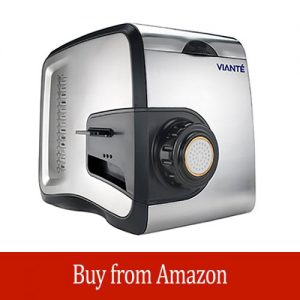 This is another appliance which does all the work involved in making fresh pasta. Viante is a brand which is positioning itself in the market at present and tends to offer more perks (features) compared to competitors in order to attract consumers. It is worth assessing them in detail.
Viante CUC-26PM Pasta Perfetto mixes, kneads and extrudes the dough. Once you add the ingredients, it will take over. You just have to set a suitable utensil for collecting the ready pasta.
This sounds extremely easy and it is. You just have to get the ingredient amounts right. Remember that you will get greater accuracy and better results if you use weight rather than volume when it comes to measuring the ingredients.
This appliance is quite sturdy and pretty big. It measures 12.75by 13 by 15 inches. You will have to clear more countertop space for the appliance, but it will surely not be bigger than what you would need for kneading the dough by hand. The appliance has die-cast aluminum and stainless steel body. These provide for great durability and a long useful life.
This pasta maker comes with 14 different attachments.
You can choose from spaghetti,fettuccine, tagliatelle, vermicelli, spaghettini, inguine,ziti, rigatoni, lasagnette, pappardelle, bucatini, pasta del contadino, conchigliette rigate and biscotti.
Whether you know all of these shapes or you have heard just a few, you have the opportunity to experiment endlessly. Just keep in mind that this appliance comes without a pasta recipe book. You have to find dough and dish recipes or create ones yourself. This could be quite exciting, especially for more experienced cooking enthusiasts.
The ease of use is one of the major advantages of this appliance and naturally makes it one of the best pasta makers around. You don't have to mix and knead the dough and to use effort to shape the pasta. It is quite fast too.
It's been estimated that you can prepare a pound of pasta in just half an hour. This is a great solution if you have invited guests and have little time to impress them with a unique meal.
Another thing to note is that the appliance is easy to maintain too. It is easy to disassemble the unit. The really great thing is that the removable parts are dishwasher safe.
When it comes to performance, the Viante pasta maker does a pretty good job. It's quite quick and powerful. It may get hot while working so it makes sense to give it some rest between rounds when you have to make larger amounts of pasta.
To some things up about Viante CUC-26PM Pasta Perfetto, here are its pros and cons.
Pros
Extremely versatile
No effort required
Good performance
Great durability
Simple maintenance
Cons
No recipe book
May get hot while working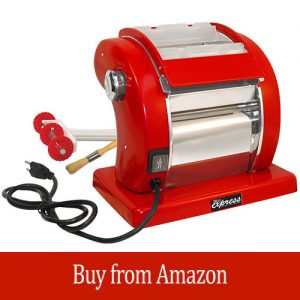 The sweet red color is and the sleek design are the first things which people notice about this electric roller pasta maker. It comes from Weston, which is a brand with good reputation in the market for appliances. Check out the thorough and objective review of the model.
This pasta maker measures 11 by 13.5 by 12.3 inches so it is not the most compact one which you will find, but it will still fit even on a fairly crowded countertop. With its heavy-duty construction and metal housing, you can expect it to be durable. At the same time, some components are made from plastic. The wide base gives the appliance the required stability.
It is naturally easier to use this Weston electric roller pasta maker compared to its manual counterparts. There is no need for you to turn the arm. You simply have to push a button and the 90-watt motor and the mechanical parts will take care of the rest.
In addition to saving you effort, the automation enables you to feed the sheet of dough through the rollers more accurately using both hands. This is a major advantage to have. Maintenance is also made easier thanks to the included cleaning brush.
This appliance deserves to get a good score for versatility. You can select from 9 different dough thickness settings. The rollers are easy to adjust to the required setting. You just need to turn the knob. You can use the spaghetti or fettuccine cutter or make lasagna sheets with the help of the rollers only.
This is a great start for everyone who's excited about cooking fresh pasta at home. The two speeds at which the dough can be rolled also contribute to the appliance's versatility.
You can expect this pasta maker to perform well. Since the rollers are not the widest, it may take a bit more time to prepare large amounts of your favorite food, but it definitely pays off. There is a safety cover designed to turn the unit off automatically in case the rollers get exposed.
To conclude the review, here is a list of the Weston deluxe electric pasta machine.
Pros
Automated roller pasta maker
Effort saving
Good versatility
2 roller speeds
Cool design
Cons
Features some plastic components
May take more time to make larger amounts of pasta
Why Buy a Pasta Maker?
With so many kitchen tools in the market, it is normal for many buyers to ask themselves if putting their money in a pasta marker will be worth it. The simple answer is: yes. Here are the main reasons why you should get one.
Culinary Delight
You will be able to cook fresh pasta every time when you feel like it. You will not have to run to the store and spend tons of time in search of the type of product that you want to cook for dinner. It will be easier for you to experiment with pasta dishes that you've never cooked before. Simply put, if you like cooking, you cannot go without a pasta maker.
Amazing Versatility
You get to choose the dough ingredients and the pasta type to make. This is more than excited. You can make whole-grain pasta or use your grandma's recipe which includes eggs for making the dish absolutely phenomenal.
The really great part is that the best pasta makers around can give you the exact type which you want to create, from the spaghetti and fettuccine to lasagna sheets. You can use any kind of recipe or set your imagination free and come up with your own culinary masterpiece. The sky is the limit!
Healthy Eating
You will enjoy all the health benefits of having pasta often. This food is filling and packed with nutrients. It is an integral part of the Mediterranean diet which is known for helping people keep their weight under control and lower their risk of heart disease. You will appreciate the taste of your meals plus your good looks and well-controlled cholesterol levels.
Ease of Use
You will make pasta easily and quickly every time you want. You just have to prepare the dough and run it through the pasta making machine, after adjusting the settings, of course. There is nothing simpler than this.
This automatically makes cooking a great activity for the whole family and especially for kids who are always excited to create something with their own hands.
Great Functionality
When you buy the best pasta maker for you, you can expect to use it frequently for a long time to come. That way, you will be certain that your investment will pay off, so to speak. Generally, any piece of kitchen equipment which helps you to prepare tasty and healthy food is a great addition to your arsenal.
What to Look for When Buying a Pasta Maker
Now that you feel confident about getting a pasta maker for your kitchen, you should know exactly how to select it. Check out the list of major criteria for assessing the different models which you consider buying.
They are the ones used for evaluating the top picks for 2019 too. As long as you shop carefully and pay attention to the details, you will undoubtedly get exactly that you want.
Consider the Types
There are two main types of pasta makers. The classic roller machines have been used for centuries. With them, you mix and knead the dough by hand and then run it through the rollers. If you use the cutting attachments, you will get the type of pasta which they are designed to produce such as spaghetti. Without them, you will prepare lasagna sheets.
You can select from two types of roller pasta makers – mechanical and electric. The mechanical machines are operated manually. You need to turn the handle while feeding the sheets of dough through the rollers. This often sounds more difficult than it actually is.
The electric roller machines use a small motor to run. Your only job is to ensure that the sheets run smoothly through the rollers.
The second type of pasta maker is the extrusion one. The dough is in a chamber and the machine pushes it through a disc which has special cuts. The result is that you have pasta coming out.
With different discs, you can create pasta with different shapes and sizes. The extrusion pasta makers are electric. There is no manual operation involved. In fact, they are usually capable of mixing and kneading the dough for you. This is how they make the job even simpler for you.
It is up to you to decide which option to go for. When making a choice, you should consider your approach to cooking and the amount of time which you spend in the kitchen. Your budget is important too.
Design and Make
Since you want to get the best pasta maker, you have to pay close attention to every detail. Here are some essential ones to take into consideration.
Size matters – Even though the differences in size between the devices of each type are not great, it makes sense to confirm that the model which you consider buying will fit perfectly on your countertop while you have enough space left for doing your other cooking tasks.
Materials – The make of the machine is extremely important. You would want the components of the machine (not necessarily the casing) to be made from chrome plated steel or preferably stainless steel.
Secure positioning – The past maker should sit firmly on the countertop. The base should be sufficiently wide and strong to enable the kitchen tool to do its job. If there are any legs, they should offer good traction and evenness.
Comfortable use – When it comes to a mechanical roller pasta maker, you would want the handle to be ergonomic and to require just a little bit of effort to turn. With an electric roller or extrusion device, the buttons should be large and easy to push.
Settings and Features
The pasta maker is perfectly versatile. When looking for the ideal machine, make sure that it comes with features which enable you to make different types of pasta with a thickness of your choice.
Attachments – The more attachments a unit comes with the better. You should also check if there are ones available separately. It's good to know that you can make your machine even more versatile over time. Check the price of the extra attachments too. You would want to make sure that upgrading won't cost you an arm and a leg.
Roller adjustment – If you consider buying a roller pasta marker, you should definitely check whether the rollers can be adjusted and by how much. A greater number of roller positions gives you the option to choose the ideal thickness for each type of pasta that you make.
Overall Performance
How good is the pasta which the machine makes? Can you expect reliable work at all times? How about durability? These are all important questions whose answers you will discover in the reviews of the best pasta makers 2019 list we have here.