The taste and aroma of espresso are so great that they linger on not only in the mouth, but also inside the brain of the happy person for a long time after he has sipped his cup. But you cannot drink a cup of espresso from the local café every day because of its high price.
That is why coffee lovers go for automatic espresso machines. Realizing the craze for these machines, many companies make dozens of models with different features. It is easy to feel overwhelmed when you go in search of the best automatic espresso machine in the market.
We have compiled a list of the best automatic espresso machines sold in the market. They are all readily available online as well as in physical stores. This is a detailed list based upon the build, the features and the popularity of espresso machines.
Top Automatic Expresso Machines in 2019
For the detailed review of each espresso machine, look below. Hope it will help you choose the best automatic espresso machine.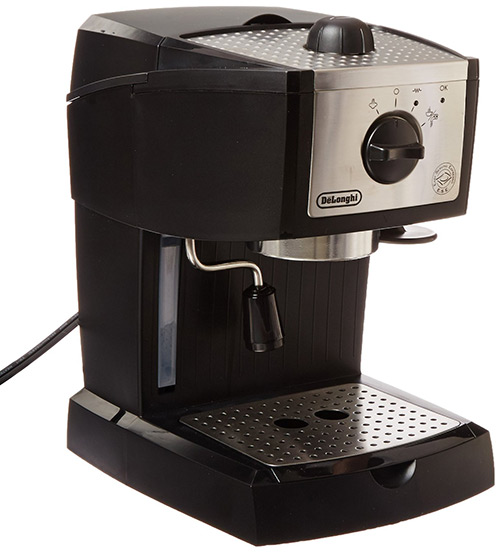 This is a wonderful pump espresso and cappuccino maker that makes it possible for you to prepare divine tasting coffee at home. You have the option of making your cup of coffee using ground coffee or with pods depending upon your preferences.
Also, you can have espresso or cappuccino at just the right temperature as this machine is fitted with 2 thermostats. Making froth for cappuccino is child's play with the help of the specially designed swivel jet tool.
Some interesting features of the De'Longhi EC155 15 BAR pump espresso and cappuccino maker are the stainless steel body, the removable drip tray and the water tank. It has the ability to prime itself to avoid annoying start operation.
One can easily take out the water tank and the driptray to clean them and then set them back into place. This is a small and compact coffee machine that makes perfect espresso and cappuccino for you at home.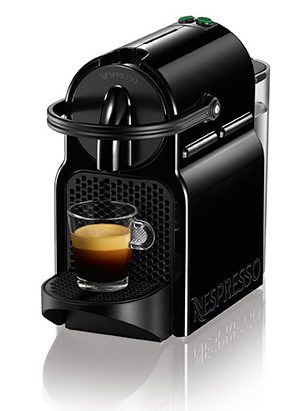 This is a beautiful black espresso coffee maker that has become very popular among coffee lovers these days. However, there is a limitation – you can make espresso coffee only by using coffee capsules sold by Nespresso.
You may not think much of this small machine, but it can generate a high pressure of 19 bars and preheat in just 25 seconds. The capsules can be easily inserted and ejected out of the machine.
Inissia is so small and sleek that it fits in all interior settings. It is available in many different bright colors to suit the taste of all coffee lovers. There is virtually no waiting time with this espresso coffee maker as it preheats in just less than half a minute.
Though it consumes 1100 watts, there is a power saver mode that switches the machine off after 9 minutes of inactivity.
3. Keurig K55 Single Serve Programmable K-Cup Pod Coffee Maker, Black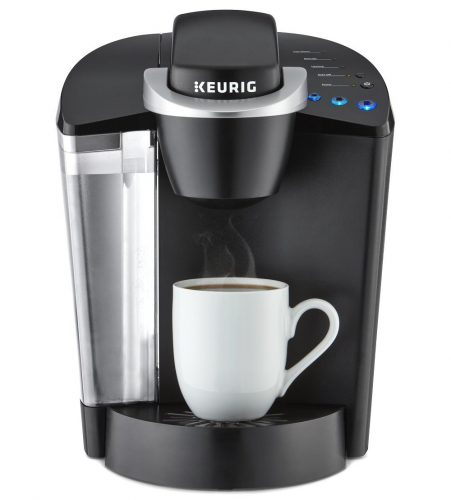 Keuring is a name which is easily recognizable in the world of espresso coffee making machines. This brewing system has a very high rating on Amazon and it can make not just coffee, tea and hot cocoa, but also iced beverages.
This machine makes coffee in less than a minute. It has a removable water tank with a capacity of 48 oz. Having a large water reservoir means that you don't need to refill the tank after making a few cups of coffee. No matter how many cups of coffee you make with this system, you are sure to receive the same high quality beverage every time.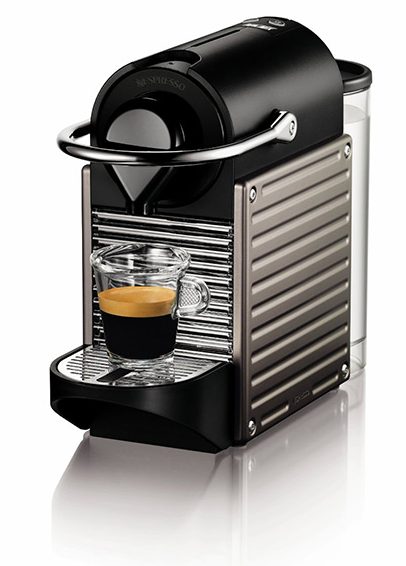 This is another popular coffee brewing system from Nespresso. It is a compact and elegant looking machine that makes coffee using capsules made by the company. It is popular because of the easy insertion and ejection of these capsules.
The efficiency of the heating element is so high that you do not have to wait for even a minute to have your delicious cup of coffee. The machine takes only 30 seconds for preheating. It has a water level indicator and switches off after 9 minutes of inactivity to save energy.
Not only is Pixie sleek and compact (it easily fits in all corners in the kitchen), it is also beautiful. It is available in many different colours to choose from. The machine may be small, but it produces very high pressure to unlock the unique flavour and aroma held inside the coffee capsules.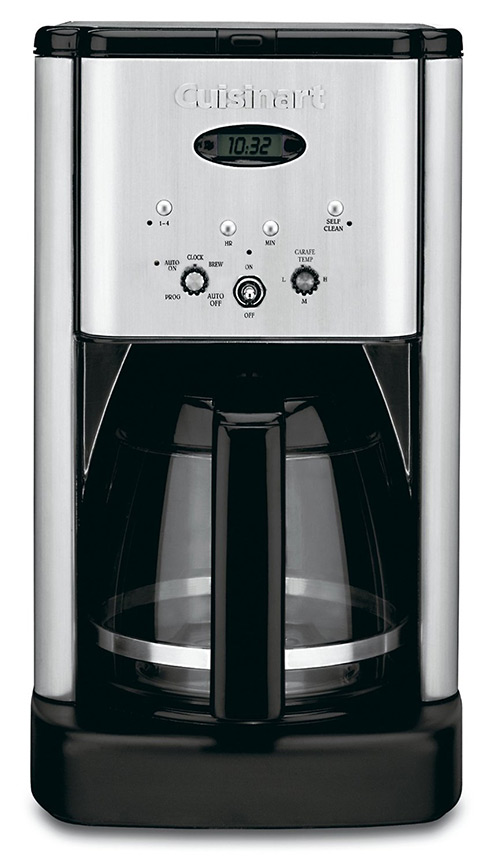 This programmable coffee maker from Cuisinart is gaining ever greater popularity. It is housed inside a brushed metal case fitted with a special handle for drip less pouring into the cup or glass. There is a feature called brew pause which you can use to get your divine coffee even before the brewing procedure has been completed. You can adjust the temperature sitting to get your coffee at the temperature that you enjoy the most.
This coffee maker is fitted with a charcoal filter and a gold tone filter to guarantee that what you drink is only the freshest of coffee. Even though the styling looks retro, this coffee maker is packed with the most advance technology features.
You will love the programmable 24-hour clock that will work to help you get a great cup of coffee at the time set by you. No waiting required!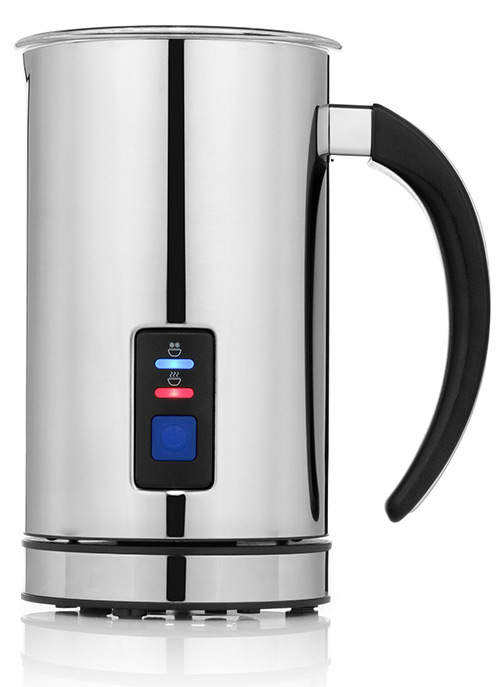 If you want a coffee maker that gives you heavenly coffee without making any effort, this is the machine for you. It is a quality offering from Chefs Star. The technology is housed inside a stainless steel body with a detachable base. You can make not only hot coffee and hot chocolate, but also cold cappuccinos and lattes using this coffee maker.
You will love the creamy, frothy milk that this machine makes in just a few seconds. Just pour a cup of milk and within 80 seconds you can get rich froth to enjoy. Use this froth to make delicious latte or cappuccino according to your preferences.
7. Mr. Coffee Cafe Barista Espresso Maker with Automatic milk frother, BVMC-ECMP1000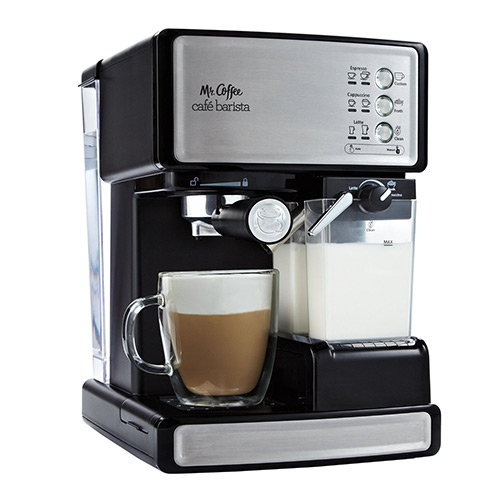 If you are looking for a coffee machine to make espresso, cappuccino, or latte for you with the single push of a button, this is the coffee maker you need. It prepares the milk froth to allow you to get your latte or cappuccino in no time at all. It has a milk tank that can be easily removed and cleaned.
Froth pours directly into your cup placed over a tray and you can use any size of cup as this tray is adjustable. Even the drip catcher is removable and you can keep the brewing space neat and clean all the time when using this machine.
This machine is capable of creating a pressure of 15 bars to be able to unlock the flavour and aroma of the coffee you are making. It makes any one of the three programmable coffee types easily and quickly.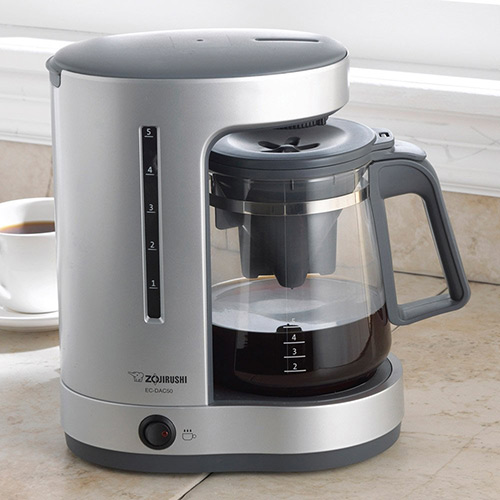 This drip coffee maker from Zojirushi has the capacity to make up to 5 cups of coffee. It is fitted with a removable water tank and it boasts with a feature called keep warm to keep your brewed coffee warm for a longer time.
It is a very compact coffee maker that weighs only 9 pounds and operates on 600 watts of power. But it can still make coffee for 5 people at one time.
This coffee maker is fitted with a charcoal filter to purify water so that you get an even better taste of coffee.
9. Keurig K15 Single Serve Compact K-Cup Pod Coffee Maker, Black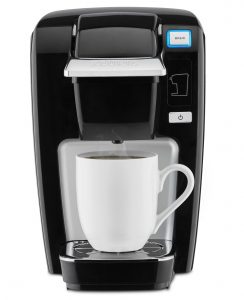 This is a beautiful brewing system from Keurig and it is available in many bright colours. You can make not only hot coffee, tea and cocoa using this machine, but also iced beverages in no time at all. It can brew coffee in different cup sizes including 6, 8, and 10 oz.
You get your favorite beverage from this system from Keurig within two minutes and all you have to do is push a button. Just add water to the water reservoir and insert coffee pods to allow the machine to start brewing your favorite coffee.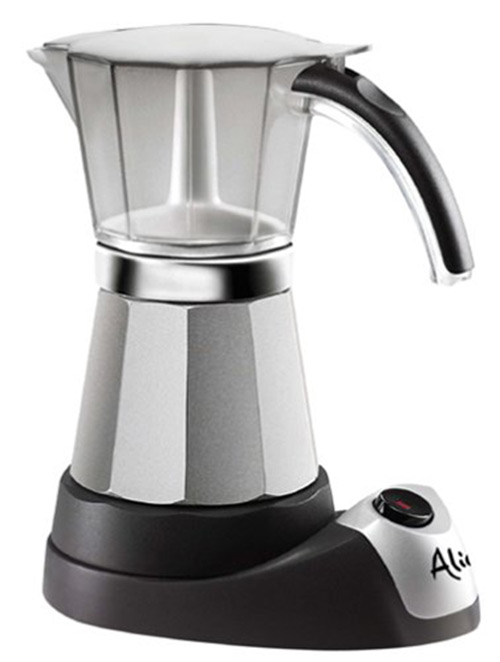 This is a wonderful coffee maker from Delonghi. This Italian machine makes use of moka process to create delicious coffee for you. There is an automatic auto shut button to make sure that your coffee never flows out or burns after it has been brewed.
This coffee maker has a keep warm feature that allows the user to keep his espresso hot for another 30 minutes after it has been prepared. One interesting thing is that you can see the entire brewing process as the container is transparent.
You can easily serve the coffee from the top jar using the long handle. The machine has a detachable base and cordless operation.
Do not be fooled by the small size of this coffee maker as it can brew 3 to 6 cups of coffee for your friends. This machine is not only small, but also very light as it weighs just 3 pounds.