Imagine enjoying freshly baked bread for breakfast each day without having to run to the supermarket or the closest bakery. You can make this dream a reality with the best bread machine. But how do you choose the right one given that there are so many different models available?
Before we move onto reviews, let's have a look at the top bread machines in the market.
Top Bread Machines in 2019
Read the detailed reviews of 12 of the most popular bread makers in the market at present to make a well-informed decision.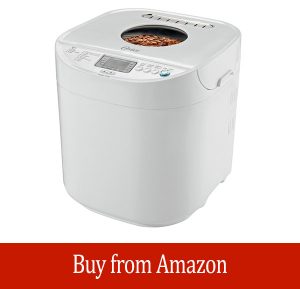 This Oster machine checks most of the boxes on the list of criteria for the best bread maker. It has a capacity of 2 pounds so you can make a loaf with 16 slices at the time. The Expressbake feature gives you freshly baked bread in less than an hour.
You will surely enjoy great versatility with this machine. There are 12 settings for different types of bread and 3 individual settings for the crust. Furthermore, you can make dough for pizza, bagels, rolls and even jams and jellies.
The programmable timer is another cool feature which is worth your attention. You can delay the preparation of the bread up to 13 hours. This means that you can add the ingredients in the evening and have freshly baked bread for breakfast without any effort.
The Oster Expressbake bread machine gets a high score for ease of use too. The buttons are clearly labeled and it's simple to select the desired settings. The display always is unbelievably helpful. You'll be happy to learn that it has very large numbers.
The appliance comes with a measuring cup and spoon so that you can get the amounts of ingredients right every time. When you make bread with nuts and seeds, the machine signals when to add them.
With its vertical design and a range of advanced features, the Oster Expressbake bread machine can give you the best of both worlds. You can expect reliable performance every time. Cleaning is easy since the pan has non-stick surface. You can now compare the model's pros and cons to make up your mind.
Pros
Large capacity
Multiple settings for making bread, dough and even jam
Function for fast baking
Easy to use and to maintain
Cons
A single kneading paddle
The kneading paddle almost always comes out with the bread and has to be removed.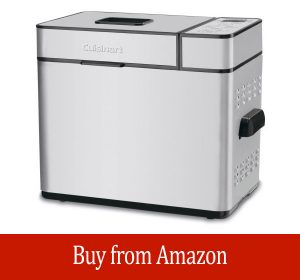 This tall and narrow vertical bread maker from Cuisinart has a multitude of versatile and advanced features. You can make various types of bread with it, including gluten-free loaves. There are also special cycles for making cakes and even jam.
You can choose to prepare only dough when you make pizza, for instance. With the bake-only setting, you can make the dough by hand and then bake it in the bread machine. The rapid bake function shortens the time for preparing fresh bread considerably while the outcome is perfectly good.
With its capacity of 2 pounds, this model is suitable even for bigger families and those who love inviting guests for dinner. You can also choose to make 1-pound and 1.5-pound loaves. If you are looking for maximum flexibility, this could be the best bread machine for you.
The Cuisinart CBK-100 break maker features a timer, which you can use to program the machine so that it delays the start of your desired cycle up to 13 hours. The power failure backup is another highly practical feature worth your attention. The appliance "remembers" at what point of the cycle it stopped when the power went out for 15 minutes. This means that it can restore its operation immediately when the power is back on.
The bread machine is very easy to use with the only drawback being the small display. Since the pad, paddle and lid are removable, maintenance is a breeze. They will always be spotless without any effort on your part. Check out the benefits and downsides of the Cuisinart CBK-100 break maker to make up your mind.
Pros
Highly versatile
Suitable for big families
Simple to use
Convenient maintenance
Cons
Small display
The signal for the end of the baking cycle is somewhat annoying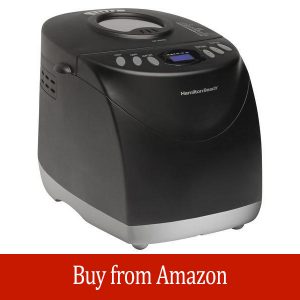 The rounded edges and the elegant design are the first things which you notice about this bread machine from Hamilton Beach. It is not particularly compact, but it can make up to 2 pounds of fresh brad. Among the most notable design features you will find the non-slip feet.
The viewing window is a nice feature to have, especially when you cook with kids. The machine operates quietly and this is a big plus.
You can select from 12 different settings including ones for gluten-free bread, quick bread with baking soda and whole-grain bread and jam. You can make pizza dough and jam.It is also possible to use the bake function alone. There are 3 crust settings to choose from – light, medium and dark. You'd be happy to know that are great original recipes to choose from.
The express feature cuts the time necessary for baking bread. With the timer, you can delay this process. It's more than convenient to add the ingredients in the evening and set the timer for the Hamilton Beach HomeBaker 29882 machine to prepare fresh bread before you wake up.
There is nothing complex about making bread, cake and jam with this model. The settings are clearly indicated and the buttons are quite big. The screen could have been larger, but it is still quite functional. Maintenance is also super simple thanks to the fact that both the removable pan and the kneading peddles (there are two which you can use in turn) are dishwasher safe.
Could this be the best bread machine for you? Weigh its advantages and disadvantages to decide.

Pros
Capable of making various types of bread
Quiet operation
Great recipes included in the package
Very convenient maintenance
Cons
Takes up a good amount of countertop space
No visual indicator – just beeping signals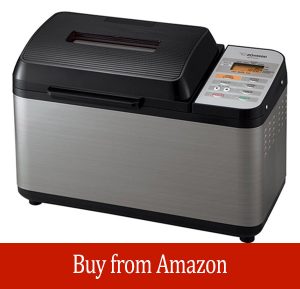 As one of the few horizontal bread machines in the market, Zojirushi BB-PAC20 certainly stands out. It enables you to make loaves which look just like those which you'd find in a bakery. Besides, it has some excellent features which are not very commonly found.
There are two paddles for kneading and this helps to make the bread lighter. The additional heating element on the lid provides for completely even baking. The 2-pound capacity is also great.
There are 10 different preset cycles to choose from. They are not particularly diverse, however. Still, you can make gluten-free bread, cakeand jam with the machine. It is also possible to prepare dough which to use separately. With this feature, you can make dough for pizza, bagels and even cinnamon rolls. With the Home Made menu function, you can use three memory settings to prepare your favorite recipes with the touch of a button.
The quick baking cycle gives you freshly made bread in little less than 2 hours. The timer is another highly functional feature. You can delay the making of the bread up to 13 hours. The feature is really simple to use thanks to the LCD clock.
The Zojirushi BB-PAC20 Home Bakery Virtuoso gets a top score for ease of use too. The LCD display is big and bright. The buttons are big. The baking pan has handles so it is very convenient to take it out. There is even an instructional DVD.
If you think that this model could be the best bread maker for you, check out its pros and cons.
Pros
Makes classic horizontal bread
Diverse settings and large capacity
Superb performance
Very easy to use
Cons
The beep signals are somewhat loud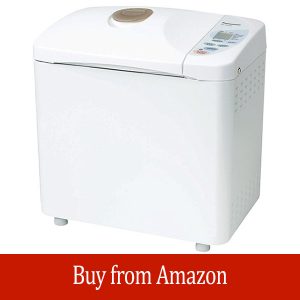 If you want to experiment with a wide variety of baking recipes, you can readily consider Panasonic SD-YD250, no matter whether you have skills or not. The bread maker's large capacity (it can make even 2.5-pound loaves) is just one of the factors which contribute to its versatility. You can make various types of bread, from French to multi-grain, plus cake. You can select from 3 different loaf sizes, depending on your preferences. There are also 3 crust options.
This machine has dough-only and bake-only functions. It gives you the opportunity to prepare dough for pizza and croissants. The bake-only function is ideal for tea cakes. The 13-hour digital timer is another fantastic feature which gives you even greater versatility. There is also a quick bake feature which you can use when you are in a hurry.
This bread maker practically takes you by the hand, regardless of the type of recipe which you want to prepare. There is a yeast dispenser which adds the yeast to the mixture at the right time. The guesswork is eliminated and the results are always fabulous. When making bread with seeds or dried fruit, you will get a signal when to add them exactly.
You will surely find the Panasonic SD-YD250 bread maker easy to use. It has clearly labeled buttons, a measuring cup and a measuring spoon and an instruction booklet. The pan is removable and has a convenient handle. Thanks to its non-stick surface, it is easy to clean.
Pros
Huge capacity
Many settings which can be combined feel
Reliable performance
Super simple to use
6. Sunbeam 5891 2-Pound Programmable Breadmaker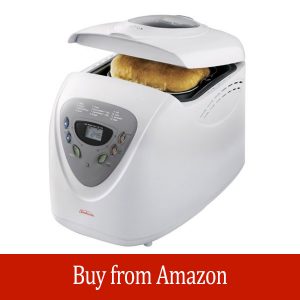 With its not particularly large design and maximum capacity of 2 pounds, Sunbeam 5891 could be the best bread machine for a big family with a small kitchen. You can always downsize the portion and make 1 or 1.5-pound loaves. There are 12 different preset cycles to choose from. You can make bread, cake or pizza dough. You can also choose between light, medium and dark crust. The recipes in the included booklet are not particularly good, however.
You can use the timer to delay the preparation of the bread up to 13 hours. This feature is great to use when you feel like having freshly baked bread in the morning or want to surprise your dinner guests with something truly special, even though you have been working hard at the office all day long.
Is the machine easy to use? Yes, it is. The buttons have clear indicators. The LED display isn't particularly big or bright, but it is easily readable. The viewing window enables you to check what is going on inside the machine from time to time. You can take the non-stick pan out without any hassle. Maintenance is also a simple task. You can wash the pan in minutes.
Sunbeam 5891 works quite well, but is it the best bread maker? It is versatile and performs reliably and without making much noise. You can now take a closer look at its benefits and drawbacks.
Pros
Good capacity
Versatile settings
Quiet operation
Easy to use and to keep in good condition
Cons
The included recipes aren't particularly good.
The LED display isn't very big.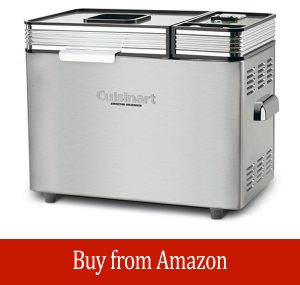 Is the best bread machine for you the most versatile one? Then you should definitely check out this Cuisinart CBK-200 bread maker review. The appliance comes with 16 different settings, 4 more than what's considered standard for the high-quality models. With them, you can create more than one hundred combinations. Some of the most notable settings are for gluten-free bread, low-carb bread, artisan dough, cake and jams.
When making bread, you can choose from 3 crust colors and 3 loaf sizes. Thanks to the model's capacity of 2 pounds, you can make a loaf which is big enough to cut into 16 slices. Another feature worth your attention is the timer, with which you can delay the making of the bread up to 12 hours.
With so many settings and options, is this machine easy to use? It's certainly not rocket science. All settings and buttons are properly labeled so there should not be any room for confusion. You may want to keep the instruction manual at hand when you are starting out, just in case. With the LCD display, you will be able to keep track of what's going on so the risk of errors will be reduced even further.
How about performance? Cuisinart CBK-200 features a convection fan which allows for the even spread of the heat when the bread is baked. Additionally, the speed and timing are automatically adjusted. This is how you will get the best result every time you prepare bread, regardless of your skills.
Other notable performance features include the power-failure backup and 15-minute pause function. Thanks to the brushed stainless steel body of the machine, you can rest assured that it will keep working well in the long term too.
To conclude the review, let's look at the pros and cons of this bread maker.
Pros
Exceptional performance
Many settings and combinations
Excellent controls
Strong and durable
Cons
Not all recipes in the booklet are very good.
8. Zojirushi BB-HAC10 Home Bakery 1-Pound-Loaf Programmable Mini Breadmaker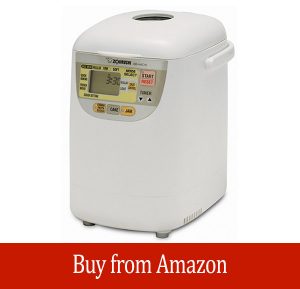 If you have limited room in your kitchen, Zojirushi BB-HAC10 could be the best bread machine for you. This mini machine measures only 11 by 8 by 12 inches and therefore takes much less space than its traditional counterparts. The carrying handle makes the appliance portable so you can readily use it in your outdoor kitchen or take it with you when you go on holiday.
It is true that this machine can make only 1 pound of bread with a single cycle, but this should be enough for four people who eat up to two slices of bread at every meal. Besides, it gives you multiple settings to choose from. You can prepare regular, soft or firm bread plus the all-time-favorite French bread. The machine can also make dough for cookies and pasta, cake and jam. This makes it quite versatile.
There is a quick cycle which you can use to make bread in slightly less than 2 hours. The timer is the ideal function for those who love having fresh bread for breakfast. You can delay the preparation of the bread up to 13 hours.
The LCD control panel makes the Zojirushi BB-HAC10 mini bread maker very easy to use. There is an instruction video included in the package to give you a head start. The baking pan and the kneading blade have non-stick finish. This makes cleaning a simple and quick job while the result is always perfect.
Is this the best bread machine in the mini category? Consider its good and not so good sides.
Pros
Ideal for small kitchens
Portable
Multiple settings
Simple to use
Cons
The quick bake setting doesn't work with the timer.
9. Oster 5838 58-Minute Expressbake Breadmaker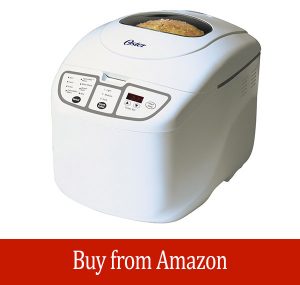 The first thing which people typically notice about Oster 5838 is that it is not as big as many of the other machines capable of producing 2-pound loaves. This makes it suitable for kitchens with less countertop space. You just need to allow sufficient clearance for the lid, which comes with a viewing window, to open easily.
There are multiple settings to choose from. The most impressive one is certainly ExpressBake. With it, the bread is ready in just 58 minutes. You can choose from settings for making different types of bread like French bread and sweet bread. You can prepare dough for your other culinary masterpieces and jam too.
Another great feature which this bread market boasts with is the 1-hour keep warm function. In addition, there is a programmable timer with which you can delay the baking up to 13 hours.
Since there aren't many buttons and the main settings are just 8, it is quite easy to use this bread machine. The display is not particularly sophisticated, but it serves its purpose well. When it comes to performance, the appliance performs perfectly well.
The aluminum pan and kneading paddle of Oster 5838 prevent the dough from sticking. They are also quite easy and quick to clean after each use.
To sum things up, here is a list of the benefits and drawbacks of this bread maker.
Pros
Great capacity
Diverse settings
Extremely simple to use
Great performance
Cons
Tiny screen
The owner's manual isn't made to withstand the test of time
10. Zojirushi BB-CEC20 Home Bakery Supreme 2-Pound-Loaf Breadmaker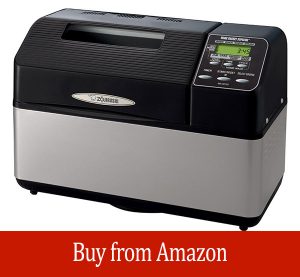 As one of the not so many horizontal bread machines in the market, Zojirushi BB-CEC20 can give you loaves which look exactly like those sold by your local barker. It takes a good amount of countertop space, but it is worth it. Thanks to its 2-pound capacity, it allows you to make a single loaf which is sufficiently big for the whole family to enjoy fully.
There is a wide selection of cycles. You can make different types of bread, dough, cakes and jams. You can choose the quick baking cycles to eat fresh bread in just 2 hours' time. With the timer, which enables you to delay bread making up to 13 hours, you will enjoy even greater flexibility. The Home Menu is a very cool feature. It enables you to save up to 3 of your favorite recipes.
Zojirushi BB-CEC20 is a great performer thanks to its two kneading paddles. It bakes the bread evenly from all sides. The controls may seem a bit complex at first, but it is actually easy to use this machine, especially with the included video instructions. The non-stick pan makes cleaning a simple job too.
When deciding if this could be the best bread machine for you, consider its advantages and disadvantages.
Pros
Sufficiently big capacity
Traditional bread loaves
A variety of great settings
Dependable performance
Cons
The control panel could be a bit clearer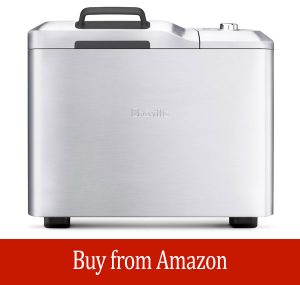 Perhaps the first thing which you need to know about this machine is that it has very large capacity. You can make 2.5-pound loaves with it as well as smaller ones. If you have a big family or many guests coming over for dinner regularly, you may want to seriously consider it.
There are 13 automatic settings to choose from including ones for making gluten-free bread, yeast-free bread, pasta dough and jam. You can also pick from 4 loaf sizes thanks to the large capacity and 3 crust colors. There is a delay timer for added flexibility. You can choose from over 46 different recipes and completely customize the preparation cycle.
Breville BBM800XL boasts with a range of smart features. The LCD display is utterly impressive. It makes the machine extremely easy to use. You can pick the desired setting in seconds and keep track of your progress.
There are two automatic features which make this model stand out. There is a fruit and nut dispenser, which adds these ingredients at the right time. You won't have to watch out for a signal to add them manually. The other cool feature is the kneading paddle which collapses once its work is done so that it doesn't leave a big hole in the bread.
Could this be the best bread maker? Look at its pros and cons.
Pros
Extra-large capacity
Great versatility
Advanced automatic features
Superb LCD display
Cons
A bit loud
The beeping signals could be stronger
12. Breadman BK1050S 2-lb Professional Bread Maker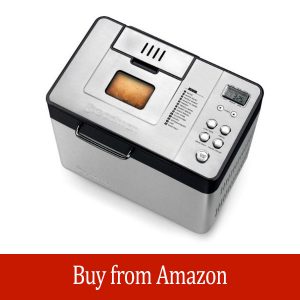 This bread machine by Breadman is designed to help you bake bread at home just like a pro. It comes with 14 different functions. Some of the most notable ones are for making gluten-free bread, low-carb bread, artisan dough and jam. You can pick from 3 loaf sizes (1, 1.5 and 2 pounds) and three crust colors. This bread maker is indeed one of the most versatile available in the market.
The collapsing kneading paddle is a great feature to have. You don't have to take it out of the ready bread or worry about a large hole being left in it. The 15-hour delay timer is another fabulous feature to have. It makes this bread maker stand out as with most of its counterparts, you can delay the making of the bread up to 13 hours.
There is nothing complex about adjusting the settings and using the buttons. The collapsible measuring cup and the adjustable measuring spoon enable you measure the ingredients accurately every time and make the machine even easier to use. The fruit and nut dispenser adds these ingredients when the time comes without any involvement on your part.
Breadman BK1050S bakes the bread evenly. It is also quite durable thanks to its body made from stainless steel. What are its benefits and drawbacks?
Pros
Multiple settings
Advanced automatic features
Simple controls
Good performance
Cons
Somewhat noisy
Small viewing window
Now you have all the information which you need to choose between the various bread markets available in the market. Use the buying guide to find your way around and the individual reviews to evaluate the models. It is a good idea to set up a budget too.
Here you will find all the help which you are looking for. Let's get started with the basics.
Why Buy a Bread Maker?
The benefits of having your very own bread machine are many and different. Check out the main ones:
1. Healthy and delicious bread
Serving bread at each meal is a cultural tradition and practically everyone follows it. With the best bread maker on your kitchen countertop, you will be able to put fresh bread, which doesn't have any additives or preservatives, on the table, Or use it with your panini and sandwich makers. You select the ingredients to ensure that your loved ones and guests will enjoy a perfectly delicious and totally healthy loaf.
2. No baking skills required
With the best bread machine, you will simply have to add the ingredients into the pan. It's true that you will have to measure the required amounts, but there is nothing complex about this. The machine will take care of the rest. It will do the kneading and baking. You just have to take the freshly baked bread out once it's ready.
3. Saving time and effort
Making bread the traditional way requires a considerable amount of time, usually around three or four hours. With a machine, it takes just a few minutes to measure and add the ingredients and press the required buttons.
Some models even have a rapid-bake setting to save you even more time. The best part is that there is no effort involved. You will never have to worry about getting pain in the joints of the hand because of intensive kneading.
4. Making various types of bread
It is perfectly possible to make whole-grain bread and loaves with nuts and seeds and even dried fruit with a bread machine. There are models especially designed to prepare gluten-free bread. The sky is the limit, literally.
5. A long-term investment
When you buy a high-quality bread marker, you will enjoy using it for a long time to come given its reliable performance and versatility.
What to Look for When Buying a Bread Machine
1. Capacity
Loaf size is always a primary factor to consider. The most popular options include 1, 2 and 2.5 pounds. Given that you can get 8 slices of bread when you make a 1-pound loaf, it makes sense to opt for a larger capacity if you have a big family.
2. Versatility
How many types of bread do you want the machine to make? If you like diversity, you should consider models which are designed to make bread with nuts and seeds and even gluten-free bread. There are also models which enable you to prepare cake and pizza dough and pasta dough.
Generally, it always pays off to have cycles which involve only kneading or baking. This will enable you to use the machine for preparing even more recipes.
3. Kneading paddles
Their number is a key factor to consider when planning to buy the best bread machine. While a single paddle will do a good job, two will typically give you fluffier dough for enjoying even more delicious bread.
4. Baking performance
The only way to assess it is to taste the bread which comes out. Ideally, it will have a crispy crust, crumb which is soft and light and fabulous aroma and flavor. It should be easy to cut into slices too.
5. Timer
This feature may not seem to be essential, but the reality is that being woken up by the smell of fresh bread coming from the kitchen is more than delightful. With a timer, you can add all the ingredients in the evening and get the bread baked just in time for breakfast.
6. Quiet operation
You would not want your bread machine to make loud noise, especially when you use the timer to make bread while you are sleeping.
7. Baking pan quality
The pan should have non-stick surfaces. This will enable you to take the bread out quickly and without hassle, while it stays in perfect shape. It is best if the pan is removable too. This will make cleaning much easier.
Ease of use – The controls of the best bread maker are simple and intuitive. An LCD display is a practical feature to have as it will help you keep track of what is going on. While a viewing window is a cool feature to have, it is actually not mandatory for making perfect bread. The manual, which contains instructions for use and possibly recipes, should be easy to understand and to follow.
8. Safety features
The safety fuses are now regarded to be mandatory features as they can be found in practically every bread machine. Additionally, you would not want bread to be ruined in case of a power outage. Ideally, the machine will resume its work after the safe shut off. While a secure non-slip base is not a traditional safety feature, it is essential for the reliable performance, safety and durability of the appliance.
9. Advanced features
If you want to take bread baking to the next level, you should consider a machine which has a microprocessor. It works to adjust the temperature automatically so that the bread is nothing else but perfect. You will never have to worry about unevenly baked loaf.
The models with a convection feature are made to give you a perfect crust. A rapid-bake setting will cut the time needed for making bread considerably.
Types of Bread Machines
It is worth taking a closer look at the main types of bread makers when you are looking for the best one. This will give you a better idea of the options available to you.
1. Vertical
This is the classic type of bread machine. The pan has considerable depth so the ready bread loaf is much taller than what you'd expect to find in a bakery. Even though the look may not be authentic, the flavor and aroma are. A major advantage of the vertical machines is that they take little countertop space. However, most do not have large capacity.
2. Horizontal
This type of bread maker gives produces loaves which are longer and have classic height. Their look makes them even more appealing. This is probably because they remind you of the bread your grandma used to make when you were a kid.
It is important to note, however, that the shape of the bread doesn't affect its overall quality or flavor. That is why you should focus mostly on the performance of the machine.
3. Small
A small bread machine can make 1 pound of bread. It takes little room so it could be just right for a kitchen with limited countertop space. A 1-pund loaf can be cut into eight standard-sized slices so it could work ideally for a party of four people, if we assume that a person will usually have two slices.
4. Large
A large bread maker has the capability to prepare a loaf of 2 pounds or greater. You will need to provide more countertop space for it, but you will be able to feed more people at the time. Alternatively, you will have the option to bake less often.
Additionally, you can readily make smaller 1-pound loaves with a larger machine when you want to.
5. Gluten-Free
A gluten-free bread machine has a special setting for making this type of bread. You can expect it to be capable of preparing traditional bread too. Usually, a gluten-free bread maker will come with a variety of recipes without gluten that you can take advantage of.
Maintenance Tips
1. Removing crumbs and dough
Just turn the pan upside down, shake it a bit and brush off any crumbs remaining inside. Remember to use a soft-bristled brush to avoid scratching the surface, especially if has Teflon coating. If there are flat pieces of dough remaining on the sides of the pan, leave them to dry for a few hours. After this, they will come off easily.
2. Thorough cleaning
You should check if the pan can be washed. In most cases, the pans are not dishwasher safe. If you can wash it by hand, you should use a soft sponge. Avoid oiling the kneading paddles. Clean them gently after each use of the machine. You should also clean the section under the pan where the heating elements are.
A small vacuum cleaner will help you to collect all the crumbs. You will benefit from cleaning the section with a soft and slightly damp cloth too. Wipe any traces of water left.
3. Proper lubrication
The exterior spindle shaft which is outside of the pan requires regular lubrication to work smoothly. Your owner's manual will give you detailed instructions. It should also say what type of oil to use and how often to lubricate the shaft.
Usage Tips
1. Pack on the right ingredients
While there is no significant difference between bread flour and flour made especially for bread makers, you should refrain from using all-purpose flour. This is because it has less gluten and the bread won't become as airy and light as you want it to be.
2. Make sure that all ingredients have room temperature
This is necessary for getting fluffy dough. If you will use eggs and milk, take them out of the fridge in advance.
3. Measure the ingredients accurately
This is particularly important when it comes to the soft and liquid ones. If you use too much of them, this may ruin the bread which you are baking.
4. Don't use liquid ingredients when delaying the baking with the timer
The manufacturers of bread machines make this rule easy to follow as the recipes which they offer are perfectly well-suited for use with this function.
5. Keep the machine away from heat and humidity
This will keep its performance optimal every time and ensure its long useful life.
Now that you know how to choose, use and maintain the best bread machine, it's time to check out the contenders for a place in your heart and in your kitchen.
Are you ready to decide on the best bread machine for you? Always consider your individual needs and requirements first.