A panini press is a wonderful kitchen appliance used by millions of households across the country. It is named after Panini, an Italian grilled sandwich made using bread and various kinds of fillings. It is a wonderful appliance to have in the kitchen.
It can help you with making not just sandwiches but also many other delicious recipes such as omelets, pizza pie, hash browns, grilled chicken breast, grilled vegetables, and much, much more. In short, this kitchen appliance can help you overcome the monotony of dishes made on the gas stove and avoid the heat that it generates. Lets have a look at top panini makers first.
Top Panini Makers in 2019
Realizing the popularity of the panini press among consumers, many companies are making this appliance. With all of them claiming their models to be the most efficient and effective, it is indeed a difficult task for anyone to choose the best panini press.
Here we take a look at some of the most popular and bestselling panini press models to help you take an informed decision when you plan to buy one for your kitchen.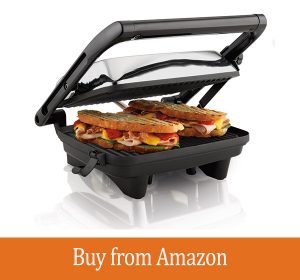 This is an extremely popular panini press model from Hamilton Beach, a company renowned for its high quality kitchen appliances. This model can make delicious grilled sandwiches of any thickness with the help of a floating lid that is able to press evenly the bread pieces placed inside.
This panini press has non-stick grids measuring 10 by 8. There is plenty of space inside to make 2-3 sandwiches in one attempt. The non-stick grids allow you to remove grilled sandwiches with ease.
With this appliance at home, you can prepare wonderful grilled sandwiches just like the ones served in good restaurants. Because of the even pressing, it is possible to make thin or thick sandwiches depending on your taste.
This appliance is extremely easy to use and you know when it is ready to make the sandwich when you see both the power and preheat lights on.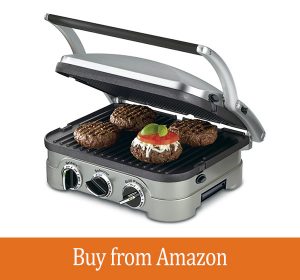 This is a very popular panini press made by Cuisinart, a respected name in the world of kitchen appliances. It is in fact a 5 in 1 unit that can not only make delicious paninis but also serves as a contact grill, full grill, half griddle, and full griddle.
It is housed inside a stainless steel body and has black dials. It has a stylish handle to lift the grid so that you can take out the delicious sandwiches. The floating cover means that you are free to choose the thickness of your sandwich.
The non-stick plates of this panini press are removable for easy cleaning. You can be sure that you will prepare healthy recipes only because of the ability of these plates to drip off oil. A scraping tool is provided with the appliance even though you will hardly require it to scrape burnt bread from the plates.
The temperature controls are easily adjustable and come with light indicators. There is a drip tray at the base that can be taken out to remove all the oil that has been collected inside.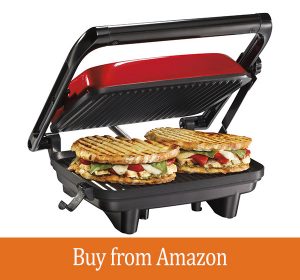 This is a great sandwich maker from Hamilton Beach that enjoys a very high rating from consumers. You can make sandwiches of any thickness using this panini press. It is fitted with a floating lid that presses evenly to prepare crunch grilled sandwiches.
It boasts with non-stick grids measuring 10 by 8 to allow the user to make not just one but 2 to 3 sandwiches at a time. This panini press can be stored upright to save space in your kitchen.
Insert as much of your favorite meat, cheese, and veggies inside the bread as this is a very efficient panini press that can make really thick sandwiches. It is an appliance that can help you make a hot and tasty meal in short time.
The only downside of this wonderful panini press is its inability to switch off after a period of inactivity. You will need to push the button to shut it off.
4. Cuisinart GR-11 Griddler 3-in-1 Grill and Panini Press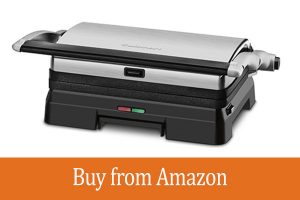 You get a griddler, grill and panini press all combined in a single appliance. Make tasty burgers, juicy steaks and grilled sandwiches that are perfectly browned and crispy with the help of this appliance at home.
You will be pleasantly surprised with even grilling and roasting thanks to the non-stick plates. It has a slide out drip tray that collects excess oil to give you tasty and healthy food. Operating this device is extremely easy with its power and ready to cook buttons with led lights.
This device provides large cooking surface but gets stored in a small space inside your kitchen. The plates of this panini press are removable too be easily cleaned.
5. Cuisinart GR-150 Griddler Deluxe, Brushed Stainless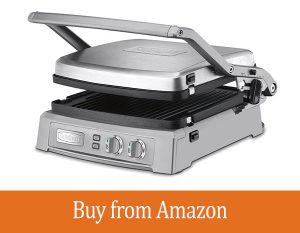 This is a beautiful griddler from the house of CuisinArt that is made from brushed stainless steel. This device can cook delicious recipes in 6 different styles with one of them being panini press. It has non-stick grids or plates that are removable.
You can prepare the food at 500 degrees Fahrenheit for up to 2 minutes in this griddler. This device provides a very large 240 square inch cooking surface to you. It comes with an integrated drip tray that can be easily removed for cleaning purposes. It is dishwasher safe and comes with a scraping tool to do some pre cleaning before washing in the dishwasher.
As mentioned earlier, this is no ordinary panini press as you can make many different types of delicious recipes with tis help. These include sautéed vegetables, seared fillets, sandwiches and bacon and eggs. Independent temperature controls allow you to easily do combination cooking with this appliance.
6. Breville BSG520XL Panini Duo 1500-Watt Nonstick Panini Press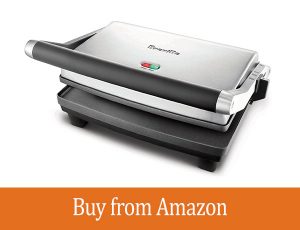 This is a very efficient panini press from Breville. It has scratch resistant cooking surface. It operates at 1500 watts so you can easily and quickly prepare grilled sandwiches at home. It is the top plate that is ribbed to create grill marks while the bottom plate is even to allow thorough cooking.
It is fitted with power and ready buttons with light indicators to make cooking ridiculously easy for the user.
The cord wrap means that there is no tangling and obstruction while preparing your food. You can cook any type of bread when using this panini press.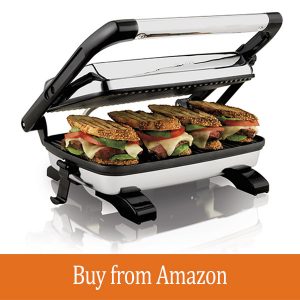 If you want to prepare grilled sandwiches of any size, this is the appliance you must have in your kitchen. It boasts with a cafe style floating lid that presses evenly to prepare uniformly crisp sandwiches. Even a child can make yummy sandwiches using this panini press as it has Power and Preheat functions with light indicators.
Just load two pieces of bread with your favourite meat, cheese, and vegetables and let this device do it all to make delicious sandwiches for you. The cheese gets melted while the meat and veggies become cooked to give you mouth-watering sandwiches in no time at all.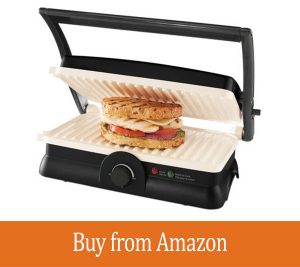 This is a perfect sandwich maker with non-stick plates that help to remove all the oil so that you can prepare healthy and yummy sandwiches. This non-stick surface has ceramic coating free from chemicals.
Grill for a long time without any worries about your health.This is a very efficient appliance that cooks very fast to save you time and lots of energy. This panini press opens flat and boasts with adjustable feet for easy tilting. There is not a single drip tray but two drip cups to collect excess oil and give only the healthiest of food items to you.
9. IMUSA, GAU-80102, Electric Panini and Sandwich Maker, Nonstick Panels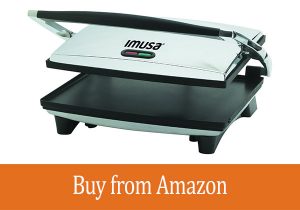 This is a sturdy panini maker with a stainless steel body and a soft grip handle. The non-stick plates make sure that all excess oil gets drained and collected in the drip tray. This device has an adjustable height that makes it possible for you to prepare sandwiches of all thicknesses. Thanks to the Power and Heat Ready buttons with light indicators, making sandwiches is ridiculously easy.
10. Oster CKSTPM6001-ECO Extra Large DuraCeramic Panini Maker and Indoor Grill
This is a very popular panini press that boasts ceramic coated plates to prepare only the healthiest of sandwiches. The coating is free from chemicals and thus very safe for making healthy food. It is a very efficient device that uses 20% less time and energy. The hinge system of this appliance is floating to make it possible for you to prepare sandwiches of all thicknesses.
The Oster CKSTPM6001-ECO extra-large DuraCeramic panini maker and indoor grill has a drip tray that can be easily removed to clean all the oil that gets collected in it. The grill has scratch resistant plates to make sure that your appliance remains in perfect condition for a long time to come.
You can use this device as a panini press or as a grill when you let the top open.