There are many blenders costing several hundred dollars, but if you are not prepared to spend that much money, don't despair. You can easily find a more affordable model which performs reliably and can help you make the healthy and delicious drinks and foods that you want.
Here you will find a selection of the models that can qualify as the best blender under $100 and under $50 respectively (scroll below).
Best Blenders Under $100
You should not be surprised to discover that some of the most popular models in the market as a whole fall into this category. They are powerful and compact and this helps them attract the attention of all buyers and not only those who have a stricter budget.
You can expect them to be quite easy to use and to maintain. These are essential requirements for every kitchen appliance used every day. When comparing the top picks in this category, consider not only your budget but the performance and features which every model has to offer.
Check them out now.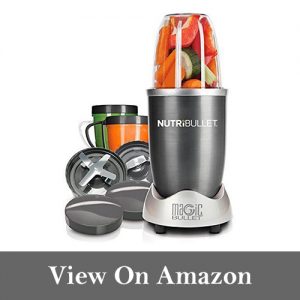 Buy from Amazon.com
This model has got immense popularity not only because of its affordable price. It's compact but sufficiently powerful with its 600-watt motor.
The simple design makes it very easy to use. You can prepare a wide variety of healthy drinks with NutriBullet and use it for food preparation too.
Consider its features to decide if it could be the best blender under $100 for you.
Features:
Patented blade with cyclonic action – It pulverizes even the seeds and skin of fruits and veggies to give you the most nutritious smoothies and juices.
1 tall cup and 2 short ones – This gives you flexibility with preparing and storing drinks.
Cookbook in addition to the user manual It's great for beginners as it contains a wide variety of simple recipes.
Pros
Very compact
Reliable performance
Giving you more nutrients
Quite versatile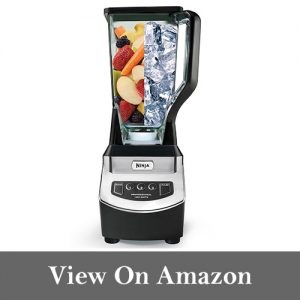 Buy from Amazon.com
The elegant design of this blender is the first thing which impresses you about it. The base is not particularly wide, but it is solid and this is the most important thing of all.
It holds a motor which produces 1000 watts of power and this is truly awesome. You can use the blender even for crushing frozen fruits and ice.
Consider the features of this Ninja model to make up your mind about it.
Features:
6-blade technology – You can put ice cubes in and crush them into thin powder thanks to its advanced action.
3 speeds and pulse mode – You choose how to prepare your preferred recipes for getting the best result.
9-cup pitcher – It's larger than those of many expensive blenders.
Pros
Powerful action
Large pitcher
Highly versatile
Dependable operation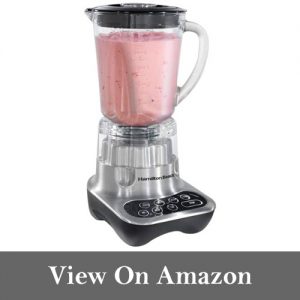 Buy from Amazon.com
The rounded edges of the base give this model classical charm which is hard to ignore. You can expect it to be stable even though the design isn't among the most conventional.
When it comes to performance, you should know that this model uses 700 watts of power to do its job. This is quite good for an inexpensive blender.
You may be surprised to discover that this model has features which are commonly found in the high-end models. Let's take a closer look at what it has to offer so that you can decide if this Hamilton Beach blender could be the best blender under $100 for you.
Features:
Patented Ice Sabre steel blade – It does a great job with crushing ice and frozen fruit for the perfect drink or dessert.
Wave action system – It gives you better results more quickly no matter what types of ingredients you are using.
Preprogrammed functions – You can choose from 5 different options which include smoothies, ice crush, pulse and high, medium and low speed.
5-cup glass jar – It's excellently designed for easy pouring and quite durable too.
Pros
Great performer
Impressive versatility for the price
Quite durable
Easy to clean
Best Blenders Under $50
You can be certain that the most affordable models in the market are not fragile or poorly performing. They may not have the bells and whistles of some of their more expensive counterparts, but you can expect them to be strong and durable and to do a great job.
In fact, you will discover models with modern designs which are impressive additions to every kitchen. You will be able to prepare a great variety of food and drink recipes with them – from basis ones which everyone is familiar with to some culinary masterpieces.
Meet the contenders for the title of best blender under $50.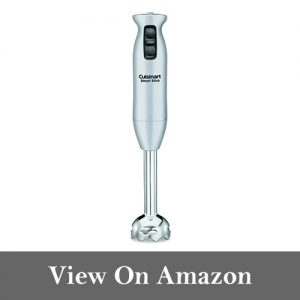 Buy from Amazon.com
The elegant design of this model makes it a powerful contender in hand blenders. The brushed chrome finish is beautiful and hygienic.
The motor produces 200 watts of power and this is sufficient for food and drink preparation applications of this hand blender.
The 2 speeds give you perfect control of the tasks which you perform with it. Don't hesitate to take a closer look at the Cuisinart Smart Stick CSB-75BC features.
Features:
Stainless steel blade and guard – They are essential for the smooth mess-free performance of this model.
Stick design – The blender is quite thin so that you can use it even with taller and narrower containers.
Detachable shaft – This makes cleaning and storage super convenient.
2-cup mixing beaker It's a useful accessory to have when you are making shakes or salad dressings.
Pros
Reliable performance
Great flexibility
Easy to use
Simple cleaning and maintenance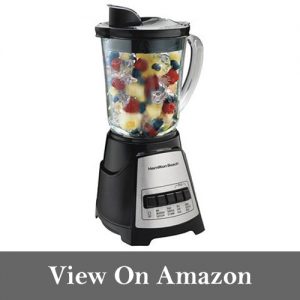 Buy from Amazon.com
Given that this model has 700 watts of power, it's natural to wonder if it could be the best blender under $50 for you.
The blade is quite strong and this also contributes greatly to the performance of the model. Besides, it is very well designed and comes from a reputable brand for kitchen appliances.
This Hamilton Beach blender has awesome features which you should check out in detail.
Features:
Wave action system – All the ingredients get into contact with the blade so you get superb result quickly.
12 different functions – This is more than impressive. Some of the most notable functions include milkshake, puree, ice drink, chop, salsa, crush ice and easy clean.
5-cup glass jar – It's strong, durable and dishwasher safe. The pout has an awesome design for easy pouring.
Pros
Exceptionally versatile
Dependable performer
Simple to use
Super easy to clean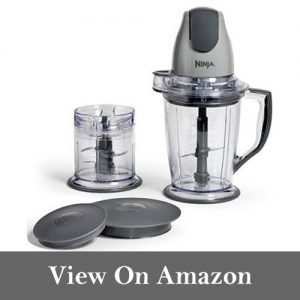 Buy from Amazon.com
This is a system which combines a blender and a chopper. It's awesome to be able to get a 2-in-1 appliance.
The motor unit is attached to the respective cup and blade and you operate it from the top by hand.
It produces 400 watts of power so you can expect Ninja Master Prep to be a good performer.
Its features could also help it to win the title of best blender under $50.
Features:
6 cup pitcher with a blade for blending and pureeing – You can prepare great drinks, sauces and dressings with it.
2-cup chopper bowl for chopping, mincing and dicing – It removes the hassle from these essential food preparation tasks.
Non-slip bases and anti-spill guards – These contribute immensely to the performance of the system.
Pros
Highly versatile
Superb performer
Easy to use
Hassle-free cleaning