Just 50 years ago, the average family kitchen had primarily manual utensils for food and drink preparation. Now most tasks are automated and we use appliances for them. You can readily use a blender to crush ice and frozen fruits to make delicious drinks for breakfast, as snacks and for entertaining too.
The question is which of the many models available in the market could be right for you. Here you will find all the help which you need to identify the best blender for ice – practical buying advice plus an overview of the bestsellers.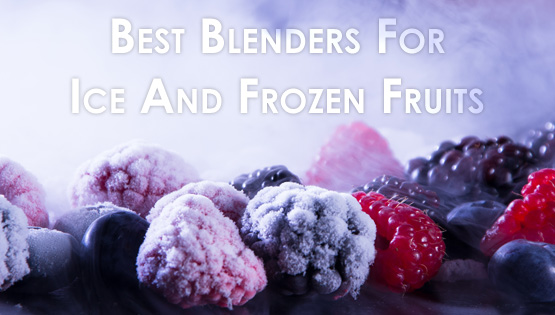 It's easy to make the right buying decision when you are well prepared. You should define your individual needs and requirements in the first place. The capacity of the blender, for instance, depends entirely on you.
If you have a large family or entertain often, you will benefit from getting a model with a big jar.
Best Blenders For Ice/Frozen Fruits in 2019
Why Blend Ice and Frozen Fruits?
There is no doubt about the fact that frozen fruits are good for you. They are packed with vitamins, minerals and dietary fiber since freezing doesn't alter their natural properties, but preserves them perfectly.
When you add ice to the equation, you get a delicious and truly refreshing smoothie (check out best blenders for smoothies) which has an outstanding creamy texture. This drink gives you a variety of awesome health benefits including higher energy levels, improved digestion, better mood and even clearer skin.
You just need to get the best blender for ice and frozen fruits to make your dream reality.
What to Look for in a Blender for Crushing Ice and Frozen Fruits?
With so many options available, it may be challenging to find your way around. That is why it makes sense to set precise requirements for the ideal blender. Here are the main ones:
Features:
Powerful motor – The more powerful the motor is, the more effective it will be at crushing ice and frozen fruits and you will get the desired results more quickly.
Strong blade – It should be resistant to bending and breaking and remain in excellent shape over the long term.
Reliable base design – The base should be large and heavy enough to keep the blender stable while working. At the same time, it should not take up way too much countertop space.
Convenient controls – It should be easy for you to find your way around and choose the ideal settings every time.
Easy cleaning and maintenance – Since you'll certainly use the appliance quite often, you would want to wash the jar and care for the base properly without having to put way too much time and effort into this.
NOTE: If you are in the market for immersion blenders, please also look at our reviews of the best immersion blenders here.
Best Blenders for Crushing Ice and Frozen Fruits
Choose the ideal product for you among the top ones in this category. Take into account the guidelines shared above and your individual needs and requirements.
Remember that when buying the best blender for ice and frozen fruits, you are making a long-term investment.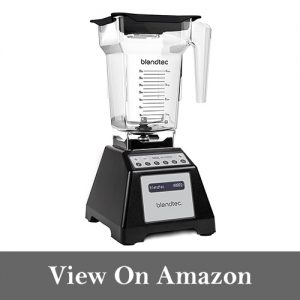 Buy from Amazon.com
The elegant and compact design of this blender naturally makes an impression on you.
The unit measures just 7 by 8 by 15.5 inches, so it would fit snugly on any kitchen countertop even below the upper cabinets.
The base is stable, even though it is not particularly large.
The Blendtec Total Blender comes from a reputable brand and boasts with amazing features which deserve your attention:
Features:
Motor producing 1,560 watts of running power – This makes the model one of the most powerful which you can find. It crushes ice brilliantly.
Stainless steel blade with 2-prong design – It's strong, sharp and durable.
Square blending jar with 8-cup capacity – The capacity is good. The jar is light yet strong. Its lid closes tightly. It's easy to remove, but the pouring could be improved.
6 preprogrammed functions – Ice crush, smoothie, ice cream, whole juice, batter and soup. This makes the blender highly versatile and super convenient to use.
Pros
Super powerful
Compact size
Highly versatile
Easy to use
Reliable and durable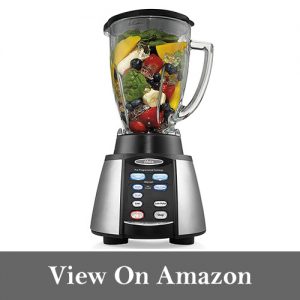 Buy from Amazon.com
This unit has compact design, measuring 8.5 by 10.2 by 13.8 inches.
You don't have to make much room for it on the countertop and it would easily fit in a standard kitchen cabinet.
The motor produces 1000 watts of power which translate into 600 watts of blending power.
This Oster blender is a budget blender, quite affordable, and has high performance. This is quite good for such a small appliance.
Check out the features of this Oster model to decide if it could be the best blender for ice for your kitchen:
Features:
Reversing blade – It has stainless steel make and crushes ice perfectly in very little time.
Preprogrammed settings – There is a special one for frozen drinks giving you the crushed ice and fruits that you need. Each setting is engaged with the touch of a button.
7 speeds – You decide how quickly the blender will work depending on your needs.
6-cup jar – Its Boroclass glass make makes it very strong and highly hygienic. It's easy to use thanks to the well-designed handle and pout and dishwasher safe too.
Pros
Well-built
Quite powerful
Superb performance
Highly versatile
Very durable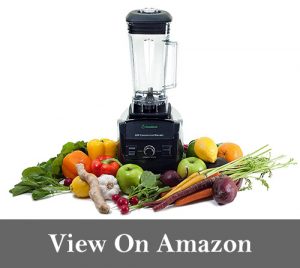 Buy from Amazon.com
This model is a big bigger than its counterparts, but it still wouldn't take too much countertop or storage space.
Its dimensions are 14 by 17 by 12 inches. It is well-designed and built.
Perhaps the most notable thing about it is that it comes with a dial for adjusting the speed so you can tweak it precisely to get the perfect result.
There are several notable features of this Cleanblend model:
Features:
3 HP motor – It produces 1,800 watts of power which is impressive by all standards. Crushing ice is something which this unit excels at.
Stainless steel blade and bearing – They do their job excellently while being extremely strong and durable.
Tamper wand – It works to eliminate air pockets for better ingredient crushing and blending results.
8-cup BPA-free jar – It's very well designed and extremely strong too.
Pulse feature – This is exactly what you need to get that awesome creamy texture when you use frozen fruits to make the perfect drink or food.
Pros
Extremely powerful
Advanced features
Great versatility
Dependable performance
Easy to use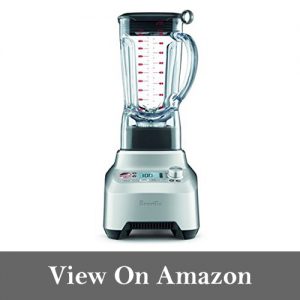 Buy from Amazon.com
This model surely has an impressive name, but will it deliver?
It comes from a renowned brand and this is certainly an indication of high quality.
Its sleek modern design will match any kitchen. You should not worry about dedicating large countertop space to fit it as it measures 18 by 9.5 by 7.75 inches.
It's tall, but not excessively.
This model is a strong contender for the title of best blender for ice as it's packed with advanced features:
Features:
2 HP motor – It's powerful enough to crush ice.
ProKinetix blade and bowl system – You can expect perfect ingredient pulverization thanks to the uniquely designed 3 stainless steel blades.
5 preset functions – Pulse/ice crash, frozen dessert, smoothie, green smoothie and soup. You will be able to crush ice and make frozen fruit specialties with the touch of a button.
Speed dial – Choose from 12 different speeds for even greater flexibility when using this Breville blender.
Timer – It's very convenient when you have a lot of things to do around the kitchen.
Cleaning function – This is one feature which makes this model stand out among the rest.
Pros
Highly advanced features
Extremely versatile
Excellent performer
Super easy cleaning
Durable design