As one of the most popular electric grill brands, George Foreman has a wide variety of modern and technologically advanced models to offer. Recently, their indoor and outdoor grills of the brand have gained a huge number of fans because of their versatility and the fact that they make cooking simpler, easier and quicker.
If you consider a buying a model of this type, the task can be challenging. To help you out, we will review the best George Foreman indoor and outdoor grills.
Top George Foreman Indoor/Outdoor Grills in 2023
Read the detailed reviews to make the right decision.
1. George Foreman GGR50B 15-Serving Indoor/Outdoor Electric Grill
Buy from Amazon.com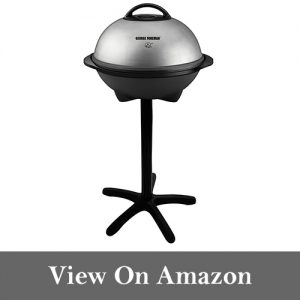 With its round design and 240 square inches of cooking surface, this electric grill for indoor and outdoor use could be the right match to big families and those who love to entertain at home.
You can prepare over 15 servings of food at the time, as stated by the manufacturer. Since the unit is electric, you will enjoy incredible grilling speed. Forger about trying to get the amount of charcoal right or adjusting the gas. It's as simple as turning the knob.
Even cooking with minimal risk of flare-ups is what you can expect from this one of the best George Foreman indoor and outdoor grills when it comes to performance. The grease released from the meat drains quickly to keep smoke production to the very possible minimum.
You will be happy to discover that you can use this grill both with and without the stand, depending on your preferences. This makes it even more versatile – a trait commonly found in the Hamilton Beach indoor grills too.
Features
What does this model have to offer? Let's assess its features in detail:
Nonstick coating of the cooking plate – You can place meat, fish, poultry and veggies without oiling the plate and get top cooking results in a healthier way. Removing the cooked food is super easy and so is cleaning. The coating is strong and long-lasting.
High-domed lid with ventilation – It works exceptionally well, especially when you are preparing chicken or roast of a considerable size.
Two-piece stand – It is very strong and sufficiently heavy to keep the grill steady in place. It has a solid design and make adding to its stability. It is also easy to assemble. You decide whether to use it or to place the unit on a countertop.
Adjustable temperature control – It's easy to plug it and to select any of the five settings for cooking.
Large capacity
Even grilling
Great flexibility
Quick and easy cooking
Durable and reliable
Bottom Line
With its large surface for grilling, superb performance and ease of use, this George Foreman grill could be the ideal versatile appliance for cooking your favorite food all year round in any setting.
Buy from Amazon.com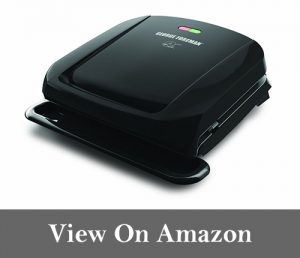 With its sleek and compact design, this electric grill could be the ideal addition to any kitchen, including a small galley kitchen in an apartment or a condo. It measures 12.28 by 6.5 by 13.27 inches, so it will fit easily on any countertop, even if it is a bit crowded. You can prepare 4 servings at the time with it which makes it ideal for average-sized and small families.
George Foreman GRP1060B is among the best indoor grills because of its fantastic performance. It reaches the required temperature for cooking very quickly, with a speed which is 35% higher compared to what its predecessors from the same brand had to offer.
The heat distribution is even and this is essential for delicious cooking. All items will be optimally cooked regardless of their position on the grilling surface. The short cooking times are also a big advantage. You can have a meal to serve for lunch or dinner in under 10 minutes.
Features
There are several major features that you need to look into when deciding whether to buy this grill:
Tilted fat-removing design – The amount of drained fat increases by 42% thanks to it to give you even healthier food and to minimize the smoke.
Advanced nonstick coating – It makes cooking and cleaning a lot easier. Additionally, it is two times more durable compared to the previously applied coating, according to the manufacturer.
Cover with 1-inch adjustable hinge – The cover's height adjusts to match the thickness of the meat, poultry, fish and/or veggies that you are cooking.
Removable plates – Take them out and put them in the dishwasher for effective and effortless cleaning.
Dishwasher save drip tray – It's long and sufficiently deep to collect large amounts of fat even though it isn't among the widest which you will find. You will find it easy to remove it and to attach it to the grill after washing.
Indicator lights – It's incredibly useful to know when exactly the grill has reached the required cooking temperature.
The Good about the George Foreman GRP1060B 4 Serving Removable Plate Grill
Compact and elegant
Perfect grilling on both sides
Healthy and hassle-free cooking
Super easy to clean
Quite durable
Bottom Line
If you want a reliable electric grill which takes very little space for cooking small meals quickly, then this George Foreman model could be exactly what you need. With simple maintenance, you can expect to use it for a long time to come.
Buy from Amazon.com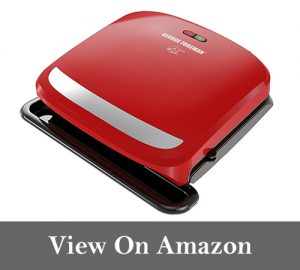 Whether you have very little space in the kitchen or usually prepare meals for a small group of people, this electric grill could be ideal for you. It is quite small while having an attractive modern design. You will find it easy to store and to place it for use on the countertop without creating any clutter.
This grill is a great performer. It has an evenly heated surface for cooking all foods placed on it perfectly. It works reliably at all times. Just like with the Oster electric grills, you don't have to have special skills to prepare superbly tasting food quickly. This is surely good news for those who want to cook a fresh meal after coming home from work.
Features
Here is a detailed evaluation of the features of George Foreman GRP360R:
Slope design – It makes it easy for the grease from the food to get collected into the drip tray. In fact, the collected amount is 42% higher than with a flat-design model of the same brand. The result is healthier cooking with much fewer and not particularly powerful flare-ups.
George tough nonstick coating – Thanks to it, you can cook without butter or oil and never worry about your food being hard to remove from the grill. The coating is three times more durable than the one which previous models of the brand had.
Lid with 1-inch floating hinge – You will get perfect grilling on both sides without any effort. The lid is completely flexible to cook everything from steaks and burgers to fish fillets, vegetable skewers and panini.
Dishwasher safe plates – They are easy to take out of the base and lid. Then you just have to place them in the dishwasher and leave the washing to it.
Removable drip tray – It can collect considerable amounts of fat which you can dispose of easily. Put the try in the dishwasher and it will be sparkly clean in no time.
Indicator lights – One shows when the grill is on and the other when it has reached the temperature necessary for cooking. This is very convenient, especially for those who are new to grilling.
The Good about the George Foreman GRP360R 4 Serving Removable Plate 360 Grill
Small size
Clever design
Effective cooking
Very simple to use
Effortless cleaning
Bottom Line
You can cook food in a healthy way in little time and without great effort using this one of the best George Foreman grills. The unit is dependable and quite durable.
4. George Foreman GRP4 Next Grilleration 5-Burger Grill with Removable Plates
Buy from Amazon.com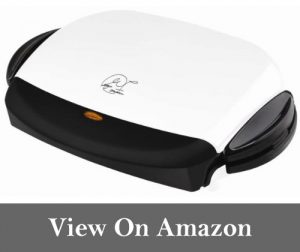 When you want to grill food, but don't have much space for another appliance in the kitchen, this electric grill may come in handy. It measures just 12 by 17 by 6 inches and has a cooking surface of 72 square inches. This is sufficient for preparing five burgers, several steaks or some veggies. George Foreman GRP4 could be the ideal choice for small households.
With 1000 watts of power, this electric grill is quite powerful for its size giving you the opportunity to prepare meals like a pro. The heating element is shaped so that the entire surface gets evenly heated without any cold spots even in the areas close to the edges.
Features
This model has a variety of useful features which you should check out:
Nonstick coating – You will enjoy healthier cooking with it. It is highly durable which is a major plus. You can expect it to remain intact for years without scratching and flaking.
Closely fitting lid – With it, you will grill the food from both sides to make it super tender. You can make panini and French toasts easily. The shorter cooking time is an added bonus.
Removable cooking plates When you are done grilling, take them out and place them in the dishwasher for effective and hassle-free cleaning.
Dishwasher safe tray for grease collection – The cooking surface is slightly sloped making it easy for the fat to drain in this compact, but functional tray.
Temperature indicator light – It tells you when you grill is hot enough to place the food on it. It's an invaluable feature.
Cool touch handles – They have a great ergonomic design which gives you a firm grip when carrying the unit. You will never have to put mittens on when you have to move the hot grill.
Cooking spatula – This is a nice accessory to have.
The Good about the George Foreman GRP4 Next Grilleration 5-Burger Grill
Compact size
Powerful performance
Fast and healthy cooking
Super easy cleaning
Practical accessories
Bottom Line
This one of the best George Foreman indoor and outdoor grills is designed to meet your daily cooking needs perfectly. You can use it to prepare great food without hassle and without wasting time for years to come.
Buy from Amazon.com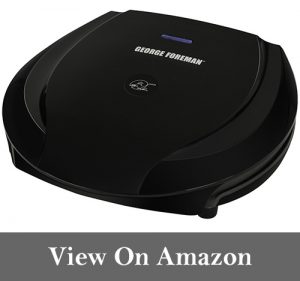 If you want a basic electric grill which you can use for preparing practically any food from steaks, burgers and chicken breast to panini, veggies and shrimp, this model may be just what you are looking for. It has an elegant design and a cooking surface which enables you to prepare up to 6 servings of food given that it measures approximately 9 by 12 inches. The grill itself is not the smallest which you can find, but it is quite compact.
This grill uses dual contact heating to shorten the cooking time. Just press the lid and let the unit do its job. This type of cooking system helps to keep the food juicier in addition to helping you prepare lunch and dinner more quickly. You can expect even cooking from George Foreman GR0103B thanks to the shape of the heating element. Forget about cold spots which could potentially ruin your meal. This is true for the best electric griddles too.
Features
The key features which you should look at more closely as a buyer are:
Fat removing design – The base of the grill is slightly tilted so that the fat can drain more easily making the food healthier and reducing the level of smoke produced to the possible minimum.
George tough nonstick coating – You can cook without oil or butter for even healthier results. Serving the food will always be easy. The nonstick coating is exceptionally durable.
Dishwasher safe drip tray – It's sufficiently large not to overflow and easy to remove. Wipe any remaining fat and let the dishwasher do the rest.
Power indicator light – It's a useful feature to have.
The Good about the George Foreman GR0103B Jumbo Sized Grill
Practical size
Healthy grilling
Shorter cooking time
Dependable performance
Highly durable
Bottom Line
The average family would love this one of the George Foreman indoor and outdoor grills for its capacity, great work and ease of use. You can expect to use it over the long term.