Whether you want eggs, pancakes or grilled cheese to surprise your loved ones with, an electric griddle can help you achieve absolute perfection. This is one of the most loved kitchen appliances by those why want to enjoy both healthy and delicious food.
Here you will discover reviews of the best electric griddles on the market right now plus some essential advice on how to make the right choice. Let's begin.
Best Griddles of 2023
It's time to explore the best electric griddles. Take advantage of the objective and detailed reviews to make up your mind.
1. Oster CKSTGR3007-ECO DuraCeramic Reversible Grill and Griddle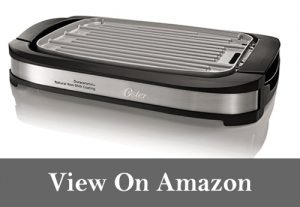 Buy from Amazon.com
This model measures 5.5 by 22 by 15.25 inches so it isn't the largest you will find out there, but it's pretty big. The cool-touch handles are integrated into the body and this saves space. Still, they are large enough to be comfortable. The body of the appliance is made from brushed stainless steel and plastic. It's quite durable.
The most notable feature of this Oster electric griddle is the double-side plate, which is easy to flip. On one side, you have a flat surface and on the other a ribbed one for grilling. The cooking surface measures 18 by 10 inches. The DuraCeramic coating eliminates the risk of meat or any other type of food sticking to the surface. Generally, the plate distributes heat evenly and this helps for perfect cooking. Perhaps its only flaw is that the holes for draining grease are fairly big. The heat control knob works flawlessly.
This Oster model is one of the best electric griddles because it's extremely convenient to clean. It's easy to remove the plate and to get rid of the grease collected in the drip tray. The system which heats the plate is removable so you can wash not only the plate and tray, but also the base. You just need to put them in the dishwasher and that's it.
Bottom Line:
The Oster CKSTGR3007-ECO DuraCeramic griddle is a well-designed and excellently made appliance which you can use to prepare breakfast, lunch and dinner. It's durable and easy to keep in perfect condition.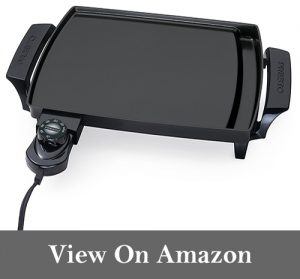 Buy from Amazon.com
This compact electric griddle measuring 14.44 by 2.88 by 11.12 inches could be a fine choice for small families. The handles are sufficiently big and have comfortable ergonomic design. You can remove them to fit the griddle into more compact storage space. This is a clever solution which everyone with a small kitchen will appreciate.
This Presto griddle is made of cast aluminum, which is highly durable. The metal is resistant to corrosion and very strong at the same time. It may scratch, however, so you will benefit from using wood cooking utensils with it. Perhaps the best thing about the flat aluminum plate, which measures 8.5 by 10.5 inches, is that it heats quickly, distributes heat evenly and doesn't stick. You don't have to use oil to cook on this surface.
One of the top features of this model is the heat control knob with precise temperature settings. It makes it very easy to follow the directions in any recipe. The draining system is reliable, but the pan where grease is collected could be larger. Additionally, it's not removable so you will have to flip the entire appliance to drain it. The good news is that the heating unit is removable so you can wash the plate and the base with the pan together without a lot of effort.
Bottom Line:
This Presto model is one of the best electric griddles when it comes to cooking breakfast or another meal for two or three people. It offers superb cooking while being durable and reliable to use.
3. Presto 07061 22-inch Electric Griddle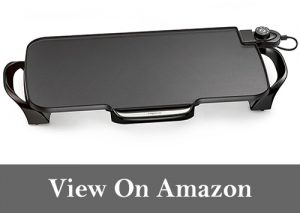 Buy from Amazon.com
The sleek design of this model can easily capture your attention. The electric griddle is long and may seem a bit narrow because of this. It measures 26.25 by 11.5 by 2.5 inches giving you a cooking surface of around 18 by 11 inches. This is a great size for families. The handles are beautifully designed and very convenient to use. They are very easy to remove for storage.
The cast aluminum make of this Presto electric griddle makes it both durable and reliable. This metal doesn't rust and it's light and tough at the same time. The best thing about it is that it enables the cooking plate to reach the desired temperature easily and ensures that heat is distributed evenly. You just turn the knob to the desired temperature and that's it. The plate's nonstick surface guarantees that your food will never be ruined. The tray collecting grease is removable for even more comfortable cooking.
Cleaning this griddle is a very simple task. The heating system is removable so you can immerse the rest of the unit in water for washing it perfectly without worrying that you may cause damage. If you wash the griddle without the handles, the task will be even easier.
Bottom Line:
This Presto model could be the ideal one among the best electric griddles for you give its clever design, great size and dependable performance. It's easy to clean and you can expect it to last for a long time.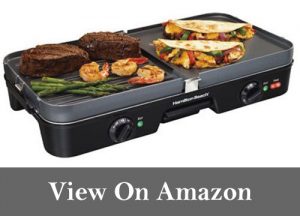 Buy from Amazon.com
If you want both an electric griddle and grill, then this Hamilton Beach model could be the ideal multifunctional appliance for your kitchen. No doubt hamilton beach makes some great grills. The design consists of two separate sides, each with its own heating unit, temperature control knob and plate.
Each plate is flat on one side and ribbed on the other. You can use both sides as a griddle or grill or each side for a different type of cooking. You can cook at different temperatures too. It's safe to say that this is one of the most versatile electric cooking appliances that you can find.
When it comes to size, this electric griddle isn't one of the biggest that you can find given that it measures 23 by 12.51 by 6.71 inches. You get a total cooking surface of 18 square inches and this is quite good. The handles could be bigger and more ergonomic, but handling the appliance isn't difficult at all.
Thanks to the non-stick surface of the plates, you can use no oil or very small amounts for cooking. They heat quickly and the heat is distributed evenly. Generally, setting the right temperature for cooking is super easy with this Hamilton Beach electric griddle. The grease-collecting tray is found in the middle between the two plates. It's not very big, but it's removable.
Keeping this electric griddle/grill in good condition is easy. Both the plates and the grease-collecting tray are dishwasher safe. You will never have to scrub the surfaces to keep them spotless.
Bottom Line:
If you want versatility, this one of the best electric griddles in the market could be the ideal one for you. It does its job well while being durable and easy to clean.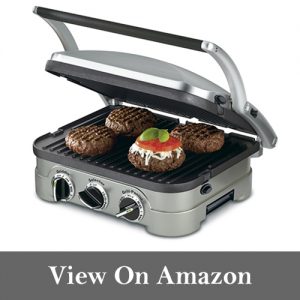 Buy from Amazon.com
This Cuisinart appliance is not simply a griddle. It's a grill and a panini press too. Unlike traditional electric griddles, it has a cover. You can set the cover flat on the countertop and flip its plate and that of the base with their smooth side up to have a perfect gridle. You can flip one or both plates to create an electric grill, depending on the size of the surface which you require. If you have both plates with the ribbed side showing, you can use the appliance as a contract grill or a panini press.
You may be surprised to discover how compact this model is. It measures 13 by 17 by 10 inches when closed. At the same time, you have a cooking surface measuring 200 square inches when the appliance is open and 100 square inches when it's closed.
The appliance is strong thanks to its stainless steel make. Cooking s easy because of the nonstick surface of the plates, the large control knobs and the indicator lights showing when the plates have reached the ideal temperature for cooking. The drip tray is removable and easy to clean.
Bottom Line:
This one of the best electric griddles is among the most versatile in the market. It's reliable and easy to use too. It's a great choice for those who love cooking.
Buying Tips
How do you choose between the best electric griddles out there? There are several factors that you should pay a close attention to. The list includes:
Size and design – You should decide on the size of the electric griddle carefully depending on your cooking needs and the storage space that you have available. When it comes to the design, the handles should be large and ergonomic.
Cooking – It's mandatory for the griddle to have non-stick surface. Generally, this surface is flat, but you can opt for a model which comes with an additional ribbed insert to grill meat and veggies. The system for collecting grease and any liquid which has not evaporated should be completely reliable. The heat control system should be reliable and easy to use.
Extra features – It's possible to find an electric griddle with a dual thermostat, meaning you can prepare two types of food at different temperatures on the two sides of the top or use only one side for cooking to save energy. A warming drawer is another extra feature which is quite helpful to have.
Maintenance – The cooking surface or surfaces, the grease collection system and all other features should be easy to clean. Taking out parts which require washing should be a simple and quick job too.