There is something for everyone in the range of Hamilton Beach indoor grills. Whether you prefer a smaller model or a large one with fancy features, you can find exactly what you are looking for.
However, it's not always easy to make up your mind, especially given the fact that all kitchen appliances of the brand, including the grills, are of exceptionally high quality. The good news is that the task has just got easier for you.
Best Hamilton Beach Indoor Grills in 2023
Check out thorough reviews of the brand's bestselling electric grills for indoor use now.
Buy from Amazon.com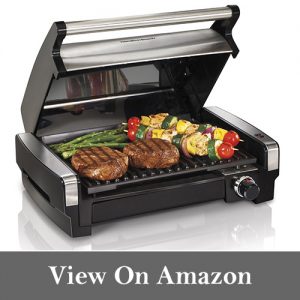 While you can't use charcoal with this indoor electric grill, you can get similar flavor to what you are used to with outdoor barbecues. This is because of the searing function. You can turn the heat up to 450 degrees F to practically seal the juices inside the meat and make it super tender while the crust is crispy.
It's easy to make people fall in love with your steaks. You can grill several at the time thanks to the 118 square inches of cooking surface.
When it comes to performance, the Hamilton Beach 25360 model is completely reliable thanks to the even distribution of heat and the tiny amount of smoke produced, if any.
You should not worry about cold spots that would potentially ruin the food, but take advantage of the entire available surface which is sufficiently large for cooking a family meal. Similarly, you'll never be forced to open the windows when you cook indoors.
Features
Let's take a closer look at what this one of the Hamilton Beach indoor grills has to offer. The list includes:
Nonstick plate – Its design guarantees that the food will be properly grilled while all the grease will go down to the drain pan. You can remove it easily and wash it in the dishwasher.
Extra-large drip tray – The risk of it overflowing is reduced to the very possible minimum. It's also removable and dishwasher safe.
Removable hood – When you lower the hood while cooking, the meat will become even more tender. This is also the way to go when you are melting cheese. You can easily remove the hood and put it in the dishwasher so that it's spotless for future use.
Temperature control knob – It's reliable and easy to use. You can choose any cooking temperature from 200 to 450 degrees F and adjust it as frequently as required.
Indicator lights – You'll know immediately when the grill is on and then it has reached the selected cooking temperature.
The Good about the Hamilton Beach 25360 Indoor Flavor/Searing Grill
Searing function
Excellent design
Even cooking
Great versatility
Extremely easy to clean
Bottom Line
If you want a simple and reliable electric grill for preparing a wide variety of recipes indoors, this Hamilton Beach model could be the right choice for you. You can easily prepare enough food for the whole family and/or a group of friends.
Buy from Amazon.com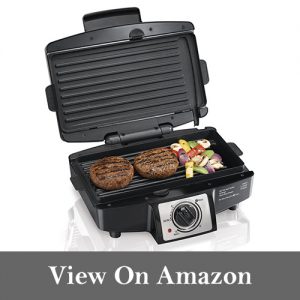 This model can easily appeal to someone looking for a compact indoor grill as it measures just 5.52 by 12.6 by 10.43 inches. At the same time, both the base and the lid have grilling surfaces, meaning you get a cooking surface of 110 square inches.
Of course, you can always use the lid to grill meat from both sides and to prepare super tasty burgers and panini with melted cheese inside.
This model is one of the best indoor grills that you can buy right now thanks to its superb performance too. Thanks to the even heat distribution, everything that you place on the grilling surface will be cooked equally well.
Forget about having to move food around to get the results that you want. You should not worry about great smoke production either. Another key advantage is the fast preparation of the food. Your meal can be ready in just 10 minutes.
Features
The main features of this one of the Hamilton Beach indoor grills include:
Nonstick surface – It enables you to cook without oil while being easy to clean and highly resistant to damage.
Select timer – This is an incredibly useful feature to have when you are preparing a new recipe with fixed cooking times. It works reliably and will help you to get the ideal result.
Removable grids – You just need to take them out and place them in the dishwasher. Cleaning has never been simpler.
Small handles – They are very useful when you are carrying the grill and setting it up for use, but don't take much space at the same time.
The Good about the Hamilton Beach 25332 Easy-Clean Indoor Grill
Compact size
Double cooking surface
Great performance
Integrated timer
Easy cleaning
Bottom Line
This electric grill for indoor use works well while taking little space. It has clever design and strong make. You can use it to prepare delicious food quickly and easily in the short term and in the long term too, given that it is quite durable.
Buy from Amazon.com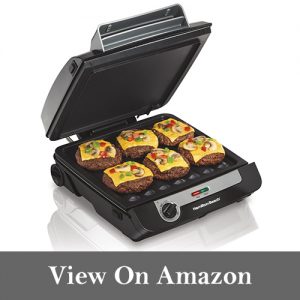 If you are into multifunctional appliances for cooking, you will undoubtedly like MultiGrill. It has a lid giving you a double cooking surface of 100 square inches while being quite compact. One of the surfaces is for grilling while the other one is perfectly flat giving you the opportunity to use the appliance as a classic griddle. It is not surprising that it is often found in the list of the best electric griddles. The tilting kickstand is used for making bacon without having splatter all over the place.
This one of the Hamilton Beach indoor grills is undoubtedly the most versatile. You can cook practically anything that you can think of on it – meat, fish, poultry, burgers, vegetables, panini, eggs, sausages and French toasts, to name the main options. You can use just the base surface to prepare a small meal for the family and both surfaces when guests come along.
No matter which cooking option you choose, you can expect the ingredients to be evenly cooked. The fat draining system works excellently to give you minimal smoke levels, if any, when you prepare your favorite recipes.
Features
The major features of this 3-in-1 electric grill which deserve your full attention are:
Nonstick cooking surface – Cook in a healthy way without butter or oil and forget about scrubbing the surface to clean it. The nonstick coating is quite durable.
Tilting kickstand – To tilt it, you just need to turn the specially designed knob. Do this in reverse to restore the flat position of the grill. When the grilling surface is tiled, it's ideal for cooking bacon as the fat drains incredibly fast.
Removable cooking plates – Both the grill and griddle plates can be removed with ease and washed in the dishwasher.
Removable drip tray – It's easy to get rid of the fat after cooking. You can wash the tray in the dishwasher.
Adjustable temperature – Select the best temperature for cooking using the responsive knob.
Indicator lights – You'll know when the appliance is on and when it has reached the chosen cooking temperature.
The Good about Hamilton Beach 3-in-1 MultiGrill Indoor Grill, Griddle & Bacon Cooker
Incredibly versatile
Quite compact
Superb cooking
Effortless care
Durable and dependable
Bottom Line
This Hamilton Beach 3-in-1 grill is compact enough to fit into every modern kitchen while offering awesome opportunities for cooking tasty and healthy food. It's a good choice.