You can prepare a delicious cup of tea easily and quickly with the best electric tea kettle. But how do you choose among the many different options? The truth is that there is something for everyone in the marker.
Here you will find useful tea kettle buying tips and reviews of the top products at present. Don't hesitate to take advantage of this specially designed shopping guide.
Top Electric Tea Kettles in 2023
What's the first thing to consider when searching for the best electric tea kettle? Find out how quickly it works. You wouldn't want to wait for ages to get your warm refreshing drink. The safety features are extremely important too.
Even the most basic kettles should have an automatic shut-off function. This guarantees that the appliance will stop working once it brings the water to boil. Don't forget to look at the make. The appliance should be made from a strong and durable material.
The ideal electric tea kettle should be convenient to use. It should be easy to fill water it and to pour it into the cups. Watch out for dripping spouts! The lidshould be solid and stay perfectly in place. An ergonomic handle is a must-have design feature. It should not be warm to touch. Now that you know what to look for in general, it's time to check out the reviews of the best tea kettles around.
The fact that you love traveling doesn't mean that you should deprive yourself of your favorite morning hot drink. What's the best electric tea kettle for travelling? It should be compact so that you can easily place it in your suitcase or on the countertop of your campervan. It should be powerful enough to boil the water quickly.
The ideal tea kettle for travelers should also be strong and easy to maintain. You would want to be able to use it regardless of the surrounding conditions for many years to come. Let's take a closer look at the top seller in this category and what it has to offer.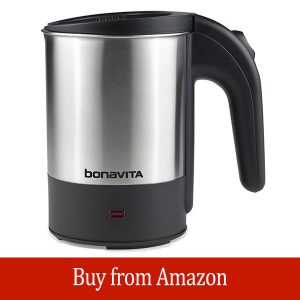 The Bonavita dual voltage travel electric kettle can boil 0.5 liters of water in just a few minutes thanks to having 700 watts of power. You can readily prepare two big and three or four small cups of tea with it plus instant coffee, hot chocolate and similar beverages.
The small size is definitely a big plus. This kettle measures 5 by 7 by 7 inches. This makes it a great contender for your tightly packed suitcase when you go on a trip.
Undoubtedly, the most special feature of this kettle for travelers is the dual voltage. It can work perfectly with both 120V power (which is standard in the USA) and 220V power (which is standard in most European countries).
Versatility is definitely one of the strongest features of this appliance. Just keep in mind that you have to use the manual switch to change the voltage. You will also need to connect the appliance to an adaptor when required. Remember to pack one of those in your bag too.
This Bonavita model comes with an auto shut-off function, but this is only to be expected from the best tea kettle for travelers. The boil-dry protection feature is also extremely beneficial. When there is no water in the reservoir, the kettle stops producing heat. This eliminates the risk of serious damage.
This kettle deserves a top score when it comes tomake too. It is made from brushed stainless steel so you can expect it to be sturdy and durable. Since this metal is very hygienic, cleaning should be a breeze. The cool-touch plastic handle gives you maximum comfort. You will not have to worry about it getting too warm.
Overall, the Bonavita dual voltage kettle for travelers is a great compact appliance. Weigh its pros and cons to make up your mind.

Pros
Compact design
Boils water quickly
Auto shut-off function
Safeworldwideusage
Cons
Manual switching between voltages
No adaptor included in the package
Over time, kitchen appliances become more advanced and more convenient to use. Now you can readily get a cordless tea kettle. The heating element is in the base which is separated from the main unit (the kettle itself).
Since the cord is connected to the base, you can take the kettle freely everywhere you wish. It's great to have this kind of flexibility when you want to prepare tea for yourself at the countertop and oat meal for the kids on the breakfast island.
At present, cordless electric kettles come in all shapes and sizes and have a wide variety of features. The options are many, but you can always find your way around with a bit of guidance. Read the review of the best appliance of this kind to decide if it could be right for you.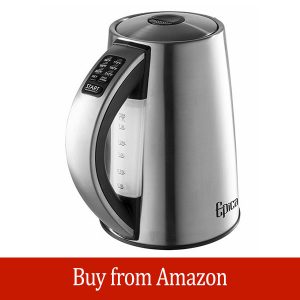 The brushed stainless steel make is the first thing which naturally impresses you when you look at this Epica model. The appliance is strong and very easy to keep in good condition.
You can expect to use it for a long time to come. Since the reservoir holds as much as 1.7 liters of water, you can make up to 7 cups of tea with this kettle. It's suitable even for very big families. The water level gauge ensures that you will fill the reservoir with the exact amount of water that you need.
The cordless design naturally makes the appliance extremely convenient to use. The base rotates at 360 degree so you can easily choose the best position for the kettle. The most notable feature of this Epic model is the control panel which is on the handle and has 6 different temperature settings that will make every tea lover extremely happy.
You can readily heat the water to 160 F for making delicate white tea, 195 F for French press coffee or 212 F for black tea. You simply need to push a button. With its 1500 wats of power the best electric kettle in the cordless range works extremely quickly.
Other valuable features of this Epica model include the 2-minute setting memory and the keep warm setting with which you can maintain the water at the desired temperature for 30 minutes. You will be happy to know that there are auto shut-off and boil dry protection features.
The lid opens automatically which adds to the functionality of the appliance. The handle keeps cool to make preparing tea, coffee, oat meal and everything else that you can think of even more convenient.
Take a closer look at the benefits and drawbacks of the Epica 6-temperature cordless kettle to decide if it could be right for you.

Pros
Large capacity
6 temperature settings
Boils water extremely fast
Advanced features including a keep warm function
Cons
The body gets warm to touch
Any fingertip marks on the body are noticeable
What's so special about stainless steel and why is it considered to be the best material for kettles? Firstly, this metal is highly hygienic. Bacteria and other germs don't tend to stick to it. That is why stainless steel is considered to be the gold standard when it comes to the make of kitchen appliances and utensils.
Furthermore, it is extremely strong and is not prone to rusting. These factors help the appliance last for a long time.
Naturally, the best stainless steel electric kettle must have great design and excellent features in addition to a strong make. Use our review of the top pick in this category to find out if it matches your needs and requirements.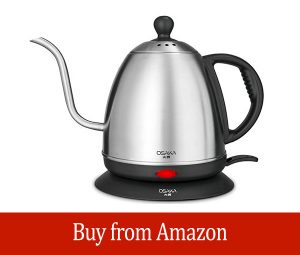 The classic cone design with curved walls enables this kettle to add a touch of vintage charm to every modern kitchen. It's glossy not only from the outside, however.
All components of the reservoir which the water gets into contact with plus the lid and the gooseneck drip are made from stainless steel. This guarantees maximum possible purity of the water which you boil in addition to giving the appliance great durability.
What is it like to prepare tea with this Osaka kettle? The reservoirholds 1 liter of water which is sufficient for preparing about four to five cups of tea. The appliance starts working with the touch of a button.
With 1000 watts of power, this electric kettle is extremely powerful so it does its job in no time.It has automatic shut-off function so it will stop working once the water starts boiling.
Pouring the hot water into the cupsis a true delight. Since the appliance is cordless, you can readily pick up the kettle and take it to the place where the cups are. You are not limited by the cord which is connected to base housing the heating unit. The gooseneck is not simply exquisite. It allows for maximum precision when you are pouring the water. You will never have to worry about dripping. The ergonomic handle doesn't get hot.
What's the verdict on the Osaka 1 liter gooseneck drip kettle? Check out its pros and cons to answer the question.
Pros
Safe, strong and durable make
Beautiful design
Works very quickly
Convenient use
Cons
The cord (16 inches in length) may be somewhat short for bigger kitchens
The kettle can get very warm while working
If you don't have much space in your kitchen, but you want to get the best electric tea kettle rather than a stovetop one, you can do it. You simply need a very small ultraportable appliance. This option is great for those who want to equip their outdoor kitchen, holiday home or campervan better.
In addition to having a compact design, the best small & ultraportable electric tea kettle should work reliably and be convenient to use. Here is the review of the current holder of the number one spot in this category.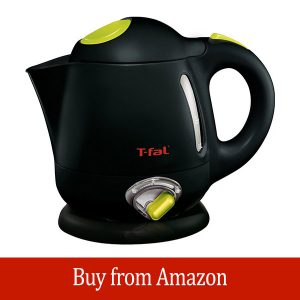 The first thing which you notice about the T-fal Balanced Living kettle is the cute curvilinear design. It looks like a toy, but it can actually give you much more than you think. It measures 7.7 by 9.5 by 7.7 inches and is quite light.
Despite its small size, it can hold up to 1 liter of water for making 4 cups of tea (if you downsize the portions you can prepare 5). The clear glass window enables you to measure the water amount which you require accurately. Or you also have an option of buying whole glass electric kettle.
The most impressive feature of this small kettle is the 1750-watt heating unit. This kind of power is usually used for boiling double the amount of water which this T-fal model can hold. This means that it is extremely quick to work. 1 cup of water is ready in just 90 seconds. The speed is simply unbelievable.
The adjustable temperature knob is another fantastic feature of this electric kettle. You can set a lower temperature for preparing fine green tea and a higher one for making classic herbal tea. The automatic shut-off function of this appliance works impeccably to provide protection and convenience. The anti-scale filter works to purify the water. In doing so, it improves its taste too.
The kettle is cordless and this add greatly to its portability. You can take it anywhere without worrying about constraints. The plastic body of the T-fal BF6138 Balanced Living electric kettle is quite sturdy. It is resistant to all kinds of damage. Before making a final decision, you should check out this appliance's benefits and drawbacks.

Pros
Compact and light
Variable temperature
Heats water in no time
Cordless design
Cons
It's a bit noisy
TNo precise temperature settings on the dial
As one of the oldest and most recognizable kitchen appliance brands, KitchenAid offers only high-quality creations. Ever since its founding in 1919, the company has combined classic designs with modern technology. This is applicable to their range of electric kettles too.
Since you can pick from a variety of options, it may be hard to decide on the best tea kettle from the brand's range. Take a closer look at the current top pick with the help of this thorough and objective review.
KitchenAid KEK1222OB 1.25-Liter Electric Kettle Review, the Best in the KitchenAid Range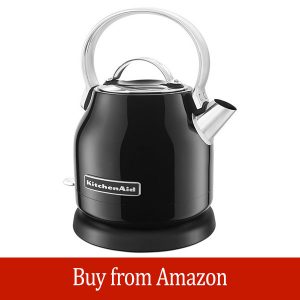 The classic design of this electric model is what really makes it stand out, making it the best electric tea kettle from KitchenAid. It probably looks like the stovetop kettle which your grandma used to have. The really cool thing is that it comes in exotic colors like black, red and pistachio.
The body is made from stainless steel while the handle, which goes over the top, is made from aluminum. You can expect this appliance to be sturdy, hygienic and easy to clean and to maintain.
The removable base, which houses the heating unit, can be rotated at 360 degrees for maximum convenience. You can take the kettle itself even to the living room to serve afternoon tea. This is the ultimate benefit of cordless design.
It's easy and quick to prepare tea with this KitchenAid electric kettle. You can make 5 and possibly 6 cups of more concentrated tea thanks to the 1.25-liter reservoir. The on/off button has LED light for added convenience. The lid is tightly sealed. Since the appliance uses 1500 watts of power, the water gets ready quite fast. The lime-scale filter ensures that it is as pure as possible.
To decide if this KitchenAid kettle is right for you, check out its good and not so good sides.

Pros
Gorgeous classic design
Fast to heat water
Separates from the base
Stainless steel body
In recent years, Aroma Housewares has built strong reputation for offering modern small kitchen appliances with advanced features. The company, which is based in the United States, has a range of electric kettles too. They come in a variety of makes, designs and sizes.
If you are not sure which one to pick, check out a detailed review of the best model from the current range. You will surely find it useful. Oh, and you may also look at the list of best electric kettles by Aroma.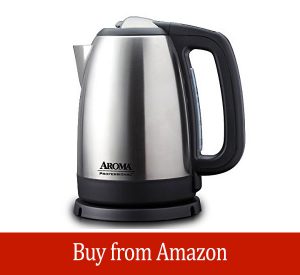 The ultra modern design and the stainless steel body surely give everyone a positive first impression of the Aroma AWK-299SD kettle. It has a capacity of 1.7 liters so you can easily prepare 7 cups of tea, instant coffee or hot chocolate with it.
The water level indicator ensures that you fill the container with no greater or smaller than the required amount. The appliance is quite powerful and this results in short water heating times.
The digital controls are among the main features making this kettle a top pick. You can select from five different temperature settings with the push of a button. The chosen temperature is displayed on the small screen so there is no risk of confusion.
You can heat water for green tea to 160 F or boil it to 2012 to make flavorsome black tea. The keep warm function enables you to maintain the chosen water temperature if you are busy with something else.
The filter inside this Aroma kettle helps to keep the water as pure as possible. It is easy to pour it into the cups thanks to the cordless design. Since the cord is connected to the base where the heating unit is, you can move the kettle freely. The cord is actually stored in the base which is super convenient. Other notable features worth your attention include automatic shut-off, a locking lid and a handle which is easy to hold.
Instead of a straightforward conclusion to this Aroma digital kettle review, you get a list of pros and cons to weigh yourself.

Pros
Stainless steel make
Large cordless design
5 temperature settings
Digital controls
Cons
Not particularly bright indicator lights
As one of the most popular American manufacturers of home appliances, Cuisinart has a wide range of high-quality products. The selection of electric kettles is quite diverse. This is what makes choosing a particular model quite difficult.
You will benefit from getting not only basic features like auto shut-off, but also more advanced ones which give you great flexibility. Read this review of the top pick from the Cuisinart's current collection. And check out the list of best Cuisinart electric tea kettles as well.
Cuisinart CPK-17 PerfecTemp 1.7-Liter Electric Kettle Review, the Best in the Cuisinart Range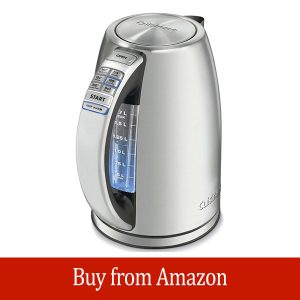 The stainless steel make of the Cuisinart CPK-17 PerfecTemp kettle makes it hygienic, strong and easy to keep in good condition. The large capacity of 1.7 liters is definitely an advantage when you have a big family and/or love to invite guests over. You get toopen the lid with the push of a button.
The water indicator with large numbers helps you to achieve maximum precision when filling the reservoir. This appliance is quite powerful with its 1500 watts. This allows it to heat the water very quickly even if you use its full capacity to make 7 cups of tea or instant coffee.
There are 6 different temperature settings to choose from with the touch of a button. The LED light indicates which one you have selected. You can readily prepare oolong tea by heating the water to 180 F or black tea by heating it to 212 F.
The keep warm function and the 3-minute memory feature give you even greater flexibility. Standard, but extremely useful features include auto shut-off and boil dry protection. This Cuisinart kettle is completely reliable.
The scale filter helps to keep the water which you pour in your cups as pure as possible. Since the kettle itself is cordless, you can take it wherever it is needed. You can set the 360-degree swivel base as you prefer for maximum convenience. After five minutes of inactivity, the appliance goes into sleep mode.
To summarize the finding of this review, here are the pros and cons of the Cuisinart CPK-17 PerfecTemp electric tea kettle.

Pros
6 temperature settings
Cordless pouring
5 Stainless steel body
Large capacity
Cons
The sides of the appliance get hot