KitchenAid is an American home appliance brand founded in 1919 and owned by Whirlpool Corporation. KitchenAid has put together the legacy of its kitchen appliances since the introduction of its allegorical stand mixer in 1919 and the first ever dishwasher in 1949, to create a complete series of products designed to aid cooking.
After successfully surviving for 95 years since its establishment, the KitchenAid now offers essentially every fundamental for the well-furnished kitchen accumulating everything ranging from countertop appliances such as electric kettles to cookware, and refrigerators.
Top KitchenAid Electric Kettles in 2019
Electric Kettles manufactured by KitchenAid are unique in their designs. They are contemporary and are available in range of colors. KitchenAid electric kettles now offer the function of different temperature settings for easy access and control.

1. Kitchen Aid KEK1722SX 1.7-Liter Electric Kettle with LED Display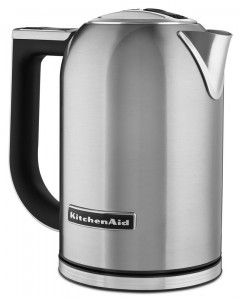 Kitchen Aid KEK1722SX electric kettle is manufactured for its quickness. It silently boils water within few minutes. The changeable temperature control allows you to set the particular temperature you want, to help you achieve desired results.
This Kitchen Aid electric kettle is available in four elegant colors namely, white, brushed stainless steel, empire red, and onyx black. The capacity of this kettle is 1.7 Liters that allows the user to boil water for around 7 full cups of serving. It has dimensions of 8.6 x 5.9 x 10.1 inches and an approximate weight of 2.7 pounds.
When you turn on this electric kettle by pressing the start button, you'll hear a beep, and the bright blue LED display will show you the temperature, the kettle will heat your water to. KitchenAid KEK1722SX comes with temperature settings that are well designed and helpful.
It gives the user six options of temperatures between 50C to 100C, to set for heating the water up to his/her required temperature and the temperature display can be changed from centigrade to Fahrenheit by pressing the two buttons below the display simultaneously, that are otherwise used for setting the temperature.
The six temperature settings offered by KitchenAid KEK1722SX are (i) 122F/50C, (ii) 140F/60C (for delicate tea), (iii) 158F/70C (for green tea or white tea), (iv) 176F/80C (for blooming tea, green & white chai tea or green tea), (v) 194F/90C (for black tea, hot chocolate or oolong tea), or (vi) a full bubbly boil at 212F/100C (for instant soup, oatmeal, red chai, herbal tea, rooibos tea, or Yerba Mate).
To start heating the water, you have to push the start button again after first setting the kettle to the temperature you want your kettle to heat water to. When the kettle starts heating the water, blue LED display shows the temperature of the water initially and then shows a gradual increase as the water is heated, so that if you change your mind and want to stop the heating procedure before it reaches your desired temperature, full boil for instance, you could stop it by pushing the start button again.
Kitchen Aid KEK1722SX has a "Hold Temp" button which keeps the water temperature constant for 30 mins after it is reached. This is a handy option, in case the user gets busy with the work and forgets to pour the water off the kettle. It will keep the water warm for 30 minutes so that you don't have to re-heat the water.
KitchenAid electric kettle has a temperature gauge which shows the water both in liters and number of cups, and illuminates blue when the kettle is heating the water. The heating unit of Kitchen Aid KEK1722SX is covered, not exposed, which makes the kettle noiseless, easy to clean and safe. The heating unit is concealed beneath the unit that contains water which gets heated through the bottom.
Kitchen Aid KEK1722SX comes with a removable mesh filter that prevents you from getting any sediment or impurities previously present in your water, into your tea or coffee. The mesh filter is easy to remove and clean, and easy to place back in the electric kettle.
The lid of this kettle opens with the press of a button, and is wide enough to allow the user to easily clean the inside of the kettle with a sponge. This kettle has a pouring spout which is well designed, contains the mesh filter, and does not drip or leak.
Kitchen Aid KEK1722SX is not super-fast at boiling water but rather it's quite average as it takes about 6 minutes to completely boil 1.7 liters of cold tap water. No worries, we have the best kettles for boiling water here as well. This KitchenAid electric kettle works at 1500 Watts and 110 Volts. Overall, the kettle is completely stainless steel from the inside and is a good option for buyers to consider.

2. Kitchen Aid KEK1522CA Kettle – Pro Line Electric Kettle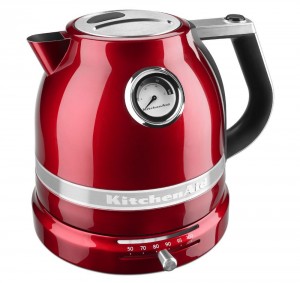 Kitchen Aid KEK1522CA electric kettle has an exceptional design and looks quite elegant. It comes in five different and attractive colors which candy apple red, frosted pearl white, medallion silver, sugar pearl silver, and onyx black.
This electric kettle is particularly manufactured and preferred by many users for its speed and is professional grade kettle to heat water within few minutes. This kettle has an excellent insulation due to its dual wall built that helps the outside cool to the touch while keeping the water temperature constant. This means that you will be able to get the same hot water out of it even after few minutes.
Kitchen Aid KEK1522CA is made of metal therefore one should take care while washing it. This kettle must only be hand washed so that metal on the inside does not get scratched. It has a soft grip handle which is an addition to the comfort. Kitchen Aid tea maker KEK1522CA works at 1440 watts and has a capacity of 1.5 Liters. It has dimensions 10.8 x 9.5 x 10.5 inches and weighs 9 pounds. This electric kettle comes with 5 years of warranty. It is manufactured by Kitchen Aid and is made in china.
Kitchen Aid KEK1522CA is subtle in terms of features it offers. It has an easy to read temperature gauge that is very much accurate and allows you to know when the water is fully heated. It has a visible water level gauge which allows you to measure the exact amount of water you need. The heating system of this kettle is in the base of this electric kettle which allows you to lift the kettle off the heating base.
The kettle sits on a small knob like heating element in the base which reduces the overall weight of the kettle itself and thus makes it safe and easy to clean. The heating base stays in place with its rubber pad feet and does not slip around.
The heating base has a temperature setting sliding stick that allows you to set it to any temperature from 50 degree Celsius to 100 degree Celsius and the linear display of white LEDs on the base will progressively show you the progress as the kettle heats the water. You will hear a pleasant beep once you start heating the water by pressing the on button, and the second time when the water will reach your pre-set temperature.
To open the lid, you need to press the button over the handle. This KitchenAid electric kettle has a stainless steel interior, but it does contain some plastic on the inside which is, according to KitchenAid, BPA free.

3. Kitchen Aid KEK1222ER 1.25-Liter Electric Kettle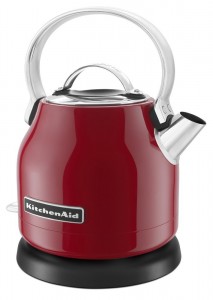 Kitchen Aid KEK1222ER electric kettle is easy to use and offers an old fashioned but unique and classy solid footprint for your countertop. This KitchenAid kettle is available in three decent colors which are onyx black, brushed stainless steel, and empire red.
It weighs 2.5 pounds, has dimensions 7 x 8.9 x 10.3 inches, and a capacity of 1.25 liters with removable lid. This KitchenAid electric kettle is quick enough and capable of heating 1.25 liters of water to boil in just less than 5 minutes.
Kitchen Aid KEK1222ER has a LED on/off switch which illuminates when on. It has a shiny aluminum handle and a stainless steel body. It has a removable base with 360 degree orbit which makes the kettle handy and portable. It has a lime scale filter that is located in the pouring spot, is made of plastic, and is removable.
The purpose of this filter is to trap hard water lime; therefore it should be cleaned to ensure proper working of the kettle. The bigger plastic piece that holds the filter is not removable and comes in contact with water, therefore might be objectionable for some buyers or users, although the plastic is claimed to be BPA free by the company.
Kitchen Aid KEK1222ER has 1500 watts heating element which is exposed instead of being concealed, and probably the reason of quick boiling, since exposure of heating unit maximizes contact with the water. It has a heavy cord that can be wrapped or unwrapped as per the need of the user.
The exterior of the kettle is not insulated and gets very hot to the touch therefore one should take care while touching or holding the kettle. Although it should be considered that the aluminum handle of the kettle has an insulator between metal parts to limit the handle on getting a bit warm but not hot.