Wondering how to cut the Thanksgiving turkey or the Christmas ham into perfect slices? You will need one of the best carving knives for the job. These knives are especially designed to cut ready dishes and products, from red meat and poultry to cheese and salami. Here you will find detailed reviews of the top options divided into three categories.
We'll take a closer look at the traditional carving knives, the advanced electric ones, which eliminate effort from the equation, and the sets, which are designed to give you everything necessary even for the most elaborate cutting jobs.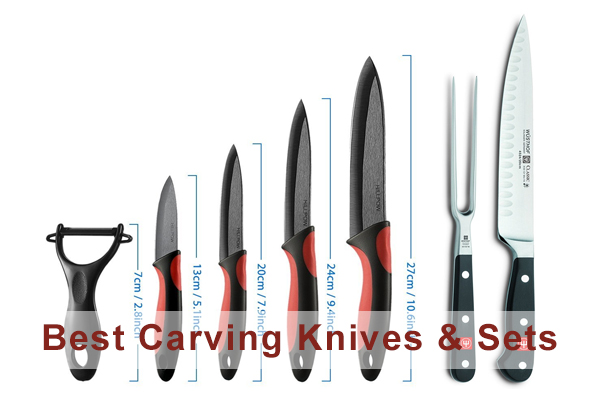 The Best Regular Carving Knives in 2023
What are the features and qualities of the perfect carving knife? It must have a sharp blade which is strong and durable. It should be long enough to allow for comfortable cutting. The handle must be light, non-slip and ergonomic.
Ideally, the knife will work superbly for years before requiring sharpening. Let's take a look at the reviews of the bestsellers in this category.
Victorinox 12-Inch Granton Edge Slicing Knife with Fibrox Handle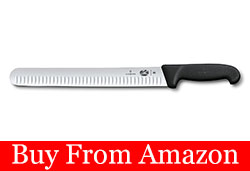 It's easy to understand why this carving knife is a bestseller. It comes from one of the top brands in the world – Victorinox, which is best known for the Swiss Army knife. Thanks to its 12-inch blade with a rounded tip, it's ideal for cutting meatloaves, boneless hams, beef top round roasts, boneless turkey breasts and salami.
Thanks to the Granton (dimpled) edge, you will be able to cut thin slices without the food sticking to the knife. This makes it ideal even for cheese.
The blade of this carving knife is made from high-carbon stainless steel, meaning that it is very hard and rust-resistant. You shouldn't expect it to bend or to get rusty. The conical grinding gives it a wide breakpoint for maximum precision during cutting.
The handle is made of slip-resistant material and has ergonomic design. It's light and comfortable to hold.

Features:
Strong and durable
Non-sticky blade
Excellent performance
Easy to use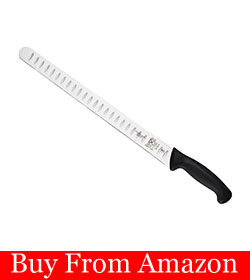 This knife's blade is made of one-piece high carbon stain-free steel, meaning that it's very hard and strong and greatly resistant to dullness, damage and breaking. It is very sharp and will do its job superbly for a long time to come.
The blade is long enough for cutting large pieces of boneless meat and other types of food. The Granton-edge design guarantees that even the thinnest slices won't stick to the blade.
The ergonomic handle has textured finger points and a protective finger guide. It allows for a firm and comfortable grip while practically eliminating the risk of slipping. It has the perfect combination between lightness and durability.
This Mercer Culinary knife is a reliable and durable performer. Sharpening it takes little time and effort.
Features:
Perfect cutting
Great versatility
Perfect grip
Limited lifetime warranty
Ontario Knife 7111 Old Hickory Butcher Knife, 10-Inch Blade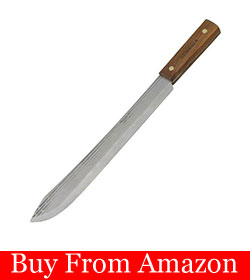 This classic knife made in the United States boasts with a sufficiently long and sharp blade for cutting any type of meat. Thanks to its pointy edge, it's ideal for cutting meat around bones and joints too. This is certainly great news for those who love cooking whole birds and hog roast.
This Old Hickory butcher knife is made from hard carbon steel, which is not stainless. This means that it's hard and extremely difficult to bend while requiring careful cleaning and oiling after each use. The wood handle is beautiful and quite light.
It isn't the most ergonomic, but this knife is generally designed for people who know their way around the kitchen and the barbeque. You can rest assured that the handle will withstand the test of time with proper care just like the blade.
Features:
Precision cutting even for meat with bones
Beautiful design
Very strong
Highly resistant to bending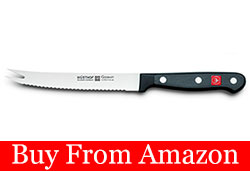 With its length of 5.5 inches, this knife is ideal for cutting tomatoes plus smaller pieces of meat, cheese and salami. The serrated edge allows for proper cutting without squeezing the tomatoes even if the blade isn't perfectly sharp due to extensive use. The two-pronged pointed tip makes it easy to pick up the tomato slices and add them to the salad bowl or to pizza as topping.
This stamped knife is made from hard carbon steel with stain resistant alloy. Given this, you can expect it to be extremely strong and resistant to bending and breaking. You shouldn't worry about rust either. Just remember that it should be washed by hand.
The triple-riveted synthetic polypropylene handle is light and ergonomic. It's quite comfortable and durable too. Wusthof is a well-known German brand with traditions in knife making.
Features:
Excellent for cutting tomatoes and not only
Sharp and resistant to damage
Comfortable to use
Quite durable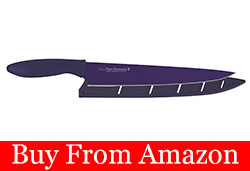 With its 9-inch sharp blade and pointy tip, this carving knife is ideal for cutting poultry and red meat, no matter whether it comes with bones or not. You can expect to cut perfect slices with minimal effort. The blade is made from high carbon stainless steel which is super hard and tough. The risk of bending and denting is minimal.
One special thing about the blade is that it has resin coating which provides complete protection from rust and corrosion. The coating provides for greater precision during cutting. It also makes cleaning a breeze. It is worth noting that the resin used for covering the blade of this Pure Komachi knife is FDA-approved so you can be certain that it's safe.
The handle is lightweight and has ergonomic design. The knife is easy and comfortable to hold. It's highly unlikely to slip out of your hand.
Features:
Suitable for cutting meat around bones
Sharp and strong blade
Comfortable handle
Good durability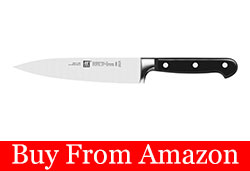 This 6-inch long knife is pretty much universal. It's designed not only for slicing, but also for cutting, chopping and even peeling. You can use it to serve poultry and red meat with confidence. It's easy to separate it from the bones and joints thanks to the sharp edge and the pointy tip. You can prepare the ingredients for most types of dishes quickly and with precision.
The blade of this knife is made from high carbon stainless steel, a material providing for great strength and resistance to damage. The high-tech welding process used for making the blade gives it added durability.
The three-rivet full-tang handleis made from a light synthetic material. It's not particularly big, but it boasts with a perfectly ergonomic design. This Zwilling J.A. Henckels knife is comfortable to hold and works superbly.
Features:
Extremely versatile
Accurate cutting
Convenient to use
Great durability
The Best Electric Carving Knives in 2023
If you want maximum cutting precision with minimal effort on your part, then an electric carving knife will be the best option for you. In addition to powerful performance, you should look for a blade which is sharp, durable and strong and an ergonomic and light handle.
It should be easy to release the blade for washing. Check out the reviews of the current bestsellers in this category.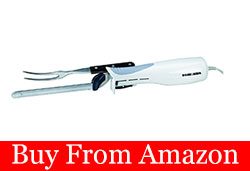 This is a traditional corded electric knife which comes with two blades that have the same design and size for more effective performance.While each blade is 9 inches long, the length of the serrated section is 7.5 inches long. The blades are quite sharp.
Thanks to the reliable work of the motor, they do an excellent job with it comes to cutting poultry, read meat and even bread. The blades are made from stainless steel and this gives them great strength and durability.
Talking about bread, have a look at our best bread makers as well.
The handle of this Black & Decker electric knife is light and ergonomic. It has special non-slip grip section for maximum comfort. The safety lock button prevents the tool from starting accidently while it is plugged in. The blades are released with the push of a button. They are dishwasher safe, but you if you clean them by hand, you will help to extend their useful life.
Features:
Precision cutting
Excellent grip for greater precision
Strong blades
Easy maintenance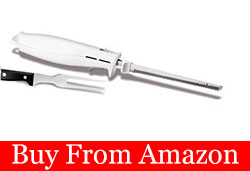 The stainless blade of this electric carving knife is 11 inches long from one end to the other, but its actual useful length is 7.5 inches. It is serrated for added sharpness. It's strong and highly resistant to all sorts of damage including bending.
You can expect precision cutting with this knife, no matter whether you are serving poultry or red meat. It's great for slicing bread and tea cakes too.
The handle is big and has ergonomic design. It's easy to get a firm hold of this Hamilton Beach knife for perfect accuracy. The non-slip trigger makes this model a breeze to use. In addition to comfortable meat cutting, you will enjoy convenient serving thanks to the fork which is included in the package.
After you're done, you can remove the blade with ease and wash it. The blade, for and motor set come in a compact box for easy storage.
Features:
Accurate carving and sliding
Easy serving
Convenient case for easy storage
Simple maintenance
When you are looking for the best electric carving knife, you should certainly consider Proctor Silex 74311. It has lightweight construction which makes it easy to hold and to handle. The plastic grip is quite comfortable with its ergonomic design.
Precision sliding is easy, no matter whether you want to serve bread, ham or turkey. This corded electric knife is useful for cutting all types of meat and hard cheese.
The blades are sharp and serrated for added durability. They do an excellent job without you putting much effort. It is worth noting that the length of the cutting surface is 7.5 inches. The blades are released with the push of a button, which is easy to use, but not very conveniently positioned.
They are made from stainless steel which makes them strong and easy to clean at the same time.
Features:
Lightweight
Multiple uses
Comfortable to hold
Good durability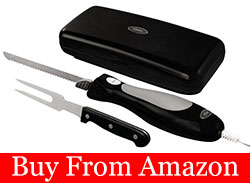 With its serrated stainless steel blade, which has a useful surface of 8 inches, this electric knife is suitable for all kinds of carving jobs. You can cut any type of red meat or poultry meat with it. The pointy tip is one of the features which makes it stand out.
It enables you to cut the meat around bones with optimal precision. The blade is made from stainless steel for maximum strength and durability. You can expect it to remain sharp and straight for a long time to come.
Oster FPSTEK2803B is very easy to use. The handle is a bit long, but it's perfectly ergonomic. There are two simple buttons – one for starting the electric knife and another one for ejecting the blade. The carving fork included in the package is ideal for serving slices of meat.
When you are done with the job, you simply clean and dry the tools and put them in the elegant and well-organized storage case.
Features:
Precision cutting
Convenient to use
Storage case
Carving fork included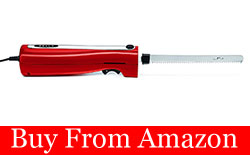 This multipurpose electric knife can come particularly handy during more formal family dinners and when it comes to making sandwiches too. This is because there are two 7.75-inch serrated blades included in the box. One of them is a typical carving blade for sliding red meat, poultry and hard cheese.
The other one is designed for cutting bread. Changing the blades is simple – you just need to push the ejection button for releasing the blade which you have just used and insert the other one.
With its 120 watts, the motor is quite powerful and the result is fast and reliable cutting. The handle has ergonomic design with the start button being very convenient to use. The eject button could be positioned better, however. Overall, the BELLA 14527 electric knife pulls off good performance while being convenient to use.
Features:
Multipurpose knife suitable for slicing meat and bread
Dependable performance
Easy to use
The Best of All Carving Sets – 2023
The classic carving sets include a knife and a fork designed especially for carving, but there are other varieties to pick from as well. When making a choice, you should evaluate the overall quality of the items in the set and their individual usefulness. Let's focus on the reviews now.
This set made by the renowned German manufacturer Wusthof includes an 8-inch carving knife with a Granton edge and a pointy tip. Thanks to the design of the blade, you can cut slices of meat with precision even around bones and joint.
The dimples create air pockets, which in turn prevent the meat from sticking to the blade. The blade is made by forging a single piece of high carbon stainless steel. This material is hard and highly resistant to all kinds of damage. You should not worry about the blade denting, chipping or rusting.
The second item in the set is a 6-inch fork, which helps you to achieve perfect stability and precision when carving meat. Both the fork and the knife have synthetic handles with three rivets. Both handles are very light and comfortable to hold. The one belonging to the knife has superb ergonomic design enabling a firm grip.
When you wash the knife and fork in this one of the best carving sets by hand, you can expect great durability.

Features:
Carving knife and fork for accurate cutting
Very easy to use
Superior make
Strong and durable
This is a classic carving set consisting of a knife and a fork, but both items have features that make them stand out. The knife has an 8-inch full-tang stainless steel blade with a pointy tip. It is sharp and enables you to carve all types of meat with accuracy.
Thanks to the pointy tip, carving around bones and joints is easier and the results are better. You can expect to produce slices of the desired size with minimum effort. Due to its make, the blade is quite strong.
The fork in this A Cut Above Cutlery set is 8 inches long. It is considerably longer than most of its counterparts so it is ideal for carving even the largest turkey or piece of ham. Both the carving knife and the fork have carved pakka wood handles which are gorgeous and allow for a firm grip without the risk of fatigue. The set comes in a nice box.
Features:
Excellent precision carving
Extra-long carving fork for larger birds and roasts
Superb design and make
Convenient storage box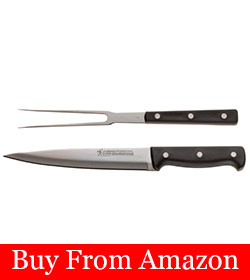 In this traditional set, there is a carving knife and fork. The knife a has micro-serrated blade for greater slip resistance during carving. The blade is perfectly sharp, but perhaps the more important thing is that the make eliminates the need for sharpening in the future.
You can expect it to perform excellently for a long time to come without the need for special maintenance. The blade is made from high carbon stainless steel and this material guarantees its strength and hardness.
The large and pointy carving fork does a great job with keeping the meat steady while you slice it. It is made from rolled stainless steel, which makes it strong and durable. It's easy to cut slices with precision thanks to the ergonomic handle of the knife.
Both the knife and the fork have triple-rivet handles with full-thang design. You should not expect slipping or other issues with this J.A. Henckels International carving set.
Features:
The blade doesn't require sharpening
Accurate meat cutting
Comfortable knife handle
Durable set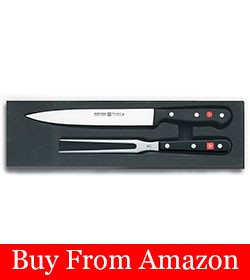 When you are serving roast, ham or turkey, you naturally want to have the best carving set. This two-piece set from Wüsthof features a carving knife which is 8-inches long and a fork which is 6-inches long. The knife's blade is stamped form high-carbon steel and this makes it very strong and durable.
The stain-resistant alloy provides protection from rust. Thanks to the precise tempering from the base to the tip of the blade, the knife goes smoothly through the meat and enables you to carve it perfectly even if it's around bones and joints.
The fork is also very-well designed. It's not the longest you will find, but it penetrates the meat properly and allows you to hold the piece firmly while carving. Both the knife and the fork have triple-riveted handles for maximum durability.
The knife's handle is ergonomic for a firm non-slip grip. The set comes in a small, but practical and elegant storage box.
Features:
Precision carving even around bones
Excellent results with little effort
Exceptional durability
Functional box for storage
Agile-shop 80pcs/Set Portable Vegetable Fruit Food Wood Box Peeling Carving Tools Kit Pack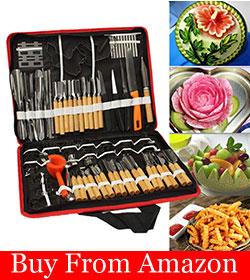 This unique set of 80 different tools for carving, peeling and cutting has multiple uses. It is designed primarily for carving vegetables and fruit and would appeal to those with practical experience behind their back. There are cookie cutters included. They are beautiful and fun. There are also tools for making originally shaped potato chips which are easy to use.
The tools in this Agile-shop set are of high quality. The metal blades are sharp. The handles are also very well made. You can hold the tools comfortably and firmly for doing a good job.

Features:
80 different pieces including cookie cutters
Well-designed tools
Soft-sided storage case
Hillpow 5-Piece Classic Ceramic Knife Set with Anti-Slip Silicone Handle and Fruit Peeler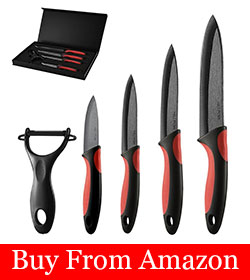 With 4 knives of different sizes, this set could be all you need for chopping, dicing and slicing while preparing food. There is also a fruit peeler which works great and saves you a great deal of time and effort. The ceramic blades of the knives make them stand out.
This material is extremely hard and therefore quite strong and durable. It doesn't rust so the taste of the ingredients isn't affected even after years of use. The Hillpow knives are very sharp and should not require sharpening even after years of use.
The silicone handles are lightweight and durable. More importantly, they have perfect ergonomics. You can expect the Hillpow knives and peeler to work well and to last for a long time. They come in an elegant box.
Features:
Sharp and durable knives
Ergonomic handles
Versatile set
Box for easy storage
When comparing the best carving knives and sets, take into account performance and durability. Carving precision and ease of use are other major factors to look into. Ideally, the items should be easy to keep in good condition.