Whether you want to make baby food at home, create absolutely unique smoothies with best blenders or simply want the ideal mayonnaise for your dishes, it makes sense to search for the best of the best immersion blenders.
How do you go about it? The ideal blender has to meet several major requirements. It must help you achieve the level of ingredient blending and texture that you require quickly and without making any mess. It should be sufficiently light and easy to hold.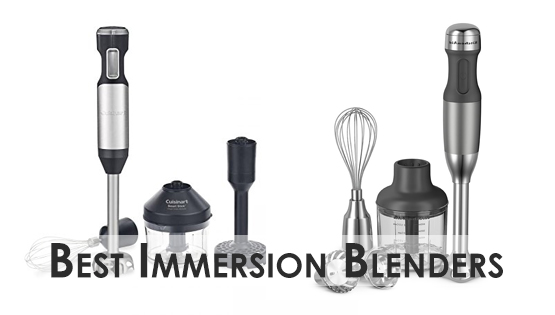 Big buttons are among the most desirable features. When it comes to accessories, a blending container is always good to have. Any extras depend entirely on your preferences as a buyer.
Here you will find impartial reviews of the best immersion blenders that you can find at present. They are based on a set of important criteria – design, performance, durability and maintenance. Indeed, your new blender should be super easy to clean as well as to use.
Top Immersion Blenders in 2023
Let's take a look at the top options now. Compare them carefully to make the right decision in the end.
1. Cuisinart CSB-100 Smart Stick Variable Speed Hand Blender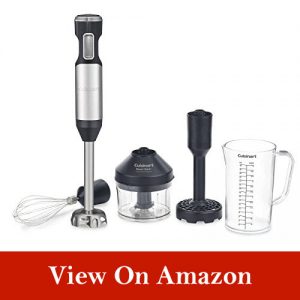 Buy from Amazon.com
The stainless steel make is the first thing which impresses you when you see this Cuisinart blender. It makes the unit strong, durable and hygienic – exactly what you'd want from a kitchen appliance. The model also boasts with a motor producing 700 watts of power.
This means that you can blend even frozen fruit and other hard ingredients really fast. The shaft of CSB-100 Smart Stick is thin so it will easily slip into most containers used in the kitchen.
Here is a list of the major features and accessories of the model which you should look into to decide if it could be the ideal one of all the best immersion blenders for you:
Features:
Bell and blade design which has been improved from previous models – It really helps you achieve better results more quickly.
Variable speed – This gives you great flexibility.
Button for locking and unlocking – An essential safety feature.
40-cup beaker – You can do most of the blending in it.
2-cup food processor – Works superbly for chopping.
Disc for slicing and shredding – You can use it to prepare all kinds of vegetables.
Whisk – This isn't the most convenient attachment, but it works well.
Potato masher – A truly great helper
Dishwasher safe parts – This is surely music to your ears.
Pros
Effective performance
Multiple functions
Good design
Great durability
Easy maintenance
Cons
Two-button safety start which isn't convenient
Using the whisk isn't very comfy
The unit could benefit from more speed options
2. Cuisinart HB-155PC Smart Stick Stainless Steel Hand Blender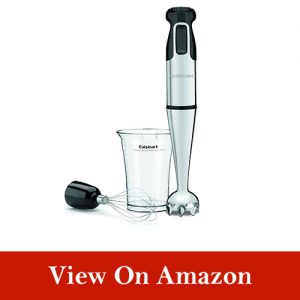 Buy from Amazon.com
The slim ergonomic design and the stainless steel make are the major factors why this model from Cuisinart is among the best immersion blenders, but they are not the only ones.
With its 200-watt motor, HB-155PC Smart Stick is sufficiently powerful to perform most blending assignments in the kitchen including the preparation of cream soup and baby food.
The main features and accessories which deserve your attention are:
Features:
Speed control – You simply need to turn the knob to adjust it.
16-ounce beaker – It's safe and fairly strong and you can use it for practically all blending tasks and then just toss it in the dishwasher.
Whisk attachment – It's great for whipping cream, but not for preparing dough.
Pros
Superb design
Strong make
Reliable performance
Quiet operation
Easy cleaning
Cons
Could be more powerful
The whisk attachment doesn't work well in all applications.
The cup could be more durable
3. All-Clad KZ750D Stainless Steel Immersion Blender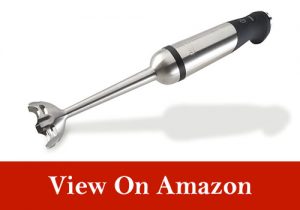 Buy from Amazon.com
As a brand getting ever stronger market reputation, All-Clad aims to deliver only the highest quality. That is why it is not surprising that KZ750D is among the best blenders right one.
It is made from stainless steel and this will give it a longer useful life. It uses a 600-watt motor which makes it powerful enough to crush ice cubes. In general, this model can correspond to practically all of your blending needs.
Consider its main features in more detail:
Features:
Variable speed – The control dial enables you to choose between power and turbo settings to match your diverse needs. The pulse mode is great when you use solid ingredients.
Non-slip handle – It has excellent ergonomic design.
Large blending head – It helps to minimize the splashing of the mixture.
25-inch shaft – Because of its length, you can easily use the blender even with tall containers.
Pros
Strong make
Great design
Powerful performance
Blending versatility
Simple maintenance
Cons
May heat up a bit after longer operation
Comes without a container for blending
It's not possible to use small mixing cups because of the wide head.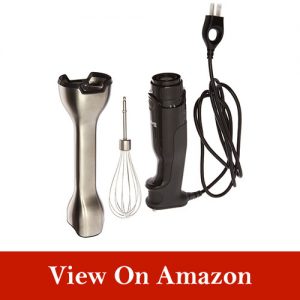 Buy from Amazon.com
The first thing which you notice about this one of the best immersion blenders is its innovative design.
This affordable blender is reasonably priced, offering more than similar models.
However, there is a lot more to it. In addition to the 280-watt motor which makes Breville BSB510XL Control Grip suitable for most blending jobs involved in cooking, there is a wide range of advanced features.
Here they are:
Features:
Bell-shaped base – It works to bring more ingredients to the stainless steel blades and minimizes splatter.
Internal ribbing break suction – This is how turbulence is created and this results in more effective blending.
15 variable speeds – This is one area where this Breville immersion blender truly stands out.
Long shaft – It gives you 8 inches of immersion so that you can blend ingredients even in taller and narrower containers.
Pistol-like grip – It's super ergonomic and gives you greater comfort and control.
Non-scratch base guard – It protects the containers which you blend ingredients in effectively.
6-foot cord – It gives you greater mobility when cooking, but you need to ensure that you won't trip over it.
Blending jug – Its lid doubles as a non-slip base which is simply awesome. Generally, it is wide and big and therefore extremely practical.
Whisk attachment – It works well for whipping.
Chopping bowl – It's a great accessory to have.
Pros
Excellent performance
Extremely versatile
Very easy to use
Highly durable
Cleaning without much effort
Cons
Could be lighter
The handle may feel too wide for someone with small hands
Takes up a considerable amount of storage space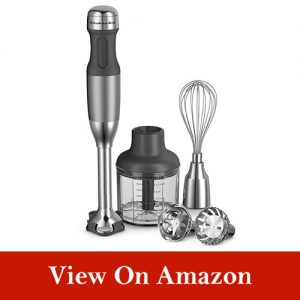 Buy from Amazon.com
Just like the rest of the best immersion blenders, this one comes from a top brand. It has elegant design and strong make.
Its moto makes just over 200 watts of power. What's special about it? It comes with three unique blades to match more of your blending needs more perfectly.
Find out more about them and the other notable features and accessories of KHB2561CU:
Features:
S-blade, multi-purpose blade and frother/beater blade – The first one is for blending, the second one can do almost anything including crushing ice while the third one is deal for making coffee beverages.
Bell blade design – It helps to improve performance and reduce splatter.
8-inch blending arm – You can blend ingredients even in taller containers.
5 speeds to choose from – This makes the blender even more versatile.
Soft-grip handle – It makes the appliance comfortable and easy to hold and to use.
3-cup blending jar – It's very useful to have.
Chopper attachment – It's great for chopping vegies. The lid locks tightly.
Whisk attachment – Works reliably for bearing eggs and whipping cream.
Storage container – A truly fantastic accessory.
Pros
Incredibly versatile
Great performance
Simple to use
Well-accessorized
Good make
Cons
Could benefit from a little extra power
The cord is somewhat heavy
Changing the speed while you're working may be a bit challenging