Are you a global trotter plus foodie? if yes then, you might know about the struggle of getting your hands on freshly cooked, warm and delicious food during traveling days. It won't be wrong to state that finding home-like food during traveling is one of the hardest jobs because not everybody is familiar with your taste bud.
Rice Cookers for Travelling in 2023
It's relatively easy to find suitable gravies and curries, however when it comes to the sideline then, perfection is needed. Now it's time to keep all of your worries aside because we have got few small yet smart solutions for you.
Today we are going to shed light on the best small rice cookers for traveling purposes and what benefits these best small rice cooker can provide you. If you are interested in making your life easier then, read on!
1. Aroma Housewares Mi 3-Cup (Cooked) (1.5-Cup UNCOOKED)  Digital Cool-Touch Mini Rice Cooker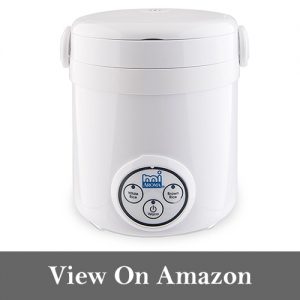 Buy from Amazon.com
Are you looking for a useful yet smart rice cooker for your travel purpose? If yes, then, Aroma Housewares is here to help you out. The digital small rice cooker by Aroma Housewares aims to keep the different type of rice warmer for the longer period of time. moreover, it also aims to maintain the freshness so that people can enjoy their food.
Some of the eye-catching features of Aroma Housewares digital cool touch mini rice cooker are as follows:
Small Yet Trendy
The Aroma Housewares cooker is capable of adjusting 3 cups of cooked rice, which is indeed a perfect ratio for small families or for those individuals who are traveling continuously. The digital control panel style of this cooker enables the person to handle the functions of this cooker in the easiest manner without getting worried about the carrying and snapping of the appliance.
Easy to Understand, Automatic System
The easy to understand and use option of Aroma Housewares makes this appliance our favorite one. If you don't like using complicated devices then, you should give a try to this mini rice cooker. The automatic three button-based system no doubt aims to make your super easy so that you can have delicious and warm rice during your travel.
Removable Parts with Easy to Clean Facility
If you want to clean this appliance then, you can easily do so by removing the non-sticking pot from the lid and clean it easily. Aroma Housewares also provides you with the option of cleaning the top rack of the cooker which is actually washer safe.
Bottom Line
Aroma Housewares digital small cooker is no doubt a smart solution for all those people who love to have home food while traveling. This cooker is indeed loaded with a number of features, which surely aims to enhance its usability in order to provide maximum ease to its users.
To help you even more, we have a dedicated page covering best of Aroma's rice cooker with reviews.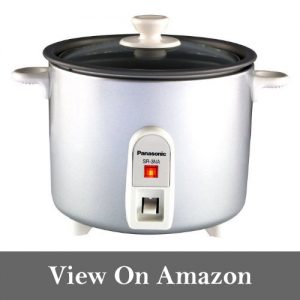 Buy from Amazon.com
Panasonic SR-3NA Automatic rice cooker is the stylish rice cooking solution for all those people who are interested in making rice just by tapping on the one button. Yes! you have got it right. The Panasonic automatic is loaded with some interesting features, which you should know about.
This model is made of Aluminum. You might also like our best stainless steel rice cookers.
One-Button Based Cooking System
The automatic system of the Panasonic SR-3NA is designed for those who want their food to get ready just by pressing the single button. You can easily cook 1.5 uncooked rice in the Panasonic automatic rice cooker.
Energy Saver
Panasonic Automatic rice cooker is no doubt the energy saver appliance, which only consumes 200 watts of power. This feature equips the person to take the cooker anywhere without getting worried about the consumption of energy during the cooking phase. There are some awesome similarly featured Zojirushi rice cookers that could be your travel companion as well.
Perfect for the White Rice
If you like to eat white rice and wants to cook it in the most amazing yet perfect manner then, it's time to give a try to the Panasonic Automatic Rice Cooker. It is recommended that this rice cooker should only be used for cooking white rice for better results
Classic Silver Design with Cooking Accessories
The classic silver body with glass lid makes this rice cooker a perfect appliance for traveling. As this rice cooker aims for perfection, therefore, it comes with measuring cups and rice spoons in order to ensure perfect cooking.
Bottom Line
Panasonic SR-3NA Automatic rice is perfect for those people who are more interested in cooking white rice just by pressing a single button. The easy to use the system of this rice cooker can help you in reducing the cooking time by taking help from the available cooking accessories which no doubt leads to cooking perfection.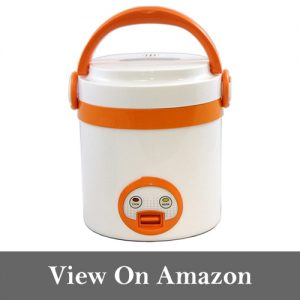 Buy from Amazon.com
If you are planning to travel alone then, Livart Rice cooker based on single switch function is the solution to your cooking problem. This cooker is capable of equipping people with a number of effective features, which are as follows:
Handy Rice Cooker
Livart rice cooker is a perfect cooking appliance for one to two people and can be taken anywhere during the traveling.
Non-sticking Pan Function
Non-sticking pan function of any cooking appliance helps in reducing the after-cooking cleaning time, which is no doubt very important. The Livart rice cooker can be used by those people who wants to ignore the cleaning phase while traveling.
Keep Rice Warmer
Nothing could be better than consuming home like warmer rice while you are wandering on the roads. The Livart rice cooker aims to keep the rice warm and fresh for the longer period of time.
Bottom Line
Livart rice cooker is best for those people who want their food get ready instantaneously without getting worried about the sticking of rice on the pan.
Which rice cooker are you planning to buy for your next travel? let us know by leaving your comment below. Also see the reviews of overall best rice cookers, for every purpose.