If you want to enjoy a variety of coffee drinks apart from the regular black coffee which you sip every morning, you will benefit from using a milk frother. With it, you can prepare latte, cappuccino, mochaccino and numerous other specialties which are utterly delicious. Kids will love their hot chocolate even more when it has delightfully textured milk foam in it.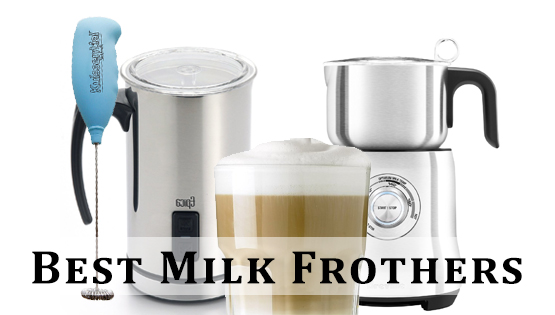 To make your choice easier when you go shopping, consider a selection of the best milk frothers around which are reviewed objectively to help you even further. You will also find practical tips to make you absolutely confident when taking a decision.
Handheld vs Jug Milk Frothers
These are the two main types of milk frothers available. The handheld ones are dipped directly into the cup of milk. You move the frother up and down and wait for it to do its job. It's very quick to work and usually produces great results. Maintenance is a breeze.
The jug milk frothers, also known as automatic frothers, are stand-alone appliances. You just pour the milk inside and let the frother do its job. There is no need for supervision. You simply have to adjust the settings. Most automatic machines have a steaming function too so you can get the ideal temperature as well as texture. You can froth milk for multiple cups of coffee with ease.
Now that you have a clear idea about the differences between the two main types of milk frothers, it's time to check out the reviews of the most popular models.
Best Milk Frothers in 2023: Overall
It's easy to describe the ideal milk frother. It works reliably and quickly to give you milk with numerous bubbles which create an incredible taste in your mouth. It's easy to use and to clean. If it comes with practical fancy features, it may help you with creating ever more sophisticated hot drinks.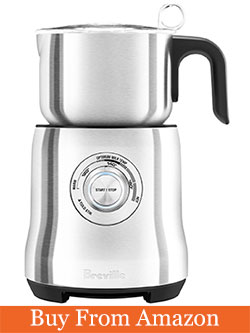 As an automatic jug milk frother, this Breville model can give you enough froth for up to 3 cups of hot drinks at the same time. You can select from two frothing discs depending on the type of beverage which you want to enjoy.
The latte disc gives you light and creamy froth. The cappuccino disk makes the froth thicker. You can make drinks like hot chocolate directly in the jug. You just need to add the desired ingredients along with the milk.
This appliance provides simultaneous frothing and steaming. You can select the optimal milk temperature, depending on your needs. Thanks to the induction heating technology, the milk is always exactly as you want it. You can readily opt for cold stir, if you wish.
The design of the Breville BMF600XL milk frother is great. It's compact and has room for storing the discs at the same time. The brushed steel body gives the appliances added durability. The jug is dishwasher safe. Its handle is ergonomic while the spout eliminates the risk of dripping milk.
Pros
Highly versatile with latte and cappuccino discs
Frothing and steaming with multiple temperature settings
Easy to use and to clean
Strong and durable
Cons
The minimum amount of milk required is considerable
The magnetic action section to be perfectly clean to work well
Somewhat noisy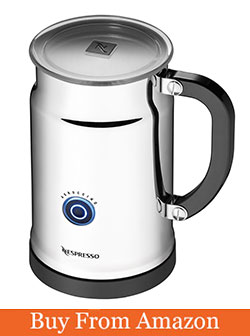 When you first look at this automatic milk frother, it may seem like a big mug made from brushed steel. The design is attractive, but doesn't hit how much this appliance from Nespresso can do for you. It has to functions – milk frothing and warming, and the best part is that you can use them together or separately, depending on your needs. You can froth cold milk for ice coffee drinks or simply warm milk to add to your tea.
When it comes to performance, you can expect great results from Aeroccino Plus. It produces thick and delicious milk froth in very little time – around 1 minute and 10 seconds. The appliance has great capacity too. You can add up to 130 milliliters of milk for making froth and up to 250 milliliters when you want just steaming.
There are maximum and minimum indicators to make things easy for you. The handle is very convenient and gives you perfect control when pouring the milk into cups.
Pros
Frothing and warming functions which can be used together and individually
Excellent milk froth
Elegant design
Convenient to use
Cons
Not dishwasher safe, but cleaning is still easy
Rinsing after use is essential for optimal performance
Capacity limits have to be adhered to strictly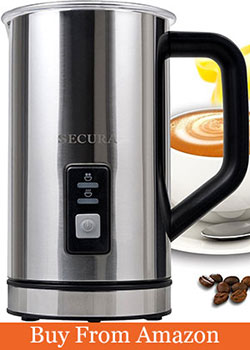 The strong stainless steel body and the large ergonomic handle are the first thing which impress you about this Secura jug milk frother with automatic operation. It works well to produce froth. You can opt for hot or cold froth depending on what type of drink you want to make.
The froth making capacity of the appliance is 125 milliliters. If you want simply to warm milk in the jug, you can add to 250 milliliters. The maximum and minimum indicators make it easy to get it right. Since there is a single button, selecting the desired function can be somewhat challenging, especially in the beginning. Still, the light indicators enable you to confirm that everything is exactly as you want it.
The appliance works quickly and reliably to give you thick froth of the desired temperature. Pouring it into a cup is easy as the jug can be detached from the electric base. The included brush is great for removing milk sticking to the walls safely.
Pros
Frothing and warming functions which can be used separately
Reliable performance
Detachable jug for convenient pouring
Special brush for more effective cleaning
Cons
The frothing capacity could be better
Somewhat steep learning curve of the one-button operation
The jug cannot be submerged in water for cleaning
Best Handheld Milk Frother
One of the key advantages of handheld milk frothers is their portability. You can take yours anywhere with you and use it to get the perfect hot or cold drink easily and quickly. The best handheld milk frother is quick to work, reliable, durable and easy to clean.
Most importantly, it produces thick froth with lots of bubbles. Here are the reviews of the bestsellers in this category.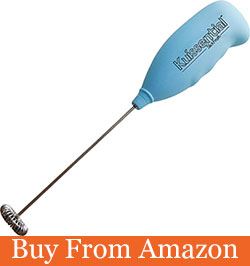 This handheld milk frother is compact and light so it's convenient to use anywhere – in your kitchen at home and in the office too. It uses 2 AA batteries to run. The cordless operation gives you great flexibility. The handle is ergonomic and this is essential for effective and easy use.
The stem and the whisking head of this Kuissential milk frother are made from stainless steel for great durability. Together with the motor, they work to give you fluffy froth which feels great in the mouth. Since this tool is designed for making froth directly in a cup, you get to select the temperature of the milk when warming it.
Cleaning is a breeze – you simply need to run the tool when the stem and head are dipped in warm soapy water.
Pros
Works effectively and quickly
Lightweight for great portability
Easy to clean
Very durable
Cons
Batteries not included
Not suitable for very thick liquids
The handle's blue color may not match the kitchen decor well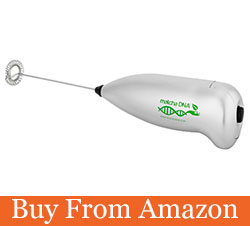 Even though it is compact and light, this handheld milk frother is quite powerful. It works quickly and dependably to give you delicate froth with lots of tiny bubbles directly in your cup. The shaft and whip are made from stainless steel, which is a strong and durable material.
The handle of this MatchaDNA milk frother is quite big, but thanks to its ergonomic design, it's suitable even for people with small hands. It gives you perfect control over the shaft and whip for achieving superb results quickly.
Cleaning is a simple task. You just need to place the shaft and whip under running water or dip them in soapy water and run the appliance. The handle, where the battery compartment is, should not get wet.
Pros
Powerful and quick performance
Delicate froth
Complete control of the tool with the ergonomic handle
Cleaning is a breeze
Cons
Comes without batteries
Holding the frother straight is essential for getting good results
Cannot sit straight up on the counter
Milk Frother – Stainless Steel Electric Milk Frother with Stand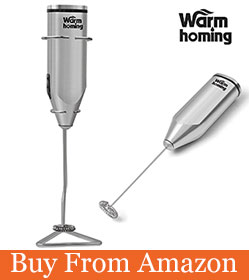 Made from brushed stainless steel, this milk frother from Sokos is strong and light at the same time. The handle has elegant ergonomic design. You just need to insert the stem and whipping head inside a cup with hot or cold milk and push the side button. You will have foamy froth in seconds rather than in minutes.
The tool is extremely easy to use. It's quite versatile too. You can use it for making all kinds of hot and cold coffee drinks, hot chocolate and tea. It's a breeze to clean. You just need to keep the stem and head under in soapy water and run it for as long as necessary. This is a battery-operated electric device so you have to ensure that water doesn't get into contact with the handle.
The stand, which is included in the package, makes this handheld milk frother stand out. It is compact and simple, but does a wonderful job in keeping the tool handy. It is made from steel too so you can expect it to be durable and easy to clean.
Pros
Strong and durable make
Great performance
Simple cleaning
Convenient stand
Cons
The batteries, which are not included, are somewhat difficult to insert
Drains the batteries fairly quickly
Stand requires maintenance too
Best Budget Milk Frother
When you want to get fantastic thick froth for your hot and cold coffee drinks, but you cannot afford to spend much, it's time to go on the hunt for the best budget milk frother.
In addition to having low price, it must offer dependable performance and excellent results. Remember that using reviews is always the most effective way for making the right choice.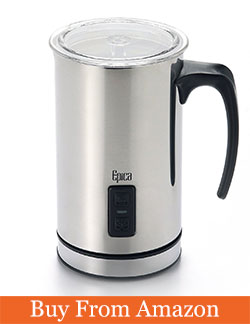 This jug milk frother has a stainless-steel body and a clear plastic cup, which enables you to check what's going on inside. Both the metal body and the vacuum insulation help to keep the temperature optimal when the milk is heated and afterwards too. You will certainly have enough time to create great hot beverages.
This Epica model gives you the opportunity to get both warm and cold froth, based on what type of drink you are making. The maximum capacity for this function is 125 milliliters or 4.25 ounces. This is sufficient for creating a cup of cappuccino or latte. It is also possible to heat the milk without frothing. In this case, you can use the maximum capacity of the carafe which is 250 milliliters or 8.5 ounces.
You should find it easy to set up and use this automatic milk frother. It works quickly and effectively to produce fine forth with perfect thickness. The light indicators help you keep track of the functions. Since the carafe is detachable, making your favorite coffee and chocolate drinks is more than convenient. Cleaning should not be a problem.
Pros
Three functions – frothing and heating, only frothing, only heating
Dependable and quick operation
Makes great froth
Very easy to use
Cons
Doesn't have large capacity
Requires careful cleaning after each use
The power cable is somewhat short
Conclusion
How do you choose the best milk frother for you? Consider how many drinks with milk froth you'd like to make and how often to decide between a handheld frother and an automatic one. Capacity is always an essential factor.
You should also decide whether you would want the appliance to warm the milk for you. You will benefit from choosing a frother which is simple to operate and to maintain, especially if you plan to use it every day.
Reliable performance and durability are also essential.