Enjoying aromatic freshly brewed coffee in the morning will be a daily reality for you with one of the best coffee markers in your kitchen. At the same time, when you are looking for a new coffee machine, it's challenging to make a choice given the great variety of models in the market.
The purpose of this guide is to help you out by providing buying advice and reviews of the bestselling models. Let's get started.
Top Coffee Machines in 2023
Why Buy a Coffee Machine?
There is one major reason for this: having fresh coffee whenever you feel like it. This type of appliance has become a staple in every home and in practically every office too.
Besides, the best coffee machines make it extremely easy to get the perfect cup of coffee – add ground beans and water, push the button and you are ready to go!
The great part is that there are plenty of advanced features which can spoil you such as a timer, with which you can wake up to the smell of coffee every morning.
What to Look for When Buying a Coffee Maker
1. Decide on the type first.
The drip machines are the most common. With them, the brewed coffee, which is made by pushing the heated water through the ground beans, drips into the carafe below. The mug drip machines work in a similar fashion, but have a platform on which you can place one or two mugs to be filled with the ready beverage. One or two servings are dispensed at a time.
2. Check the capacity.
The capacity is measured in coffee cups (holding between 5 and 6 ounces). To make the right decision, count the number of coffee drinkers in your household and multiply them by the number of cups each one prefers to have together.
3. Consider important features.
Some of the best coffee makers come with buttons for temperature and brew strength control. These give you great diversity, as long as you have the brewing knowledge to use them. A timer is also a great feature to have as it enables you to enjoy your favorite beverage without waiting.
The presence of a water filter is aimed at improving the aroma and flavor of the brew, but it will require frequent changing. A coffee maker with an integrated grinder gives you more possibilities, when it comes to preparation, but you have to ensure that it will be easy to use.
Maintenance Tips
Wash the carafe daily, preferably after every use. The machine itself should be cleaned frequently with a solution of water and white vinegar in equal amounts. Fill the solution into the water chamber, start the brewing process and stop it halfway through.
Then wait for an hour or so before you continue it. To finish the job, run a whole brewing cycle with fresh water and then dry the wet sections.
Usage Tips
Always use high-quality coffee and filters. When buying paper filters, confirm that they are dioxin-free or oxygen-bleached. For rich aroma and flavor, consider using spring water rather than tap water or mineral water.
7 Bestselling Coffee Makers Reviewed
Lets talk about each of the best coffee maker models in details.
1. Cuisinart DCC-3200 Perfect Temp 14-Cup Programmable Coffeemaker, Stainless Steel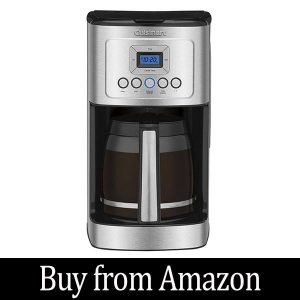 The glossy stainless steel finish and the rectangular shape with curved edges are the first things which impress you about this one of the best coffee machines around. It has a pretty large capacity. With 14 cups of coffee at one time, you can make the people in a small office very happy.
Note: Read our detailed review of Cuisinart DCC-3200AMZ here.
Cuisinart DCC-3200 uses advanced technology for making hotter coffee without compromising with the flavor. The commercial-style gold tone permanent filter also helps for getting a totally delicious and aromatic brewed beverage. The really great thing is that you can always get stronger coffee with the push of a button.
This coffee maker comes with a 24-hour programmable timer, which is very easy to use. You can also adjust the temperature of the keep-warm feature. The 1-4 cup setting is extremely convenient while the automatic shut-off function makes the appliance even more reliable and safer. The carafe is very convenient to use thanks to its ergonomic handle and the well-designed spout.
You will certainly know that this Cuisinart coffee machine has a specially designed cleaning function, which you can use with the touch of a button. It is effective and makes your life a lot easier.
Pros
Large capacity
Excellent brewing
Programmable timer
Easy use and maintenance
Cons
You have to wait for the entire brewing cycle to be complete before you pour your first cup. This is commonplace with drip coffee machines, however.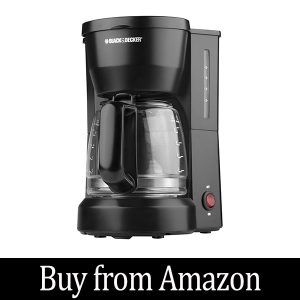 This model lacks advanced fancy features, but it works exceptionally well and this is the main reason why it is among the best coffee makers around. With its capacity of 5 cups, this appliance is a fine choice for families. It is quite compact, measuring just 9.75 by 7.25 by 10.75 inches, so it will easily fit on the countertop of your kitchen without making it cramped.
The optimal brewing temperature is reached and maintained automatically. The filter basket is removable for maximum convenience. When you use 1-4 cup basket style filters, you can expect to brew great-tasting coffee with a lovely aroma.
The Duralife glass carafe is very strong and extremely convenient to use at the same time. It is dishwasher-safe which makes cleaning it practically effortless. The carafe plate works reliably to keep your brewed coffee warm for as long as needed.
Some of the other super convenient features of this Black & Decker coffee maker include the water window, which comes with markings, and the retractable cord. The former enables you to achieve absolute precision when brewing coffee while the latter adds to the portability of the appliance.
Pros
Compact design
Producing great coffee
Strong and durable carafe
Cons
No automatic shut-off function
3. Hamilton Beach 12-Cup Coffee Maker, Programmable Brewstation Summit Dispensing Coffee Machine (48464)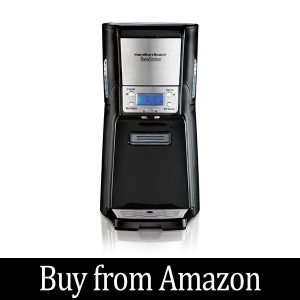 The large-capacity single-mug coffee machines are not commonly found, so it can be safely said that this Hamilton Beach model stands out among the best coffee makers. It can make up to 12 cups of this beverage at one time so it is perfect for families and for office kitchenettes too. The really great thing is that you can fill the cups one by one.
In addition to regular coffee, you can make bold coffee and ice coffee with this machine. This kind of versatility helps it to stand out. Just like with most advanced machines, this one has a function for making small batches.
This coffee maker is programmable. It's easy to use the timer – you will always get freshly brewed coffee exactly when you want it. Warming the already brewed coffee stored in an inner container of the machine is easy thanks to the dependable heating element.
The automatic shut-off function is another fabulous feature of this Hamilton Beach coffee machine. You can customize it from 0 to 4 hours, depending on your preferences.
Pros
Makes various types of coffee
Heater for warming the coffee
Programmable timer
Adjustable auto shut-off function
Cons
A mug is not included in the package
4. Bonavita BV1900TS 8-Cup Carafe Coffee Brewer, Stainless Steel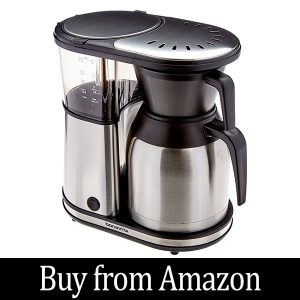 If the best coffee makers for you are the ones which have state-of-the-art technology, then you should definitely consider this creation of Bonavita. The machine is equipped with a powerful 1,500-what heater which works with great precision. This is how your coffee is always brewed at the optimal temperature recommended by the specialists – between 195 degrees and 205 degrees F.
This coffee maker achieves better saturation and uniform extraction of the flavor and aroma from the ground beans with the help of specially designed features. These include the filter basket, which has a flat bottom, and the oversized showerhead.
Another advanced feature is the pre-infusion function, which is optional to use. It is designed to wet ground coffee which has just been roasted for eliminating excess gas. With this feature, you will drink fabulous coffee without worrying about discomfort.
With its capacity of 8 cups, it could match the needs of an average-sized family perfectly. The stainless-steel make is also a huge advantage. The thermal carafe of this Bonavita coffee maker deserves special attention.
It is designed to keep your coffee warm for longer without the need to use up extra energy. It is much more durable compared to the traditional glass ones too.
Pros
Advanced brewing technologies
Pre-infusion mode for freshly ground coffee
Thermal carafe, which is highly functional and very strong
Cons
Pouring coffee will require a bit more effort due to the heavier thermal carafe
5. Mr. Coffee 4-Cup Switch Coffeemaker, Black, TF5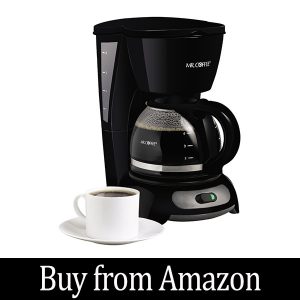 When you first look at this coffee machine, it may not seem very impressive, but it is packed with multiple practical features. Grab-A-Cup is perhaps the most impressive one. It enables you to pause the brewing cycle so that you can pour coffee in your cup.
Once you place the carafe back in place, the brewing will continue. Rest assured that the all cups will have equally good flavor.
The dual water window is another fantastic feature. It practically eliminates the risk of overflowing. You can measure precisely how much water to put in thanks to the clear indicator. While the coffee machine is working, the indicator light is on to remind you of what's going on.
The warming plate is made to be stain-resistant. In case of a spill, it is extremely easy to clean. The filter basket of this Mr. Coffee machine is removable so you can take it out and clean it perfectly from all sides.
Pros
Auto pausing the brewing cycle to pour a cup of coffee
Accurate and convenient water filling
Easy cleaning and maintenance
Cons
The carafe is not particularly convenient for pouring the ready coffee
6. BUNN NHS Velocity Brew 10-Cup Home Coffee Brewer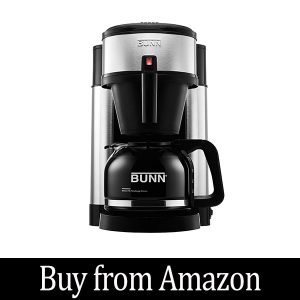 If you want to brew your coffee super quickly every morning, then this one of the best coffee makers may be ideal for you. You will get a full pot of coffee (10 cups) in around 3 minutes. This is a truly remarkable speed for a model with this capacity, which is considered optimal for families. It is achieved because the water inside the container is kept hot in order to be ready for use.
How can you be sure that the coffee will be tasty? This Bunn coffee machine uses several technologies to achieve this. It has spray head showers which disperse multiple streams of water to cover practically all coffee grounds inside the machine.
Better flavor extraction is achieved because of the large flat bottom filter and funnel which enable the more effective interaction between the hot water and the grounds.
The carafe is designed to eliminate the risk of dripping. The carafe of this Bunn coffee maker is quite strong and convenient to use as well.
Pros
Extremely fast brewing
Advanced features for better flavor
No-drip carafe
Cons
The appliance may get hot to touch while working.
For improving the life of coffee makers, you should also check out the reviews of our best coffee filters you can buy today.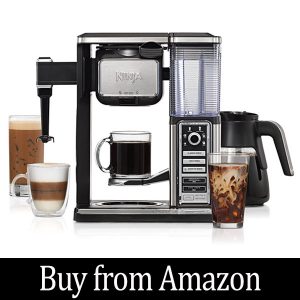 You can be a true Coffee Ninja at home with this professional system designed for making multiple beverages with ground coffee (no pod usage). It comes with advanced thermal flavor extraction technology for producing richly flavored drinks. The best part is that you can make multiple varieties with it.
Choose from classic brew, rich brew and ice brew with the touch of a button. You can also make cafe forte when you need to wake up quickly. Thanks to the built-in frother, which produces silky smooth and fluffy foam, you can prepare hot and cold lattes and numerous other fantastic recipes.
With this Ninja coffee maker, there is a choice between 6 different brew sizes just by turning the dial. These include full carafe, half carafe, cup, XL cup, travel mug and multiserve mug. It's easy to choose the right size and settings.
Pros
Makes multiple coffee drinks
Integrated frother
Easy to use
Outstanding design
Cons
The machine may get a bit noisy while working.
When comparing the best coffee machines, always consider your individual needs, preferences and budget. While the features and functions are extremely important, you should always pay close attention to performance and durability.
Browse the best coffee machines, weigh their pros and cons and make the best decision.
More Coffee Makers Reviews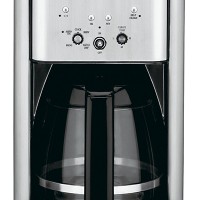 Cuisinart is a well-known brand for an electrical and non-electric kitchen appliance, whether for using them at home or for commercial purposes. It has durable and best quality products which also provide results at their excellence level. Now whenever you and your friends having great time and want to have a coffee you do not need to rush out at coffee bar or café for this purpose anymore. Cuisinart has introduced an evolutionary new look in their coffee makers as per the demands of their customers. All you have to go in your kitchen and have your coffee prepared in
0 comments