Mr. Coffee is a well-known brand specialized in coffee making and a registered trademark of Sunbeam products. It's an American coffee making company that has expertise in Brewing System. The brand manufactures automatic drip kitchen coffee machines and also offer different products that are specialized in what they are meant for but all are great appliances. Mr. Coffee products Brew in a manner that results in designer style or signature beverage and their products are most convenient to use among all other appliances of other brands of the same type. Mr. Coffee brings the experience of coffeehouse at home. They have variety of drip coffee machines, iced tea machines, single serve brewers, espresso machines and etc.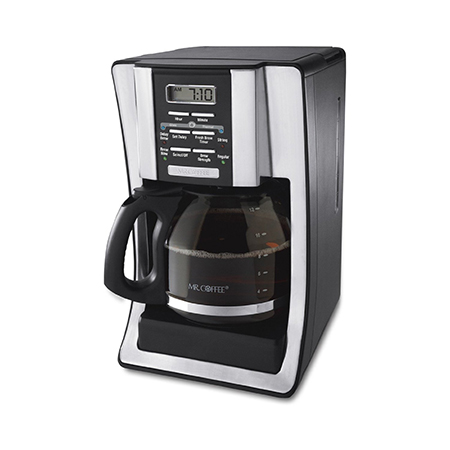 Mr. Coffee BVMC-SJX33GT 12-Cup Programmable Coffeemaker was recognized in 2011, among the best products in a leading consumer research magazine. It has an added feature of water filtration that removes around 97% chlorine from water and helps your coffee to improve its taste. To set the brewing time in advance, Delay Brew feature can be used that is very efficient and saves your time.
Mr. Coffee brings the experience of coffeehouse at home.
The product also maintains the check on the freshness of the coffee to retain its best taste, through its Fresh Brew feature that has a timer to track the freshness of coffee from the time it's brewed.
Features
Mr. Coffee BVMC-SJX33GT Programmable Coffeemaker has capacity of 12 cups.
It consists of an ON / OFF light as an indicator for the user.
It has removable filter basket that is lift out for easy filling of water and cleaning.
Brewing feature also provides ease of pause and serve, which allows you to pour a cup or two of coffee while the coffee maker is still in brewing cycle.
Its special cleaning cycle enables you to clean your coffee maker easily in much less time and retains and maintain best coffee flavor.
It has built-in feature of auto shut off after 2 hours, that keeps your coffee hot for 2 hours and then it automatically shuts off the coffee maker.
It also consists of programmable features such as Delay Brew and Fresh Brew that could be programmed easily as per your convenience and requirement. These features include tracking time through timers.
It has Brew Strength Selector that allows you to set regular or more robust flavor of your coffee according to your desired taste.
It also features a water window to display the amount of water present in the reservoir.
It has cord storage to prevent chaos.
The product is compatible with a thermal or glass carafe.
The coffee maker BVMC-SJX33GT is designed to work along with Mr. Coffee thermal Stainless Steel Decanter (DRD95). If you want to buy, this must be purchased separately.
The product weighs 4 pounds and its dimensions are 11.1*9.1*14.4 inches.
The product is also available for shipping to selected countries outside the United States.
Conclusion
Mr. Coffee BVMC-SJX33GT 12 Cup Programmable Coffeemaker has best and eye catching outlook and sophisticated design. Its attractive looks are just surpassed by its excellent performance. It is featured in a stylish design to enrich the elegance of kitchen. Its thermal carafe enables to keep your coffee hot for hours; you do not need to make coffee again and again. In a nut shell it's the best coffee maker with best options.