Cuisinart is a well-known brand for an electrical and non-electric kitchen appliance, whether for using them at home or for commercial purposes. It has durable and best quality products which also provide results at their excellence level. Now whenever you and your friends having great time and want to have a coffee you do not need to rush out at coffee bar or café for this purpose anymore. Cuisinart has introduced an evolutionary new look in their coffee makers as per the demands of their customers. All you have to go in your kitchen and have your coffee prepared in few minutes in an inexpensive way at home with Cuisinart DCC-1200 Brew Central 12-Cup Programmable Coffee maker, according to your taste along with best quality and signature style coffee, that not only fulfil your desire but gives you more satisfaction and happiness to have one at your place.
Cuisinart DCC-1200 Brew Central 12-Cup Programmable Coffee maker makes a bold statement with retro styling and an elegant tech industrial design and a brushed metal finish exterior. It is programmable from start to an end, with a variable heater plates for the purpose of temperature controls. It's an ideal coffee maker according to the latest trend and for today's demanding consumers. In fact it also tells you about the time it needs to decalcify. Now Cuisinart Brew Central coffee maker is available in new state of the art packaging, as well as provides you the ease, convenience, best quality and performance.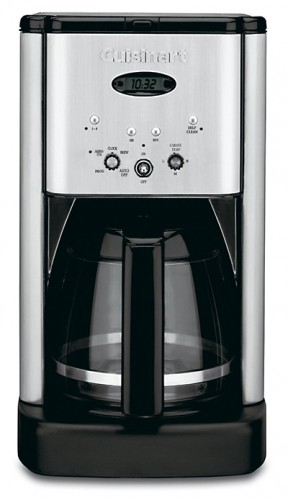 Features of the product:
Cuisinart DCC-1200, Brew Central, Programmable Coffee maker is a classic black stainless brushed metal design.
12 cup carafe with an ergonomic handle and dripless spout for comfortable pouring with a knuckle guard.
For easy filling reservoir cover is flipped back.
Fill water according to the markings of cups on the water reservoir, but do not forget to add little extra water as the amount of water lost in steam as well as wetting the grounds.
Showerhead helps to evenly distribute water over coffee, also reduces temperature losses as water is passed through grounds.
Brew pause and serve feature that enable you to enjoy your coffee even before brewing has finished.
Heater plate control knob for an adjustable heater plate with low, medium and high temperatures that make sure your coffee to remain at a temperature you like most.
Heating plate with black non-stick coating and scratch resistant.
Ready tones that beeps 5 times at the end of brewing cycle. Even after the tone coffee continues to stream from filter
24 hour advance brew start programming feature that is adjustable to keep warm temperature of your coffee.
Monitor controls for reminding you of cleaning time that is indicated through an indicator light.
Special 1 to 4 cup feature for in case of making coffee less than 5 cups.
It also allows for programmable auto shut off for 0 to 4 hours.
Cord storage is provided.
It's BPA free.
LCD digital clock that sets time for automatic functions and displays the time of day.
Flip switch and function knob used for automatic functions or to initiate programming.
Charcoal water filter is present for the removal of impurities, chlorine, calcium, odours or bad tastes from tap water.
Measuring scoop.
Number 4 filter paper is used in filter basket.
Permanent gold tone filters to ensure your fresh coffee flavour flows through it.
Coffee starter kit.
Instruction book.
Limited 3 year warranty.
Product is build up to North American Electrical Standards.
Product weighs 6.8 pounds.
Its dimensions are 10.8*9.6*15.6 inches.
For having a perfect cup of coffee four basic elements are essential and critical as well. Firstly, as
coffee is made up of 98% of water
so the quality of water is an important element. For this Cuisinart DCC-1200 Brew Central Programmable Coffee maker has charcoal filter to check and purify the water. Secondly, as the whole liquid is water so the flavouring part would be done through coffee.
If you want the best quality coffee at home similar as you get from coffee bar you need to use the same quality coffee beans too. The essential thing is the freshness of coffee beans for an excellent flavour. Store coffee beans in an air tight container to retain its freshness and taste. Thirdly, the grinding process is critical for proper flavour extraction of coffee.
If the grind is too fine it may result over extraction and bitterness, or if it's less fine even then it's not up to standard. Medium fine is the best one. Fourth and last element to make a perfect cup of coffee is the proportion of ingredients. It may differ according to taste. If all four elements are at perfection then your coffee would be perfect and lip-smacking too.