Now making a perfect cup of coffee is no more a hard nut to crack. Bonavita Exceptional Brew BV1800 is introduced by German engineering brewing system that is exceptionally perfect in its performance as well as satisfies all the standards. It's the best technology introduced by Germans that has thermal block heater of 1400 watts for ideal water temperature, fast brewing and contact time. For agitation and full coffee grounds saturation, the purpose is fulfilled by the wide pattern shower head. To keep your coffee warmer for longer period of time it is responsible for, with thermal carafe of high quality.
You can have your coffee anytime, whether in morning, midnight or evening, you will always get a perfect cup of coffee each time, as Bonavita BV1800 itself promises for the ideal coffee standards and really proves it each time.
Its special features, high quality equipment and its mouth-watering results made me buy it. I have tried Bonavita BV1800's coffee several times at my friends place and it never disappoints me, but each time a cup of coffee mesmerized me to buy a Bonavita BV1800 coffee maker of my own, as I really loved its coffee, in fact I must say that it makes me coffee addict.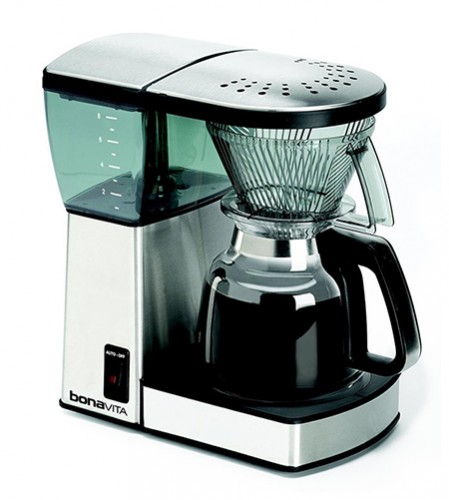 Features of the product:
The exterior of the product is made up of high quality stainless steel that is attention grabbing and stunning in both, its style and design which makes it unique from others.
It is precisely engineered for coffee grounds and water contact time.
The container can be easily filled up, as it has wide opening for this purpose.
For exact measurements of water in the container and correct estimates for coffee making, the container is marked clearly for different measurements.
It has a unique boiler and heater technology that releases water as it attains its ideal temperature for brewing of coffee at 200 to 205 degree Fahrenheit.
In its glass carafe model, it has an added feature of auto shut off after 2 hours.
On top, it has wide patterned shower head for the purpose of agitation, full grounds saturation and optimal extraction.
It also consists of a filter basket that is easy to fill up and easy to clean up, paper filter of number 4 is used in it.
High quality thermal or glass carafe that could contain about eight cups of coffee each of 5 ounces, that is easy to pour too.
On below of glass carafe it has separate heater of about 55 watts to keep coffee warm for a longer time that retains coffee's prepared temperature without any over cooking of it (this feature is available just in glass carafe model).
It has capacity of 40 ounces that is it brews 8 cups.
The product has BPA free plastic.
Shipping is also available to selected countries outside U.S too.
It is UL certified and has 2 years manufacturer's warranty.
The product weighs 9 pounds and its dimensions are 13.2*8.7*14 inches.
Bonavita BV1800 coffee maker is one of the best coffee makers that are certified by SCAA (Specialty Coffee Association of America) for its performance and best quality. It means that the equipment is Exceptional Brew that is proficient for brewing coffee as per the standards stated by SCAA. The brewing system engineered by Germans has specific brewing temperatures already set that are easily achieved in less time and very effectively through 1400 watt heater that raises water to attain an ideal temperature for brewing.
Bonavita BV1800 hardly takes 5 to 6 minutes in brewing 8 cups of 5 ounces. The stainless steel thermal carafe is more efficient in keeping coffee warmer for long in compare to convectional glass carafe. Stainless steel thermal carafe is also glass lined to deliver a better heat control than convectional double walled stainless carafes.
It also contains a triggered lid that is specially designed for an ease of one handed pouring along with thermal carafe lid on. For pouring you just need to use your thumb.
Overall the product is very impressive. I haven't seen any product before that is so much perfect like this and you can even rely on it blindly, as it has maintained standard.
Each time your result would be at excellence level and even with passing of years, its performance remains the same and perfect as before. It is easy to clean. The product is finest in all ways and aspects.