Melitta is the brand of Germany whose headquarters are distributed in United States of America. Melitta is responsible for the marketing and sales of Melitta Coffee filters, non-electric coffee systems and coffee.
The Melitta group of manufacturers have been spread worldwide, which markets a wide-ranging variety of consumer products. Among them came the full variety of Coffee preparation products by which the company has earned the goodwill and best known for it.
Melitta persistently struggles and focuses on being a leader in The Coffee Preparation and The Coffee Industry. They had the rigid idea of bringing European Café experience to an American Coffee drinker with lots of passion, nevertheless the consumers' choice of brewing mechanism. Therefore eventually they succeeded.
Melitta 46894A is a programmable coffee maker with a capacity of 10 cups, thermal carafe, made up of durable stainless steel. It's a regular, bold and robust brewing setting for a rich tasting coffee.
Its style name is frustration free packaging that is really free of frustration, as you receive it in safe, protective and easy to remove packing and the product is most convenient and easy to use. It has a cone filter style and design which helps to provide for best coffee extraction along with facilitating you with controlling the strength of your coffee.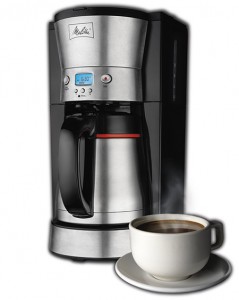 Features
Melitta 46894A is a 10 cup vacuum sealed thermal carafe with attractive outlook that has easy pouring mechanism just activated through your thumb, there is no need to twist the lid anymore.
To have control on your coffee taste there are many settings and features available in the product.
Filter basket swing of cone shape offers you an optimal coffee extraction and help you for an easy access.
It's a combination of programmable and auto programmed functions.
Programmable features allows you to brew your coffee at the time you want it to prepare, you can set according to your convenience and taste.
It has a special feature of pause n serve that allows you to pour your coffee while it's still undergoing the brewing process.
It provides you with three brewing strength controls, regular, bold and robust as per your taste and desires.
The product dimensions are 9.5*12*11.5 inches.
Shipping weight of the product is about 10 pounds.
To have a perfect cup of coffee each time is something special to savour. While you have Melitta 46894A coffee maker you can have it every time you desire for it. It invokes the sentiments of an authentic European café, which gives you sensuous experience in each sip. Melitta 46894A coffee brewer knows the secret of making the most out of your favourite ground coffee, and extract it most while brewing mechanism and gives you delicious aroma as well as excellent taste.
Melitta 46894A coffee brewer knew how to fulfil your needs  in a best way that coffee lovers say about it in this way that Melitta 46894A has brought back the European culture of hundred years, its rich indulgence to life and refined craftsmanship is right there inside your cup.
Regular brewing gives you mild coffee; it's favourable when you are not fond of espresso. If you want strong, deep or rich coffee bold or robust brewing strength settings would be best for you.
Conclusion
Melitta 46894A 10 cup Brew Coffee maker is not just able to provide you with hot coffee but also it facilitates with perfect iced coffee. When the weather is hot and you need some cool refreshment after a hectic day, iced coffee is best to fulfill the purpose.
Fill the container with water up to 5 cups mark and fill thermal carafe with ice up to the rim, or little below it. Then brew double strength coffee and pour it, add additional ice, cream and sweeteners as per your taste. This would be best to energize you and get rid you off your whole day tiredness for sure.
It's not a hard nut to crack to clean or care properly for your Melitta 46894A. Cleaning it after each use is preferable, to make your product long lasting. As to remove hard water deposits is necessary that might be present in your tap water. It could be easily cleaned up through inexpensive vinegar or you can buy a coffee machine cleaner. Regular cleaning will maintains the best taste of coffee that is the foremost priority for everyone.