Convection microwave ovens are the special type of ovens that have special feature of spreading heated air all over evenly and give best results, whether through browning or crisping any food or evenly heating without leaving any cold chunks.
It eliminates the process of stirring or turning food whether in dish or in case of grilling, whereas it gives excellent results for baking too as it evenly heat and avoids burning or under cooking.
Convection microwave ovens technology actually uses fan that forces air movement and heat the interior of microwave for even cooking of food. As normal microwave does not bake or roast the food quickly and perfectly as it is done by convection microwave ovens.
Cooking time is quiet reduced in these microwaves and encourages quick cooking and easy to serve food for working women.
Top Convection Microwave Ovens in 2023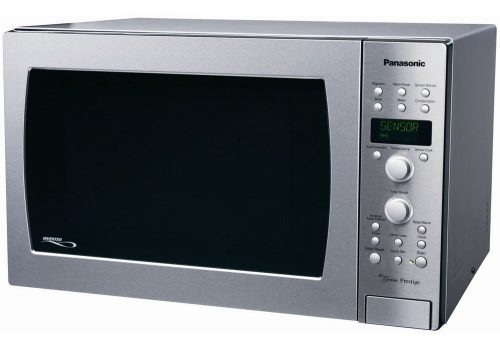 Panasonic NN-CD989S Genius "Prestige" is a family size convection microwave oven with full stainless steel body. Interior capacity is about 1.5 cubic feet while exterior dimensions are of 23 7/8" width by 19 5/16" depth by 14 13/16" height and weight of the product is about 46 lbs.
It consumes 1100 watts of high cooking power, along with Panasonic's own inverter technology. Inverter technology ensures even heating and cooking of food without over cooking and burnt edges as it consistently delivers microwave energy and perfects the art of cooking, through continuous power delivery method.
This technology is also used for Inverter Turbo Defrost that enable microwave for faster and even defrosting of food.
Panasonic NN-CD989S Genius has enhanced technology of Genius one touch sensor cook and reheat that eliminates time of guesswork by automatic setting of power levels that sense and adjust cooking and defrosting time on its own.
It also provide with 4 in 1 cooking possibility with convection microwave oven that enables combination cooking also and baking and broiling can also be done through silver buttons in it. Control panel have two dials for easy programming through adjusting them. It has 15" turntable that helps in cooking food evenly.
Design is unique and convenient as upper left corner of the door has indentation that allows the door to open smoothly.
All interior and exterior of the product is of stainless steel that makes the cleaning process easy just with a single wipe. Over all it's the best product I ever had, perfect in all means and I really love using it.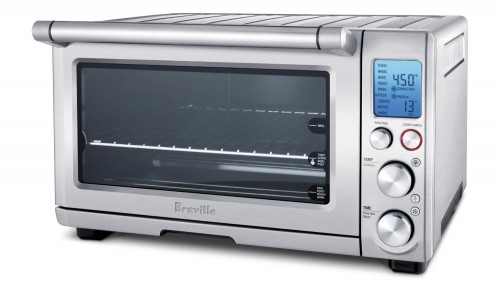 Breville products are initiated with little intelligence as each food item requires different methods of heating, likely for heating meat would be different from baking. Hence most of toasters fail for distributing heat in a consistent way, inside their interior evenly but Breville BOV800XL smart oven is convection toaster oven that requires 1800 watts power.
It's a nonstick interior oven with capacity of 0.8 cubic foot with exterior dimensions of 18 ½ by 16 ¼ by 11 ¼ inches. It has a special feature of Element IQ technology for controlling heat smartly. Its quiet an advanced version of normal toaster ovens as it has built-in programmed features and functions for convenience, and serves as a multi purpose toaster oven.
It has 9 preset functions, that enables to toast, bagel, broil, bake, roast, pizza setting according to size and slices, cookies, reheat option, and for warming food. It has a convection technology that enable it for even heating through maintaining temperature inside and heated air is spread evenly for appropriate cooking or heating.
It has a blue back lit LCD screen, which turns orange during preheating, for signaling and prevents burning. Its control panel is easy to use and user friendly. Its design is very much convenient as it has 3 rack positions and about 5 quartz heating elements.
It has auto eject wire rack for servicing food easily and avoid heat inside oven to catch hands, removable crumb tray, pizza pan, baking pan and broil rack are also included in its accessories. The product also offers 1 year limited warranty. In short I am fully satisfied with it in fact loved using it.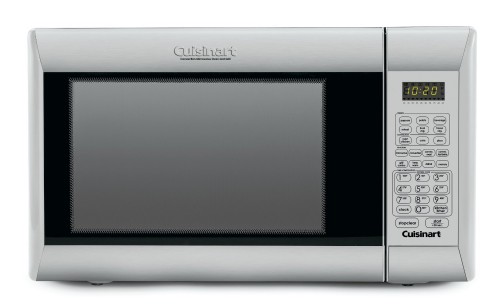 Cuisinart is a brand of honor and their electrical appliances are durable and reliable. Cuisinart CMW-200 is a counter top oven that is the ultimate combination of style, size and smarts. Convection microwave oven of 1.2 cubic feet capacity, along with the grill that impacts of high end commercial kitchen.
Its sleek control panel offers single and combination of settings for an unlimited number of cooking options. This is a new generation microwave that allows multi stage cooking feature, that shifts from one to another function and presents perfect results as a piece of cake.
It consumes 1000 watts of cooking power and offers multi stage cooking. 12 inch rotating glass tray is attached in interior for the purpose of even heating. Rotation will avoid stirring or turning of food while convection microwaves have special feature of circulating heat evenly around the interior for excellent cooking results. It has touch pad control, on which 9 of them are preset option menu, plus grill function is also present.
Its preset menu includes popcorn, potato, beverage, fresh vegetables, frozen vegetables, reheat option, among convection menu include cakes, pizza and roast chicken. It offers 8 functional options that include normal microwave functionality, convection, convec. Roast, convec, Fast bake, grill/combo, keep warm, defrost , memory option.
Clock and kitchen timers are set through number pad available. On each number of number pad, there are programmed time and temperature specified to set the temperature according to cooking requirements. On the end control panel is present to start or stop/clear option touch buttons. Defrost option is also present with time or weight.
Reversible grill rack for grilling and roasting purposes, whereas recipes and some instructions are also included. The product has 3 years limited warranty. Product works really well as its performance is awesome.
4. Sharp R1874T 850W Over-the-Range Convection Microwave Review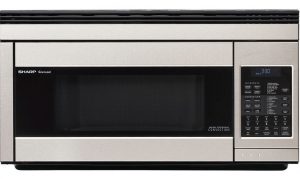 Sharp is known by its prestige and trademark since long back. The sharp microwave ovens are best among all others, because of its best quality. Sharp double grill convection counter top microwave is the special featured and advance technology microwave oven. It's a complete stainless steel interior and exterior of steel grey metallic colored enamel finish.
Its interior have light source while it's in functioning mode and it is also lit when the door is open. It consumes about 850 watts of power in convection microwave oven.
Its interior capacity is of 1.1 cubic feet with 13 inches turntable that evenly heat the food and enables perfect cooking. Its display panel has an interactive display of 2 colors, 7 digits screen. Along with custom help option for setting child lock settings for protection measure. It also has language and weight options and auto start option available.
It's an amazing one in all of its similar types of microwave oven. I hate bulky appliances on my counter while this one I really love as it's so much useful to me. Most of my cooking is done through it, whether baking cakes or pudding for a dessert or preparing meals for lunch and dinner, it always helps me out a lot and gives me results as perfect as I have expected.
Its double grill mechanism plus its convection heating technology are eminent ones that are incomparable. It roast, toasts, grills, bakes and even cooks as perfectly, that as soon I am done with cooking, pleasant aroma reaches to everybody's nostrils and refreshes hunger that attracts everyone immediately towards the dining table.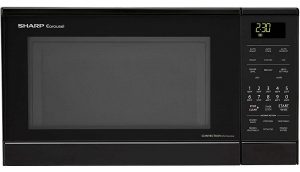 Whenever I need to buy any electrical appliance I always go for Sharp as it has a prestige in the market and among its competitors its best in quality and performance. It's a 0.9 cubic foot capacity of stainless steel interior with light, having 12 ¾ inches turntable for even heating. Its exterior is silver and it requires 900 watts of cooking power.
It's a double grill convection microwave that provides both crisping and browning capabilities. And among all I read about convection microwave reviews, Sharp microwaves are best in all. Double grills emits heat from over and under the food that additionally consumes 1500 watts of power, and for setting power levels according to cooking requirements, it provides 11 power levels.
It has interactive display of 2 lines, 12 digit screen display, which is very helpful for the user. Moreover auto touch convenience and 7 automatic settings and their results make it unique from other brands. Its exterior dimensions are 20 ½ by 12 1/8 by 19 ¾ inches, that is useful for counter space measurement.
As far I have read in the convection microwave reviews by other users before my purchase of this microwave, now after using it I am one of them, that convection microwave of Sharp, performance is incomparable to normal microwaves. Reheating of muffins and bread returns amazing outcomes that makes my mouth watering each time. Not only reheating I have also used convection feature for preparing breads that returns me stunning results. I am fully satisfied and happy with my choice.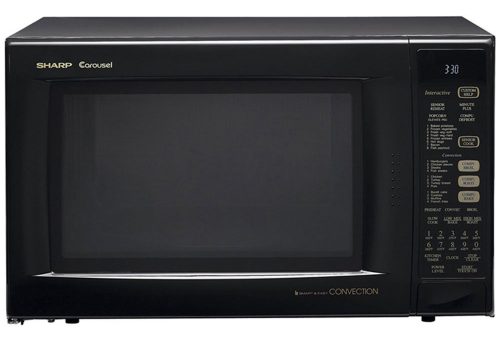 Sharp R-930AK is a 900 watt of power consumption product with 11 power levels defined. Its interior capacity is about 1 ½ cubic foot with light and 15 3/8 inches turntable for even heating, along with low and high racks included. It's a convection microwave with smart and easy sensor settings. It has 2 color display of 7 digit interactive display LCD.
Its added features are CompuBroil, CompuBake and CompuRoast that are done by convection technology. It also has manual temperature settings, and also have number pad on which each number specifies a different temperature setting.
The product has 1 year limited warranty and the exterior dimensions are 24 5/8 by 14 7/8 by 19 inches. It looks great as its design is quiet roomy and cooks great, it does everything an oven must do with best performance and it's easy to use. I love the fact that all the microwave functions could be used in the same unit as a convection oven.
Its Sensor Cook feature is amazing that uses its own intelligence in microwaving and saves mine.it works perfectly for a number of foods such as frozen entrees, vegetables, hot dogs, etc. Cleaning and maintenance of this microwave is quiet easy and quick. Since I have bought it, it never makes me annoy by its result and I think it's the best one.