You want completely even cooking without having to worry about hotspots and temperature fluctuations and this is the reason why you are on the hunt for the best electric skillet out there. There are various options to choose from and here you will find reviews of the top ones.
Top Electric Skillets in 2023
Before going to the reviews, let's start with some essential electric skillet buying tips which will guide you into the right direction when you go shopping.
There are several major factors that you need to pay close attention to when you search for the best electric skillet for you. These are:
Size and shape – Determine your cooking needs to figure out how big your new electric skillet should be. When it comes to shape, the main options include rectangular, square and round. The first one is often preferred because you get plenty of cooking space while the appliance is quite convenient for storage.
Design and make – The skillet must have nonstick surface which reaches the desired temperature quickly and distributes the heat evenly. You will benefit from having a see-through glass lid while cooking, but this material option isn't mandatory for achieving good results. Handle ergonomics are important for comfort and convenience while cooking.
Cleaning and maintenance – Ideally, the heating unit will be removable and all other components will be dishwasher safe. This will make your life easier, especially after preparing a meal for a big party.
Now that you have a clear idea of what to look for in the best electric skillet, it's time to check out the reviews of the contenders for this title. Here they are.
1. Presto 06857 16-inch Electric Foldaway Skillet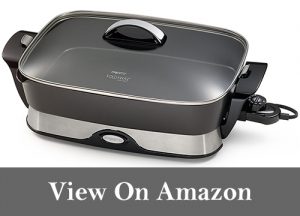 Buy from Amazon.com
This rectangular electric skillet measures 12.5 by 20 by 8 inches. The pan which you can roast, fry, bake and even prepare stews is around 16 inches long and 2.75 inches deep. The capacity is excellent for the average family.
This model is made entirely of cast aluminum, meaning you have nonstick surface on both the inside and the outside. This is a great advantage especially for those cooks who tend to be a bit messy when preparing food. You should not worry about food sticking to the surface of the pan even if you don't use oil for cooking. The heat is evenly distributed and this results in proper cooking and in higher energy efficiency compared to using a classic cooktop.
The pan of this Presto electric skillet has a well-designed pout on one side for pouring the grease out whenever needed. It serves as a spoon holder too. The lid is made of tempered glass for keeping a constant check on what's going on inside. The control knob has precise temperature settings to help you achieve perfect results.
Both the pan and the lid are very easy to wash. The foldable design of this model makes it easy to store too. You just need to open the handles to the side, set the base inside the pan, fold the handles in and place the lid upside down.
Bottom Line:
Could this Presto model be the best electric skillet for you? It has good capacity and works exceptionally well. It's reliable and durable. It's easy to store and to keep in good condition.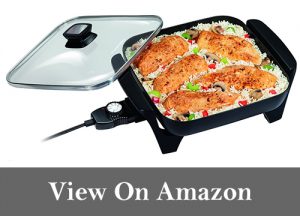 Buy from Amazon.com
This square electric skillet has great aesthetic appeal while being quite practical. It measures 14 by 6 by 12 inches with the pan being around 12 by 2.5 by 12 inches. The square shape is very elegant while the depth is sufficient even for frying as well as for simmering and making stews, eggs and pancakes. This model has great capacity so it could be a good choice for cooking family meals.
You can select the cooking temperature precisely – from 200 degrees F for keeping the food warm all the way up to 400 degrees F. Just turn the knob. The nonstick surface means that you can cook without using any oil if you wish. You will enjoy quick warming of the plate and even distribution of the heat for perfect cooking results. The glass lid enables you to keep track of the cooking easily.
This Proctor Silex electric skillet is equipped with small, but well-designed cool-touch handles, so you can use it directly for serving food, given that the heating element is detachable. Cleaning the skillet is also easy. Both the pan and the lid are dishwasher safe.
Bottom Line:
If you want to prepare tasty and healthy food with precision and without much effort, this could be the best electric skillet for you. It works well while being durable and easy to use and to maintain.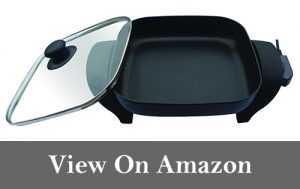 Buy from Amazon.com
If you are looking for a compact electric skillet, this one may be the ideal choice for you. The appliance measures 10 by 12 by 6 inches while the pan is 8 by 8 by 2 inches approximately. The square design allows for easy storage while the capacity is ideal when you are cooking food for one or two people. Given its size, this model could be a great choice for preparing meals in an RV or in a dorm room.
You will discover that heat is evenly distributed around the die cast aluminum pan of this Nesco electric skillet. The nonstick surface eliminates the need for using oil, unless you want to prepare fried food. Generally, this appliance is great for roasting meat, baking and making casseroles. Just keep in mind that the control knob doesn't have precise temperature settings in degrees.
The glass lid does an excellent job with keeping the heat inside. The safety vent is a great feature to have, especially for those who are not very experienced in cooking. The lid's stay-cool handle is very convenient to use. The skillet itself has elegant and very large handles of this type.
When you remove the heating element, the skillet becomes east to wash. In fact, it's dishwasher safe just like the lid. This model scores very high when it comes to cleaning.
Bottom Line:
This Nesco model could the best electric skillet for someone who's looking for small capacity, dependable performance, great convenience and easy maintenance. You get to decide if it matches your needs.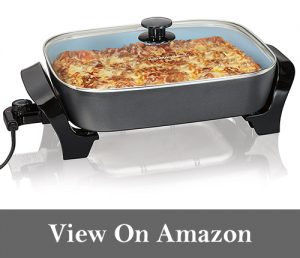 Buy from Amazon.com
With this electric skillet measuring 21 by 12 by 8 inches, you can prepare a healthy and delicious dish for your family easily and quickly. The rectangular pan itself measures 15 by 12 by 3 inches. This capacity is awesome, but you should pay closer attention to the depth. Very few competitors are 3 inches deep so this model surely stands out. It's great for frying and for making lasagna, moussaka and similar dishes.
This Hamilton Beach electric skillet boasts with Durathon ceramic coating. Thanks to its nonstick nature, you will need very little oil if any to cook food. In addition to doing its job perfectly, this coating is more durable compared to its counterparts. Still, you should avoid using metal spoons, spatulas and similar utensils with it to protect it in the most effective way possible.
You can expect this model to cook food perfectly thanks to the even heat distribution. You can select a precise cooking temperature up to 400 degrees F thanks to the temperature control knob. When you choose the lowest setting, the food will stay warm so you can serve it at the ideal time. The skillet reaches the desired temperature quickly and has even heat distribution. The glass lid ensures that heat stays inside when necessary. It's very easy to clean just like the pan.
Bottom Line:
This Hamilton Beach electric skillet is reliable and durable. You will undoubtedly have a lot of fun cooking with it. Washing it is a simple and quick job and this is another great advantage to have.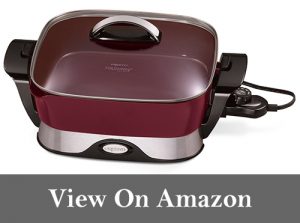 Buy from Amazon.com
If you want an electric skillet enabling you to cook for the whole family, this model measuring 16.25 by 12.25 by 8 inches could be right for you. The large ergonomic handles make it easy to take around. It is worth noting that the depth of the baking pan is around 2.75 inches so it's suitable for frying as well as for baking and even grilling.
The pan is made of cast aluminum and has ceramic nonstick coating on all sides. You will be happy with the quick heating of the pan and the even heat distribution. You can choose any cooking temperature up to 400 degrees F with maximum precision thanks to the control knob. The temperature is maintained throughout the entire cooking session thanks to the Control Master technology for controlling heat.
The glass lid guarantees that you'll see everything going on inside the pan. When you want to pour grease or excess liquid out of the pan, the spout on one of its corners will make this task super simple and quick for you. You can also use the spout as a spoon holder.
The heating element is removable so you can immerse the rest of the skillet in water for complete washing. Once it is dry, you can remove the pan, fold the handles over the base and place it inside the pan. Just place the lid on top upside down and you have a compact bundle for storage.
Bottom Line:
This National Presto model is a fantastic performer with great capacity. It boasts with great durability while being easy to store and to maintain. It could be the best electric skillet for you.