Food processor is, undoubtedly, a wonder of science. I am utterly addicted to it. My last food processor, that lasted for about 8 years, wore out and I was completely at a loss as I have been depending on it for so long. I definitely wanted a new one, something that was much more reliable than the previous one with an affordable price. I visited the mart and Black & Decker FP1600B 8-Cup Food Processor caught my eye.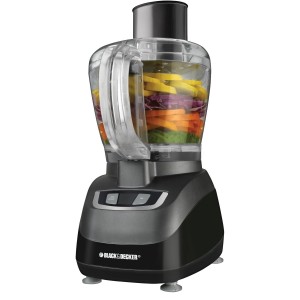 >> Click to See Price and Reviews on Amazon <<
Black & Decker FP1600B is a black beauty with a compact size and extra-ordinary features. I have never used a Black and Decker before but after my experience with this one, I will continue with my brand loyalty.
Since the day I had it on my kitchen counter, I have realized that my last food processor lacked versatility and its cleanup was a hard nut to crack. Black & Decker FP1600B can perform a wide range of tasks in no time at all. It works like a magical spell.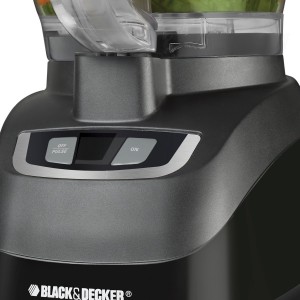 >> Click to See Price and Reviews on Amazon <<
Features
Driven by 450 watts, this machine is crazy powerful. Whatever I have fed it so far, may it be fruits,vegetables,meat or nuts, it has impressively sped through everything. Until and unless you are able to judge the power of the machine for your particular purpose, use the pulse button for all your operations. 8-cups(1892ml) work bowl processes bulk of food with ease and zeal. The work bowl comes with a continuous-flow feed chute and a pusher. The machine is equipped with stainless steel chopping blade and reversible slicing/shredding disc.
Devised with a safety interlock system. The suction-cup feet is muscular. It couldn't slide around your counter easily. It is a wonderful safety feature for those with toddlers because there is no way they have enough strength to pull it off. It is easy to store because of its compact size and fairly light weight. The cord of the machine can be wrapped underneath the base. Its cleanup is a breeze as all its parts are dishwasher-safe.
Performance
Black & Decker FP1600B, beyond a shadow of doubt, is a thing to bring home. Previously it took me hours to prepare a meal but with Black & Decker FP1600B, things are simpler, faster and better. It has simplified my cooking vastly.
The 8-cup work bowl can easily process a large amount of fruits and vegetables in a single go. The machine has super sharp blades. The chopping blade can chop anything you want onions for gravy, carrots for salad, tomatoes for salsa etc. The most exciting fact is there will be no tears while chopping onions!!! Once I fed the tube with almonds to get them powdered and I got a satisfactory outcome.
The reversible slicing and shredding disc has its own achievements. It has produced fine shreds of pounds of cheese within the blink of a eye.
It has shredded a variety of vegetables to enable you fix a quick and tasty coleslaw and has even managed to shred raw meat. I haven't come across the slicing disc much but sliced cucumber once and obtained uniform slices within seconds.
The machine can also handle mixing and kneading small pizza dough and cookie dough. If you are looking forward to bread loaves then it must definitely be not your pick.
Black & Decker FP1600B could be an appropriate replacement of a blender. I tried making banana smoothie with it and it was simply AMAZING with no liquid leakage at all.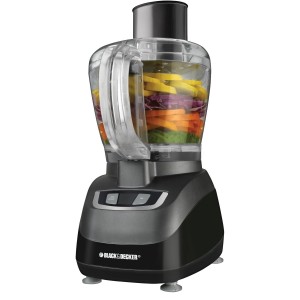 >> Click to See Price and Reviews on Amazon <<
Cons
The machine is just too loud but I believe that's a small price to pay for such a creation. I have noticed that while processing a negligible quantity of the food sticks inside the lid which could be due to a flaw in the design. the features and the performance of the machine totally outweigh the cons so I would stick to it and would suggest others to go for it too.
Thus, I was looking for a product with high quality, excellent performance and a lower price so, Black & Decker FP1600B was the right choice to make and I haven't been disappointed yet. It is a sturdy ,powerful,easy to use,easy to maintain and an inexpensive food processor. Its dimensions are 10.7×7.5×15.3 inches and comes with a limited warranty of 2 years.
I would definitely rate it with 5 stars and will highly recommend it to those who want to speed up the process of chopping, slicing and kneading. This food processor looks beautiful and works beautifully as well.