Few years ago, word of mouth leads me to the acknowledgement of this alluring masterpiece, Ninja Professional Blender BL660 with single serve blending cups. I have always been very skeptical about trying different brands but I took my chances and bought it as a seemingly reasonable price and its eye catching design. We usually bustle around running multiple errands simultaneously, while wishing for a miracle to lessen our work load, in terms of saving our time and energy, while selecting the best brand that would satisfy more than our expectations.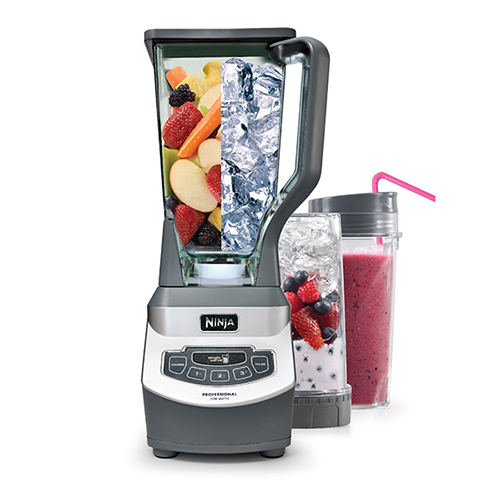 Well our wish is there command, Ninja System introduces Nutri Ninja and Ninja Total Crushing specialized products to the highly efficient Ninja Professional Blender, model no. BL660. It is a perfection package with the high powered ability of blending, ice crushing, pureeing and controlled processing within just a few seconds. Its XL 72 oz. (9 cups) jar / pitcher that frees you from the hassle of running the blender twice or thrice by allowing you to make drinks and smoothies for the whole family in just one go. It is not just the best choice for a family but also serves as a perfect solution for single individuals running late for office or school.
Features:
Ninja system offers one year warranty for their products.
Its motor requires 1100 watts for Professional Performance Power to function appropriately.
It allows 3 speed levels plus pulse function.
Pitcher capacity of blender is XL 72 oz. that is equal to 9 cups, through which a drink can be prepared for the whole family in one go.
It has specialized blade technology that is Total Crushing Technology that crushes ice, whole vegetables and fruits in seconds.
There are 2 Professional Nutri Ninja Cups of 16 oz. capacity that is equal to 2 cups, for nutrients and vitamin extraction.
All parts of the product is BPA free and dishwasher safe, these features are add-ons to this alluring blender.
It enables blending of frozen fruits and etc. and results in silky, creamy fruit smoothies, without a single trail of non-crushed fruit or ice.
Product is eligible for the policy of 30-day return at amazon with free shipping or Prime too, also to the selected countries outside U.S.
Product weighs 10 pounds with dimensions of 9.2* 12*16.4 inches.
Recommendations:
Depending upon the retailers, the price for Ninja Professional Blender varies. It has most appropriate and suitable price according to its features, as it really worth it. The most exciting feature of Nutri Ninja Professional blender is Total Crushing Technology that has the ability to make ice-cream and 'frozen fruit' smoothies just in seconds. Also, Ninja Professional Blender provides you with the convenience of blending vegetables and fruits into drinkable liquids and grind seeds such as flax seeds or nuts, without having to worry about damaging the blender. In seconds it is able to blast ice into snow and to blend your favorite ingredients and recipes to make delicious and mouth-watering dips, sauces and smoothies.
Nutri Ninja nutrient and vitamin extraction system provides nutrient rich, smooth n silky beverage filled with fiber and vitamins. It gives better taste and more nutritious beverage unlike others. Enjoying a chilled silky beverage either from frozen or whole vegetables, fruits and ice cubes is not a hard nut to crack any more. You can even enjoy a single serving drink through Nutri Ninja cups.
Cleaning is really easier than ever as just a single wash makes it clean. All the parts are dishwasher free, so it needs no efforts in cleaning. Use the product according to the instructions provided in the user manual. It's preferable to wash before and after used each time. As it comes with the single serve option, cleaning is not a hassle any more, as we don't need a long pitcher to clean up but a small single serve pitcher that is much easier comparably.
Overall I liked the product and fully satisfied with its performance, not only satisfied but in fact much happy through its results. It produces perfect smoothie beverages that I have never expected before having Nutri Ninja and no barriers of frozen or whole stuff, as it offers the same result each time, smooth and silky drink without having any single chunk of food present in it.