Oster brand is well known and reliable for its products, that provides durable, versatile and good quality household appliances with excellent and long lasting performance. Similarly Oster 0GH6901 microwave oven experience was substantial, according to its cheap rates and favorable functionality. In short it worked great for me.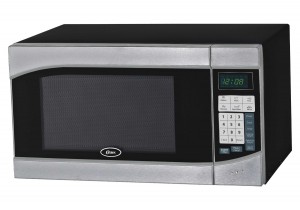 Oster OGH6901 Features
It requires cooking power of about 900 watt and facilitates with 10 adjustable power levels.
It's a digital microwave having 0.9 cu. ft. capacity with stainless steel/black color of exterior, while interior is built up of epoxy.
Exterior is of black color, front part of oven including its door has stainless steel border on top and bottom that makes it elegant and eye catching.
It has two panels on its right side, display panel on top and control panel for controlling and settings according to requirements.
It also allows cooking with 6 auto cooking menus built-in and programmed with one touch menu options.
It also facilitates weight defrost.
Digital timer, digital clock, and led display are the key components for display and timer.
Keypad is also present in control panel for setting timers for your cooking or heating.
This product is built on following the North American Electrical Standards, for electrical appliances of this type.
It has removable glass turntable, for easy maintenance and washable.
Recommendations
It's a sleek style and powerful microwave oven, with cheap price comparatively with other products of its type. It has good quality components and it fulfills all the functions as per specified in its user manual. It's easy to use and even a child can use it without any trouble.
Keypad has setting options for timer and reset button. Lower buttons at control panel are designated for start and cancel/pause options. Touch menu buttons on top of keypad and below the display panel are for built-in functionality or programmed menu items that are for popcorns, potatoes, pizza, beverage, frozen dinner and reheat options.
Programmed menu are easy to use for my children as well, as they want popcorns very often and its relief for me that they are able to control it perfectly on their own, without my supervision and popcorns are really made perfectly without burning or uncooked leftover corns.
On right side of keypad has cooking and defrosting options according to weight measurements, the menu includes power, cook, timer, cook by weight, defrost by weight, speed defrost option buttons that are programmable according to requirements that are used for cooking purposes. It also beeps when the timer is over, that alerts me to check the food and saves my time and energy for checking it again and again.
The feature that relieves me most is its speed for defrosting and heating, that really helps in my busy schedule and enables me to prepare food speedily and instantaneously.