Panini Sandwiches are made using Panini bread. Panini bread is an English Bread which is not cut into slices but pressed to make flat. The breads used to make Panini are michetta, baguette and ciabetta.
The bread used to make a Panini sandwich is not sliced in fact it is cut horizontally and filled with the ingredients of your choice and pressed in a Panini maker also called Panini press.
There are a variety of Panini presses and grills available in the market, but to find the best Panini press is quite a task. They are either medium duty Panini grills or heavy duty Panini grills. The types of material used are also different. They come in aluminum, cast iron and also in non-stick. To find yourself the best Panini press depends upon what you're looking for and how frequently you use it.
Once you have found the best Panini press for yourself, you should look into making a good Panini sandwich. There is nothing difficult in making a Panini sandwich and is becomes super easy when you are using a Panini press.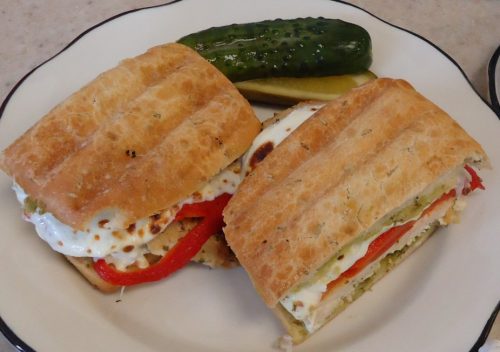 I have the easiest recipe to fix yourself a Panini sandwich using the Panini press.
Ingredients:
8 slices sourdough bread (or other round loaf bread)
pepperoncini pepper, cut into rings
4 slices mozzarella cheese
1/2 lb sandwich pepperoni
4 slices provolone cheese
1/4 cup melted butter
4 slices cheddar cheese
1/2 lb deli turkey
1/2 lb genoa salami
Method:
Step 1
Let the Panini grill heat while you prepare your sandwich.
Step 2
Take eight slices of bread and place side by side.
Step 3
Put one slice of mozzarella cheese on all the four slices of bread.
Step 4
Place one slice of provolone cheese on the other four slices of bread.
Step 5
On the top of mozzarella cheese slices add pepperoni, pepperoni and salami.
Step 6
On top of the provolone cheese slices place turkey and cheddar cheese.
Step 7
Now put the two halves of the sandwiches together to make four sandwiches.
Step 8
Now take melted butter and brush it on top slice of the first Panini sandwich.
Step 9
Check if the Panini press is properly heated,
Step 10
Place the buttered part of the Panini sandwich on the grill part below.
Step 11
Now brush the other side of the Panini sandwich with melted butter.
Step 12
Now close the Panini press/ grill until the bread is pressed.
Step 13
Let it be in the same position until all the cheese is melted properly.
Step 14
Take it out when the bread is toasted and the cheese has melted.
Step 15
Take out the sandwich and do the same with the other three sandwiches too.
This is how you make a Panini sandwich using a Panini press. Serve it with the sauce of your choice.