Grilling food indoor is like enjoying the tastiest BBQ without sweating or any downtime. Indoor grill not only allows you to prepare amazingly grilled dishes, however, it reduces the overall cooking time while maintaining the originality of the taste.
Winters are just around the corner and it is the right time to use your indoor grill and satisfy the BBQ needs of our taste buds.
If you are looking for some best indoor grill recipes which are super healthy in nature and can be prepared in less time then, you should continue to read on!
Using indoor grill is all about preparing the dish with perfection, preheat the grill and wait for the BBQ or grilling effects.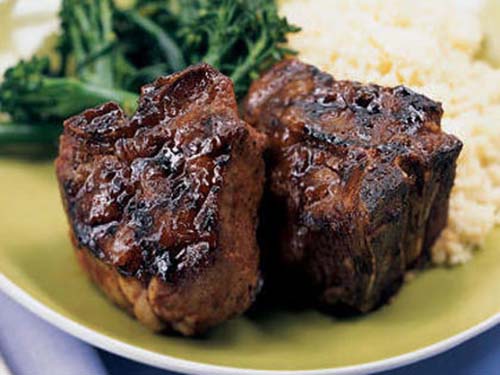 Tender, full of flavors and sufficient spices is the basic definition of peach spiced lamb chops which are made by using the indoor grill.
The recipe for peach spiced lamb chops is totally worth the try because it consists of different ingredients which are high on the nutrition chart and tend to prepare an amazing meal. Additionally, you can easily adjust the recipe by using pork or any other meat.
Peach spiced lamb chops can give the perfect BBQ taste backed by easy-to-make and less time consuming recipe. The overall preparation time for this dish is 10-15 minutes which included mixing of dry ingredients and rest 7-8 minutes to the brush and grilling of chops.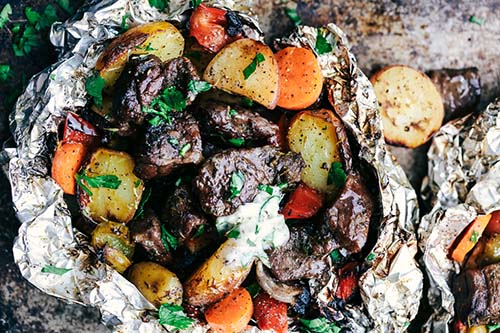 The combination of butter grilled veggies with tender beef is the perfect choice for the pre-winter night. Grilled veggies are wrapped in the foil with the mixture of butter garlic which helps in adding extra flavor to the entire dish
The right touch of butter with garlic not only enhances the taste, however, it aims to bring juicy and tender texture to the beef thus boosting its overall cooking speed on the indoor grill.
If you are craving for a perfect meal with veggies and beef then, you should give a try to this extremely delicious dish which can easily be prepared in total 30 minutes.
Additionally, you can easily serve butter grilled veggies and beef with different sidelines such as mashed potatoes, white bread or stir fried rice.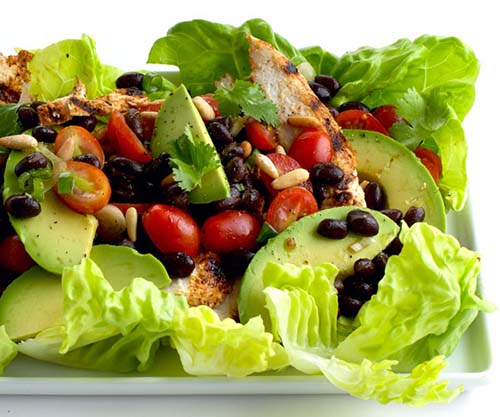 If you are on the portion control diet and yet craving for some meat and veggies then, grilled chicken with baby tomatoes and black bean.
This indoor grill recipe is famous because it consists of the right flavors which are further merged with chicken and black bean salsa.
Additionally, you can easily change the recipe by adding or subtracting veggies from the salad and adjusting the dry ingredients according to your choice.
If you are planning to add some carb in your diet then, serving the grilled chicken salsa with grilled corn cab won't be a big option.
You can easily prepare this dish in less than 20 minutes and enjoy it with your family.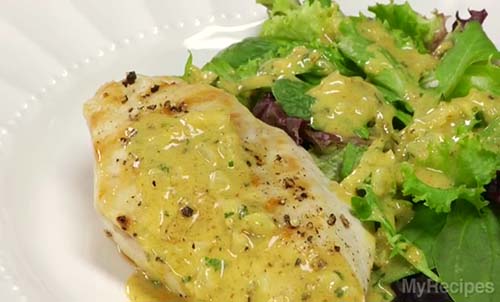 Many people believe that grilled chicken with Tarragon sauce is entirely a restaurant dish, however, if you have an indoor grill at home then, it is surely not difficult for you to prepare your favorite Tarragon dish at home.
This recipe is surely a best indoor grill recipe because it consists of the flavor buster with right dry spices, fresh tarragon, perfectly grilled chicken and delicious vegetables.
Grilled chicken is the healthy alternative for all those people who are trying to cut some carbs from their diet yet looking for some delicious flavors. You can surely alter the dish by replacing the meat nature and dressings.
Grilled Chicken with Tarragon can be prepared in less than 15 minutes and can be served to 4-5 people.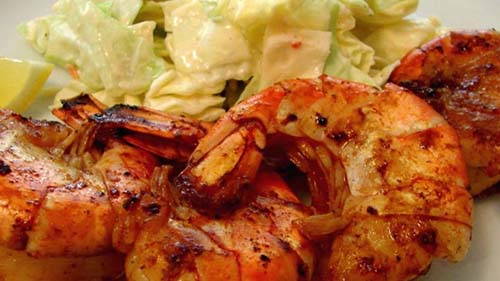 If you are a seafood lover and craving for some BBQ then, you should check the recipe of BBQ shrimps which consists of some mouth-watering flavors and sidelines.
Though it is true that cooking a perfect shrimp on grills is a tough job because it requires a lot of expertise, however, if you know how to use an indoor grill then, you can easily master this sea food grill dish and prepare it according to your own flavors.
BBQ shrimps are one of the best indoor grill sea food recipes because of its juicy texture and less cooking time. For preparing BBQ shrimps all you need is raw, peeled shrimps, few ingredients, and an indoor grill.
This recipe can be prepared in less than 30 minutes with an active time of 12 minutes.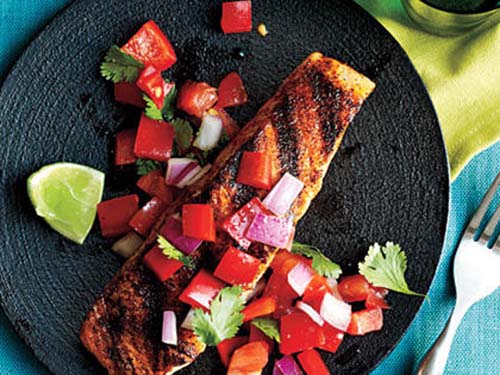 Are you done with boiled or half-done salmon dishes and looking for something spicy and juicy? If yes then, you surely can't miss the recipe for grilled salmon with spicy red salsa.
Making a perfect Salmon is all about using the right ingredients, marinating the fish and let your indoor grill perform its work.
This dish is added to the list of our favorite sea food dishes prepared on the indoor grill because it's low contribution to the calories and high on nutrition.
Additionally, you can easily modify the dish by adding extra veggies which go well with the Salmon and increasing the ratio of flavors according to your taste buds.
The overall preparation time for grilled Salmon with red salsa is 15-20 minutes and it can easily serve 3-4 people.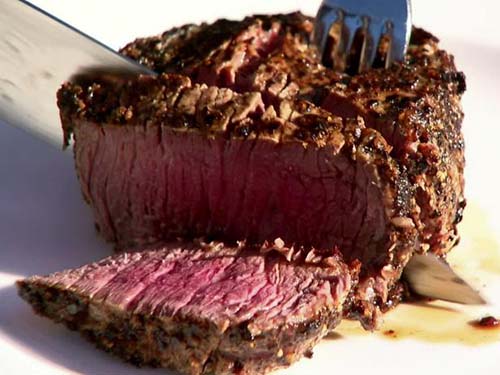 Preparing the steak house steaks isn't a hard job, however, when it comes to adding flavors to the steak then, this step is quite difficult.
For making a perfect steak you can easily use your oven and indoor grill for getting the BBQ flavor, however, if you are looking for some amazing flavors which can bring juicy texture to your steak then, you should give a try to steakhouse steaks by food network.
Steakhouse steaks can easily be prepared by using beef which is further mixed with some unique and authentic flavors. The overall cooking time for steak is 40 minutes and it can serve around 3-4 people.
Additionally, you can easily serve this steak with different sidelines for additional flavors.
Bottom Line:
All of the indoor grill recipes are surely free from any doubts and they can be easily prepared anytime. If you are a Chicken freak then Tarragon is the best option for you, however, if you are craving some sea food then, what could be better than BBQ Shrimps?
So which best indoor grill recipe are you planning to go for? Let us know