You want tasty grilled food, but having an outdoor BBQ isn't always an option due to limited space, fuzzy neighbors or simply the weather. That is why you are looking for an indoor grill. These electric appliances can easily fit on the countertop and are super simple to use.
More importantly, you will have succulent and delicious food. How do you identify the best indoor grills and pick between them? Use this guide to help you with this. Here you will find detailed reviews of the current bestsellers.
Top Indoor Grills in 2023
Buy from Amazon.com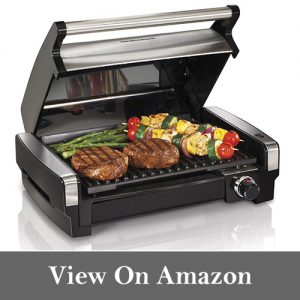 This model is one of the most popular Hamilton beach indoor grills because it offers the perfect combination of compact size and sufficiently large grilling surface. It measures just 6.81 by 16.73 by 12.4 inches while giving you a cooking surface of 118 square inches which is sufficient for preparing 8 servings.
You can set it up anywhere you like in the kitchen and it won't take much space when stored in one of the cabinets
Undoubtedly, the searing function is among the main attractions of this indoor grill. You can select a temperature as high as 450 degrees F to ensure that your steak has perfect crust and super juicy core. You can expect even heat distribution for achieving the best results every time. You should not worry about smoke.
Features
Check out the main features of the Hamilton Beach 25360 indoor flavor/searing grill:
Nonstick cooking plate – It's excellently designed and works equally well for steaks, burgers and all kinds of vegetables. It's dishwasher safe, so cleaning is completely hassle-free.
Drip tray – While it isn't very deep, it's extra-large covering almost the entire cooking surface. It's easy to take out and to empty. You can wash it in the dishwasher.
Removable hood – With it you to prepare recipes which require the heat to be kept inside. One example is melting cheese. You can toss the hood in the dishwasher after use.
Temperature control knob – It's easy to select a cooking temperature between 200 and 450 degrees F.
Indicator lights – They make this one of the best indoor grills even easier to use as they show you when the power is on and when the required temperature has been reached.
The Good about the Hamilton Beach 25360 indoor flavor/searing grill
Small size
Sufficiently large cooking plate
Searing function
Quite versatile
Super easy cleaning
Bottom Line
If you want a simple, yet extremely reliable indoor grill, this Hamilton Beach model may be just perfect for you. It works exceptionally well while being easy to use and to maintain.
Buy from Amazon.com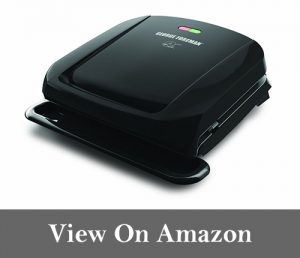 You have limited space in your kitchen, but you cannot live without grilled meat, poultry, fish and/or veggies? Then this George Foreman grill for indoor use may be exactly what you need.
It measures just 12.28 by 6.5 by 13.27 inches, so it will fit perfectly even on a small countertop. You can prepare 4 servings at a time which is more than sufficient for a small family, a couple or a person who lives alone.
You can expect top performance from this grill. The heating element is quite powerful, with heat-up time being reduced by 35% compared to previous models of the same line. Thanks to this, cooking time is reduced to a great extent. You can prepare a meal in just 10 minutes or so. Heat is distributed evenly, meaning you don't have to worry about one end of the steak being overcooked while the other one is still rare.
Features
The main features of the George Foreman GRP1060B grill which deserve your full attention include:
Nonstick coating – It is two times more durable in comparison to what previous models have to offer, according to the manufacturer. You should not worry about any type of ingredient sticking to the surface.
Slope design – This patented design is very clever and effective. It helps to drain 42% of the fat released from the meat during grilling. This means a limited amount of smoke and more importantly healthier meals.
Removable plates – They are easy to take out and to toss in the dishwasher. They will be ready for use in no time at all.
Dishwasher save drip tray – It's compact and deep at the same time. It works exceptionally well while being easy to maintain.
Cover with 1-innch adjustable hinge – This feature enables you to cook burgers and panini just like a grill pro. Adjusting the hinge is a simple and quick task.
Indicator lights – They show you when the grill is plugged in and when it has reached your chosen cooking temperature.
The Good about the George Foreman GRP1060B Grill
Extremely compact
Cooking with less fat
Great versatility
Hassle-free cleaning
Quite durable
Bottom Line
Just like all George foreman indoor grills, this model is excellently designed and works flawlessly. You can prepare a huge variety of recipes with it. It is strong and dependable. You can expect to use it for a long time to come.
Buy from Amazon.com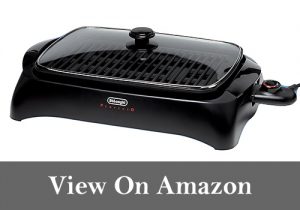 The Italian brand Delonghi has gained great popularity over the years for its innovative kitchen appliances. The BG24 Perfecto indoor grill is no exception to this rule.
It offers a large cooking surface measuring 12 by 6 inches giving you the opportunity to feed your whole hungry family quickly. At the same time, this one of the best indoor grills weighs just 11 pounds. You can readily take it to any place you wish.
Perfectly even heat distribution is one of the things which make this grill a favorite of many families. It has an M-shaped heating element which ensures that there are no hot and cold spots even at the corners of the cooking surface. Generally, even heat distribution is what you can expect from all of the best electric griddles and grills. Additionally, it takes very little time for the grill to reach the required temperature for cooking. This is another big plus when you have a considerable number of people to feed.
Features
Take a look at the main features of this Delonghi grill:
Nonstick grill plate – Its ribbed design allows for the fat to drain freely while ensuring perfect cooking. The plate is very easy to clean, while being sturdy thanks to its die-cast aluminum make. Just wipe it with kitchen paper towel and that's it.
Tempered glass lid – It is well-designed and has a solid construction. With it, you can prepare super tender meat. The best part is that you can monitor the cooking process the entire time.
Nonstick drip tray – It does a perfect job with collecting fat. You should not expect overflowing.
Detachable thermostat – It is easy to use and works accurately. You can detach it with ease for more compact storage. This design can save you a great deal of space and hassle.
Ergonomic handles – You can hold the grill firmly without the risk of it slipping out of your hands and carry it conveniently to the place where you want to put it.
The Good about Delonghi BG24 Perfecto Indoor Grill
Large grilling surface
Superb cooking
Strong and durable
Convenient storage
Easy maintenance
Bottom Line
If you want to cook delicious food quickly and without hassle, consider getting this Delonghi indoor grill. It is a top performer requiring little care.