It is thought that handmade food, without the use of any machine, is the best and tastes better than anything. So when we read somewhere that a very tasty dish is made using a machine, it becomes difficult to digest.
But today I have a recipe for cinnamon rolls which is out of the world and yet uses a bread machine. Bread machines come in all shapes and sizes but to look for the best bread machine is definitely a task. For getting yourself the best bread machine out of the ones available in the market is only possible when do a bit of a survey and go for something which is long lasting and totally fits your requirements.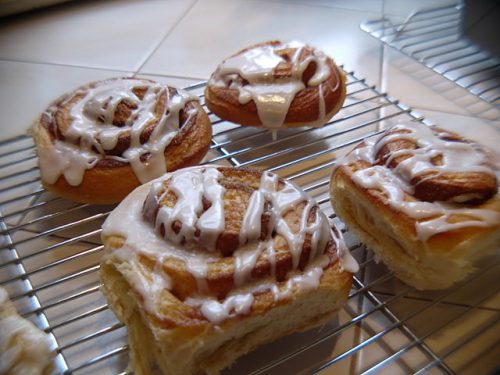 Once you have sorted it out and found yourself the best bread machine, this recipe for cinnamon rolls is a must try. The recipe for cinnamon rolls using bread machine is as follows.
Ingredients:
For Dough:
1 cup warm milk (110 degrees F/45 degrees C)
1 teaspoon salt
2-1/2 teaspoons bread machine yeast
2 eggs
1/3 cup margarine, melted
1/2 cup white sugar
4-1/2 cups bread flour
For Sugar Mixture:
1 cup brown sugar, packed
1/3 cup butter, softened
2-1/2 tablespoons ground cinnamon
For Frosting:
1 (3 ounce) package cream cheese, softened
1/8 teaspoon salt
1/4 cup butter, softened
1/2 teaspoon vanilla extract
1-1/2 cups confectioners' sugar
Now that you have all the ingredients, all you have to do is just follow the following steps.
Method:
Step 1
Take out the best bread machine you have chosen for yourself and read the manual, it will tell you which ingredients to add first (usually it's the wet first ingredients first)
Step 2
Add all the ingredients for the dough, into the pan of the bread machine and press start.
Step 3
In a separate bowl take brown sugar and cinnamon and combine them together.
Step 4
When the dough in the bread machine has doubled in the size, take it out and put on a slab which is lightly dusted with flour and let it rest for at least 10 minutes.
Step 5
Roll the dough into a rectangle.
Step 6
Spread softened butter on the rolled dough.
Step 7
Sprinkle the mixture of brown sugar and cinnamon on the rolled out dough. Make sure you cover all the edges properly with no spaces left.
Step 8
Now roll the dough from the longer side of the rectangle to make a log.
Step 9
After you have made the log, slice it into at least 2 or 2 and a half inch slices. The thicker the slices the better it is.
Step 10
Grease a pan and place the slices with some gaps on it. Cover the pan for 30 minutes and let it rise.
Step 11
Bake at 375 degrees for 15 minutes until it becomes golden brown
Step 12
Beat cream cheese, sugar, vanilla extract and salt together.
Step 13
Spread it on the cinnamon rolls before serving them.