Electric griddles have been quickly becoming the must-have appliance for the kitchen. No doubt it has been contributing to the cooking with added variety and convenience. While it is portable and has countless benefits, such as, additional cooking space, it should also be taken care of properly.
Many griddles are now dishwasher friendly, but you must confirm it before proceeding. The flat surface of the griddles is often considered difficult to clean. This makes people hesitant on choosing a griddle.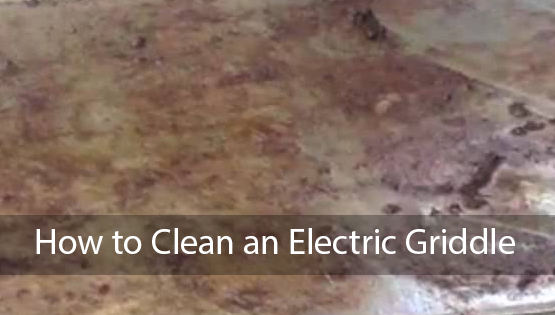 They miss the ease of making burgers, fried eggs, and quick mini pizzas. Rest assured, cleaning the electric griddle is not as difficult as it is being perceived.
There are not just indoor electric griddles making your life easier, it is even fun to have an outdoor griddle. You can enjoy making steaks with friends, burgers with family, or even enjoy the grilled seafood.
Clean and shiny surface of the griddle will satisfy the craving of someone who wants the kitchen really clean. Having the clean griddle improve the product life, and continue to satisfy your cooking needs, as well as making your best electric griddle your true kitchen companion.
How do you achieve that shiny griddle surface? Follow this easy 5-step guide.
Step 1: Disconnect Power
First thing, make sure the power is disconnected and the wire is unplugged. Griddles can be really hot, and may harm you badly. Make sure the surface is cool enough, and the griddle is away from power source.
Step 2: Wipe The Surface
Use paper tower or a piece of cloth that can absorb oils and remove any sticky our easily removable oily stuff sticking on the surface.
Rub it gently and remove as much as possible from the surface.
Step 3: Pour Hot Water
Now pour some hot water on the griddle surface, and rub with sponge. Add some dish washer detergent and scrub the surface to remove any sticky or burnt food particles from the griddle surface.
Step 4: Wash and Repeat
Properly dry out the griddle surface as much as possible. Rinse the sponge. Pour some more hot water, add detergent, and repeat the process as you did at Step 3.
Scrub with the cleaned sponge gently. This will remove any small burnt and sticky particles, resulting in a shiny looking surface.
Step 5: Wash and Dry Out
Once you are done scrubbing it and removing the junk perfectly, wash it with the clean water to remove any leftover detergent from the surface of an electric griddle.
Use a clean dry cloth to wipe any wet portion of the griddle.
Let try dry out completely before you plug in the power cable and start using your electric griddle again.
Alternative Spatula Method:
While the griddle is hot, pour some water and scrub the surface with metal spatula. This removed the hardened burnt and old food particles that are hard to remove with sponge alone.
Be careful as this can also harm your griddle surface. Avoid any scratches by rubbing it gently.
Once the surface is smooth, use our basic 5-step method to perfectly clean the surface.