For every woman a perfectly clean and organized kitchen is like a dream come true. Your kitchen is the only spot of your house that demands your utmost efforts when it comes to cleaning and organizing.
The task of cleaning is way too laborious and strenuous. Apart from this, organizing kitchen is also a hard nut to crack. Since kitchen is that area of the house which is used by all, clutter and chaos is highly anticipated and you really need to declutter as it can highly effect your efficiency and prolong your preparation time. It might also result in health risks for you.
Let us start with the few cleaning tips for the  basic and essential parts of your kitchen that will give a clean and tidy outlook of your kitchen as a whole:
1. Cleaning Of The Kitchen Tools And Cast Iron Pan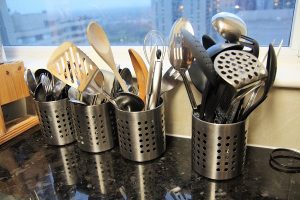 The tip to keep them clean will make your kitchen cleaning regime a lot less laborious and quick.
First comes the chefs knife, excessively and commonly used, must be immediately washed as the ingredients tend to stick to its sharp blade and insist on being adherent.
Apply the same technique to the regularly used graters. If you allow these stuck ingredients to be there for a longer period of time, they may flake off on their own. This is another tip you can try!!
It gets really difficult to rinse off the ingredients that dry out on the metallic mesh of the strainers, so to avoid that you must wash it off right away.
For a cast-iron pan, heat 2 tablespoons of oil in the pan, once heated add 3 tablespoons of salt and scrub it with a paper towel held with a tong until clean. Then rinse and coat it with vegetable oil to cure.
2. Cleaning Of The Stove-Burners And Stove Tops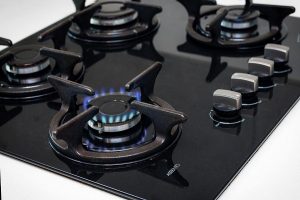 It frequently happens with all of us that our pots brim over when we are wrapped up with other household chores. A tip that I am just about to disclose will return your burners' their shine, saving you from the tedious scrubbing.
All you have to do is let them cool first, then apply the dish soap and water mixture to it and rinse. After that, apply a mixture of baking soda and water to the residues that insist on adhering. Leave it for a few minutes, scrub and then wash it off. The result will leave you awestruck!!
For the greasy stove top, you just need to scrub it with a little dishwashing liquid on a wet sponge. Once done, rinse the sponge and clean the soapsuds until you face a shiny, clean stove top.
3. Counter-Top And Wash Sink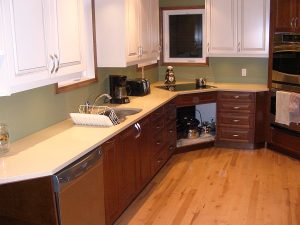 Your extravagant countertops need a lot of attention and care as they receive abuse the most. The everyday spills and splatters can be cleaned by using hydrogen peroxide and few drops of ammonia dissolved in water. Apply the solution, scour if needed, and then wipe it with a washcloth.
Your kitchen wash sink should be clean and tidy as all the edibles are rinsed here. Whether your sink is made of Corian, porcelain, stainless steel or some other material, baking soda works as a magic spell. Rub the baking soda on the stains and spots and then rinse.
You can also use a mixture of lemon and borax powder incase of stainless steel and porcelain sinks.
4. Kitchen Floors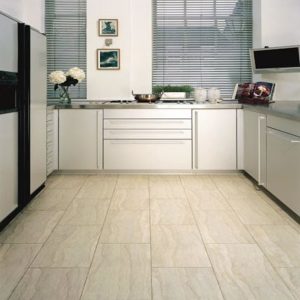 For tiled floors, scrub it or mop it with baking soda dissolved in water.
For wooden floors, mix nine parts of warm water with one part of white vinegar and mop it to give a dazzling shine to your floor.
Now let me share some valuable organizing tips because in any kitchen, be it spacious or small, organization is the key.
5. Assemble Like Items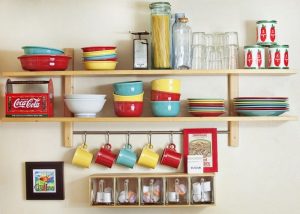 Like items, if grouped together, will make things easier. If baking is your passion, sort out all the bakeware and arrange them together.
Similarly, you can group pot and pans of regular use, crockery for daily use shall be stashed together and the serving pieces shall be piled together for easy access later.
6. Arranging The Cabinets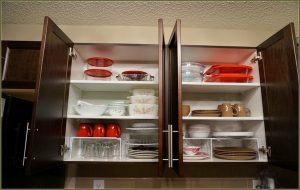 Keep all the ingredients and condiments in glass containers so that it's easier to identify what's inside. Moreover, arrange them in accordance of their size and frequency of usage.
7. Storage Of Utensils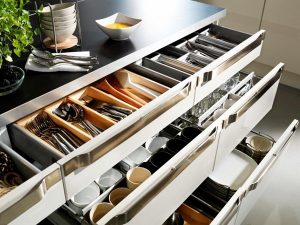 Organise the cooking pots and pans near your cooking area
Stash together all the important kitchen tools and cooking spoons in a mug for easy reach and quick prep.
Make a tea or a coffee station including mugs, teabags, coffee jar and sugar near the water source for a quick fix.
Invest your time and energy in applying these cleaning and organizing tips on your kitchen so that this place serves you smoothly, efficiently and in the best possible ways.