None of us likes to clean the extra dishes in our homes. Sometimes the hassle of cleaning dishes makes us tired more than our cooking. So here is the solution for this, as we thought, at hand they make our lives at ease.
The Cuisinart Smart Stick Hand blender (CSB-79) saves you from doing those extra dishes by allowing you to whip and blend all the ingredients inside a bowl, pitcher or a pot. Its features are equally compatible to a sum of three appliances carrying following features: blender, hand mixer and food processor. How convenient is that, and that too with an attractive price.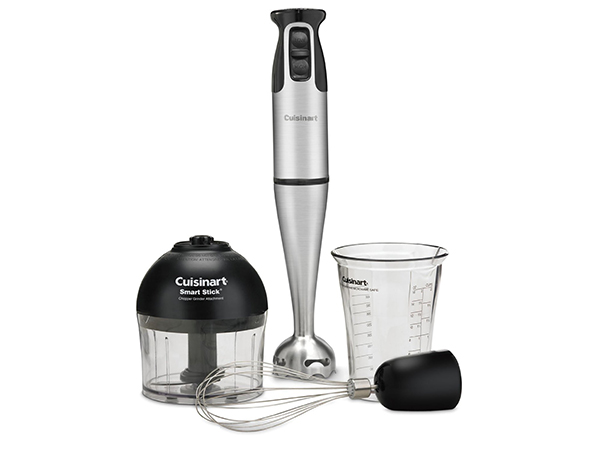 Product Specification:
Cuisinart Smart Stick Hand blender is ideal for the use as it is portable and dishwasher safe.
It is quick for the mixing purposes, convenient for basic tasks and amazingly easy to clean.
Smart Stick Hand Blenders has powerful motor of 200 watts and the two soft buttons (that has two speeds: high and low).
Also has the comfort grip handle that have push button control for continuous pulse action response.
Its power cord is 6 ft. long/68 inches that is designed for the convenience to reach the cooking pot and for washing purposes.
It has brushed stainless steel housing along with embossed Cuisinart logo.
Detachable blending attachment made up of stainless steel.
Whisk attachment.
Mixing and measuring beaker of 16 ounce.
Grinder / chopper attachment.
Recipe booklet.
Instruction manual.
Product dimensions are 8.5*5.5*13 inches.
Size: 4 attachments.
The most alluring feature of this product is its limited 3-year warranty against factory defects which is relatively longer than the typical 1 year warranty offering.
The Cuisinart Smart Stick Hand blender is one of the best blenders and has a very comfortable grip handle which is an asset when ones hands are full or the kitchen counter has little or no space on it. Considering the space factor, the Cuisinart Smart Stick Hand blender is very compact and occupies very little space.
It assists me in my cooking preparations as chopping on cutting boards become messy and uneven sometimes but in that case my Cuisinart chopper attachment works well. I don't need to take out my food processor for small jobs or spend hours by using chopping boards.
It works really well according to my needs and best for small herbs and nuts. Its whisk attachment is also useful for me while cooking and saves lot of my time.
It has reversible blades for chopping and grinding. Blade is sharper from one side and blunt from the other. The plastic ring attaches the blade which can easily be turnover to select either of the blades. The cleaning of cups and blades is much easier and all parts except motor are dishwasher safe, while other accessories can easily be wiped through damp cloth.
The Cuisinart Smart Stick Hand blender does not just excel in its features but also in its external design and appearance, making it ideal for families re-decorating/furnishing their house. A very good friend of mine also bought the Cuisinart Smart Stick Hand blender (CSB-79) four years ago and she still speaks highly about its excellent performance.