For getting most out from your life, your food must be healthy and full of nutrients too. Nutri Bullet is a 600 watt; hi speed blender / mixer with large capacity and Magic Bullet System along with the revolutionary Nutrition Extractor Blade which pulverizes food to its utmost nutritive form.
The product is made up of non-toxic plastic, its phthalates free and free of bisphenol, in short the product of Bullet brand that was established by Capital Brands bring together Nutri Bullet that is BPA free and known to be the super food nutrition extractor.
It's specialized for extracting nutrient at their utmost level, not just only blend or extract juice from fruits or vegetables.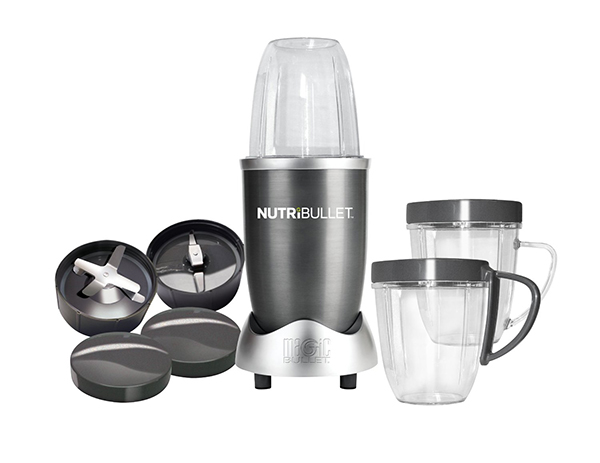 It's best for losing weight quickly especially "Nutri Blast Smoothie" plans of Nutri Bullet, you can look and feel yourself younger. I must say it's a best product for the ones who wants to reduce their weight.
Features
 It needs no efforts in pulverizing vegetables, fruits, super foods and protein shakes, it could be done very easily through Nutri Bullet NBR-12.
It has high torque power and a motor of 600 watt.
Its best known for its power and cyclonic action along with its patented blade design.
Accessories includes strong power base, 1 tall cup and 2 short cups, 1 emulsifying blade, 1 flat blade, re-sealable lids, a manual with recipes and a pocket nutritionist.
Product is build up on satisfying the standards of North American Electrical Standards.
Recommendations
Nutri Bullet NBR-12 that is 12pieces mixer / blender system developed by Magic Bullet is safe for kids, portable and easy to use in a way that it pulverizes vegetables, fruits, protein shakes and super foods into a delicious smooth and silky texture drinks.
The Nutri Bullets 600 watt power motor along with its patented blade design with its cyclonic action combines in a way to extract all the nutrients from food that helps to attain the healthiest lifestyle nowadays.
Nutri Bullet NBR – 12 is a great product as it does exactly what its promoting shows and infomercials declares about it and it fulfils the purpose efficiently.
I have tried spinach, kale, carrot, orange, banana, pineapple, grapes, apple, strawberries, blueberries, ice cubes and flax seed whole that gave me perfect results. The service providers are very efficient in responding customer issues, through emails in case of any of problems and questions related to their product that really inspires me as they care about their customers and their own brand goodwill.
I am really satisfied with the product and its wonderful performance. It's not actually a blender or juicer, some people have this perception about it, but let me clarify this thing that it makes juice smoothie with pulp to retain nutrients fully, and results in a silky smooth drink without any food chunks.
Recipes in the book are really delicious and good ones that came with the product. I really love the diet smoothies as it gives me great reduction in my weight with good health and fitness.
The best thing of Nutri Bullet products is that they are easy to be cleaned. Just a single wash with soapy water makes it clean and free from any odour. It takes hardly 5 minutes in preparation along with its washing and cleaning procedure that saves so much of my time than previously.
For a long lasting product it must be used with care and it's preferable to wash it before and after each use to avoid any problems.
I have read some issues about the product before buying it in customer reviews that it usually leaks out. But I must say that if the product is used according to the provided instructions in the manual it won't have any issues. Secondly the leak occurs because of two common blunders, either you fill the container or cup above the max fill line on it, it may spills out, as blending produces air pressure and needs some space for air and blending properly, secondly if the base is not screwed or tighten appropriately, it may leaks or spills your drink out of the container or cup.
Its price is most suitable and convenient according to its enactment.
The product is durable and reliable too. Overall the product and its performance are fully satisfied, as per the product promises; in fact it gives much better results than my expectations.