Looking to start a healthy diet? Treat yourself with a Nutribullet Pro 900 series, 15-piece high speed mixer/blender system, introduced by Magic Bullet. What is in it for you? Its increased capacity allows you to make extra portion of nutritional food or drink faster, saving you from binge eating. It qualifies in producing smoother drinks, taste the difference.
Why should you invest that amount in Nutribullet Pro 900 Series? Well it is a big steal, saving you from the big cost of buying the following items separately: blender, coffee grinder, drink and smoothie maker, mixer (mixing eggs or make a batter), chopper/milling blade for seeds and nuts It has replaced the old milling blade with extractor blades, which serves the same purpose but is more powerful in that it easily mills nuts and seeds.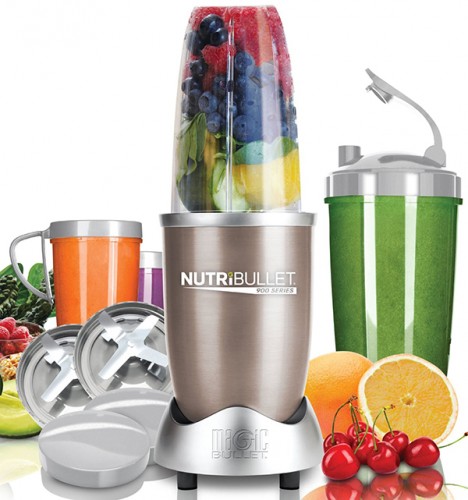 Product Specifications:
It is portable
BPA free
dishwasher safe
Easy to clean flip-flop lid
Its powerful 900-watt motor conveniently pulverizes tough ingredients just within seconds.
Nutribullet Pro 900 Series holds an attractive price
Preferable for indoor use only
The product is imported
It weighs 13 pounds and dimensions are 15 * 9 * 12 inches
Accessories includes : Nutribullet Pro consists of 15 pieces, Mixer/ blender set includes base of 900 watts hi torque power, 1 short cup, 2 tall cups, 1 colossal cup with flip top to go lid, 2 stay fresh reseal able lids, 2 extractor blades, manual and recipe book and pocket nutritionist.
Nutribullet Pro 900 provides you with the entire above stated appliance features at a very reasonable price in comparison to the other brand appliances. Also, Nutribullets combines its powerful blade design cyclonic action to completely extract all of the nutrients from your food, helping you with your health related goals and to effortlessly achieve/maintain a healthier lifestyle.
Many of their customers suffering from a variety of diseases have reported to have witnessed an improvement in their health a week after using the Nutribullet Pro 900 Series. The improvement is due to all the vitamins and nutrients being supplied to their body via Nutribullet Pro 900 series, which otherwise they might not be getting due to lack of time or so.
Nutribullet Pro 900 is super power product and very much easy to use. It's a healthy way of in taking more fruits and vegetables in your daily diet, in form of smoothies or through eating it whole. Fresh fruits and vegetables make your health good and also your skin glow and fresh.
Nutribullet Pro 900 is able to make whole fruits, veggies, kale (stalks and all), wheat grass and even nuts into a smooth silky drink. The milling blade in its accessories is replaced by the extractor blades that are specifically used for the purpose of grinding fresh herbs, milling grains, chopping of nuts and all other purpose too. As all the blades are made up of stainless steel that never needs sharpening, as they never blunts.
Overall the product is great, very proficient and effective according to my needs. It really saves much of my time in morning while making beverage for the whole family. Nutribullet Pro 900 makes me proud each time through its performance. It's much easier to clean and maintain. For its best usage I must recommend to refer the manual and its recipe book to get best out of it.