It is not surprising that the interest in the Oster electric griddles is constantly growing. They have unique make and elegant and practical designs that all those fond of cooking are strongly attracted to. How do you choose between the different models on offer?
Here are the reviews of three bestsellers of the brand's current collection. Use them to decide which one will be ideal for you given your requirements and preferences.
Top Oster Electric Griddles in 2023
Buy from Amazon.com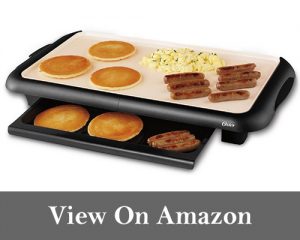 The first thing which you notice when you see this griddle is how slim and elegant it is. Indeed, it is exceptionally well designed. It is flatter than most of its counterparts, so you can confidently use it for both cooking and serving food.
Since the plastic base doesn't get hot, you can use the griddle in a perfectly safe way. The best part is that you will have a very large cooking surface measuring 10 by 18 inches.
How about the cooking? The ceramic cooking surface reaches the desired temperature very quickly and maintains it more effectively compared to metal.
In fact, the manufacturer states that you will enjoy 20% faster cooking which is good news especially for those who prefer preparing healthy food at home in the evenings during the week. This griddle distributes heat evenly to give you perfectly cooked food every time.
Features
Here is a detailed evaluation of the main features of Oster CKSTGRFM18W-ECO:
Nonstick ceramic surface – It's free of PTFE and PFOA making your food even safer. It doesn't scratch and is extremely durable even with frequent washing. You should not expect peeling of flaking even with long-term use.
Warming tray – It is thin yet sufficiently large to keep a considerable number of cooked items. It slides in and out of the base for super convenient use. The major advantage of the tray is that it practically helps to increase the capacity of the electric griddle.
Removable temperature control – It's easy to adjust the temperature with the clearly marked knob. When you are done cooking, you can easily remove the control and use the griddle to serve food.
Slim handles – They are large enough to allow for a firm grip, but don't take too much extra space which is an advantage when it comes to storing the griddle.
The Good about the Oster CKSTGRFM18W-ECO DuraCeramic Griddle
Safe cooking
Great capacity
Even heat distribution
Versatile use
Reliable and durable
Bottom Line
When you want to prepare healthy and delicious food for the whole family, this model is surely one of the best electric griddles for the job. If works effectively and safely and produces superb results.
2. Oster CKSTGR3007-ECO DuraCeramic Reversible Grill and Griddle
Buy from Amazon.com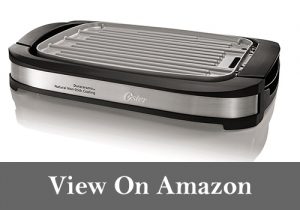 If versatility is one of your top requirements when shopping for Oster electric griddles, you should pay closer attention to this model. Thanks to its reversible plate, it can be used as both grill and griddle.
This gives you the opportunity to prepare lots of different foods from steak and sausages to eggs and pancakes.
Another major advantage of this model is the large cooking surface measuring 10 by 18 inches. It's pretty close to what the big Presto electric griddles have to offer. When it comes to performance, there are no hot and cold spots and all the items on the plate are cooked at the same temperature. This gives you hassle-free and quick meal preparation.
Features
The main features of Oster CKSTGR3007-ECO which deserve your full attention are:
DuraCeramic nonstick coating – It doesn't contain PTFE and PFOA and therefore makes cooking safer. It is responsible for the even heat distribution and its retention in the cooking plate. As a result, the cooking speed can be increased by 20%. It's very durable too.
Reversible cooking plate – It's ribbed on one side and flat on the other for grilling and baking respectively. It's easy to reverse the plate and to set it securely into place. It's dishwasher safe.
Large drip tray – It is almost the same size as the plate and can collect all the fat which is released during cooking without overflowing even though it isn't particularly deep. You can wash it in the dishwasher.
Removable temperature control – This makes it easy to serve the food and to clean the base, which you can wash in the sink or put in the dishwasher. The temperature control is completely accurate and dependable.
Cool-touch handles – They give you a firm grip of the appliance while being integrated into the base so that they don't take extra space.
The Good about the Oster CKSTGR3007-ECO DuraCeramic Reversible Grill and Griddle
Highly versatile
Clever design
Large surface for grilling and baking
Quick, safe and healthy cooking
Super easy to clean
Bottom Line
Is this one of the Oster electric griddles a good buy? You can prepare breakfast, lunch and dinner with it easily and in a very short time. It is a reliable performer. It is also durable and easy to maintain in good condition.
3. Oster CKSTGRRD25 20-by-10-Inch Digital Griddle with Removable Plate
Buy from Amazon.com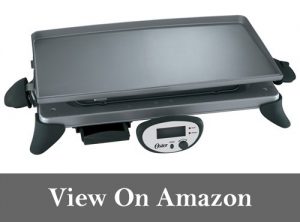 If you have a big family to cook for and/or you love entertaining, you should consider this large griddle measuring 20 by 10 inches. It's great for making pancakes, eggs, mini pizzas and all kinds of other delicious treats for a large crowd.
The large cooking surface means that the electric griddle is bigger than most of its counterparts, measuring 11 by 24 by 6 inches.
It's easy, quick and hassle-free to cook with this digital griddle. All items will get the same amount of heat no matter whether you've placed them on the surface. Even cooking always produces top results. Because the fat is drained, there is practically no some to worry about. You can use the griddle indoors year-round. For outdoor cooking, consider the best outdoor electric grills.
Features
Let's take a closer look at what Oster CKSTGRRD25 has to offer. The main features include:
Nonstick coating – You can cook with a minimal amount of oil and the food will never get stuck to the surface. It's super easy to release the ready items no matter what kind of spatula you use.
Removable plate – It has slightly raised sides for more convenient cooking and for eliminating the possibility of spills. It's easy to clean and to wash.
Extra-large drip tray – It's big enough to match the large size of the cooking plate. The risk of grease overflowing and spills is practically non-existent.
Digital temperature control – Just turn the knob and the digital display will show the temperature. The "ready" and "preheat" indicators are amazingly helpful, especially when you are preparing a particular recipe for the first time.
Cool-touch handles – They are large and have ergonomic design. You can hold them firmly without mittens to carry the appliance to the right spot for cooking.
Skid-resistant feet – They enable the digital griddle to stay firmly on any countertop, be it plastic, wood, granite, stone or tile.
The Good about the Oster CKSTGRRD25 20-by-10-Inch Digital Griddle
Very large surface for cooking
No hot and cold spots
Excellent design
Easy to carry around
Strong and durable construction
Bottom Line
Out of the top Oster electric grills, is this model the best for you? It's a good choice for those who want to prepare large amounts of food in little time. It performs reliably while being easy to use and to keep in good condition.