The number of people looking for the best outdoor electric grills is constantly growing. Their major advantages include quicker and easier preparation and great versatility – you can place such a grill as close to the house as you like and even on a rooftop or a small balcony if you live in the city.
The question is how to tell the best models among the large number of options available in the market. Here is some essential help with this task.
Top Outdoor Grills in 2023
Go over the reviews of the bestselling outdoor electric grills at the moment.
1. George Foreman GGR50B 15-Serving Indoor/Outdoor Electric Grill
Buy from Amazon.com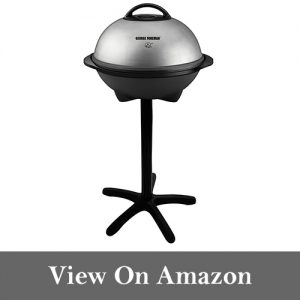 This model owns its popularity primarily to its versatility. It can be easily used both indoors and outdoors being equally convenient, safe and reliable in both settings.
You decide whether to have it freestanding with the removable stand measuring about 2.5 feet in height or place it on a countertop or a table. You get the highest level of flexibility possible as you can put the grill wherever you like – there are no limitations whatsoever.
You just have to turn the temperature knob to start the grill. There is no lengthy preparation. Thanks to the large cooking surface measuring 240 square inches, you can grill more than 15 servings of food at once. This makes this Gorge Foreman grill a great choice for big families and those who often have friends over for a barbecue.
Features
Check out the features of this electric grill for indoor and outdoor use in greater detail:
Tough nonstick coating – It eliminates the need for using oil or butter to prepare food and makes cleaning the cooking plate super easy. It's highly durable too. You can expect it to remain intact for years to come.
Dome-shaped lid – Just place it over the grilled food to keep it juicier. The lid is well-designed, very strong and easy to clean.
Drip tray – It is wide and deep and as a result can collect large amounts of grease. There is practically no risk of overflowing or spilling.
Adjustable temperature control – Attach it to the base, choose one of the five settings by turning the knob and that's it. You can expect even heat distribution for best cooking results.
Removable stand – It's easy to set up as it consists of two solid pieces. Its strong and stable too. Still, it's best if the grill isn't in the middle of a traffic area or close to one where people play sports.
The Good about the George Foreman GGR50B 15-Serving Indoor/Outdoor Electric Grill
Highly versatile
Large capacity
Super easy to use
Oil-free cooking
Dependable performance
Bottom Line
This one of the bestselling George Foreman outdoor grills can be used virtually anywhere on the property with minimal effort. More importantly, it enables you to cook tasty food in a healthy way.
Buy from Amazon.com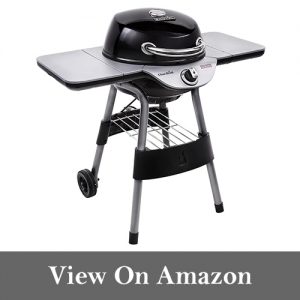 Everyone sees the best outdoor electric grills a little differently. If your idea is to get a model packed with features and modern technology, then you should consider this one.
In the center of it all is the cooking surface measuring 240 square inches. It's sufficiently large to prepare as many as 12 burgers, according to the manufacturer of some of the best outdoor electric grills.
How about performance? The electric TRU-Infrared cooking system allows for even grilling. It works reliably and makes food preparation a simple and quick task.
You never have to worry about the items that you set close to the edges getting undercooked. At the same time, the flare-ups are smaller, fewer and far between. You can expect similar performance from the best indoor grills.
Features
The key features of Char Broil TRU Infrared Electric Patio Bistro 240 which deserve your full attention are:
Cast iron grates with porcelain coating – The risk of the food sticking to them is virtually none. The coating doesn't rust, flake or peel. It makes cleaning the grates hassle-free.
Steel lid with porcelain coating – Close it tightly using the large handle to keep the meat and other types of food which you are cooking tender. The lid is durable and easy to clean.
Warming rack – It measures 80 square inches and increases the capacity of the grill considerably. It has great design and is set up in the most convenient way.
Temperature gauge – Thanks to its position on the lid, monitoring and controlling the grilling process is super simple.
Knob controller with light indicator – The ring will illuminate in red when the cooking surface has reached the desired temperature.
Removable grease tray – It's sufficiently large to collect all the grease from cooking and easy to slide out for cleaning.
Folding side shelves – You can use them for prep work and then fold them so that they don't take extra space.
Storage rack – It's a super practical feature to have. You can use it for keeping ingredients, cookware, tableware and so on.
Cord management – It's at the back of the grill and has excellent design.
Double wheels – They make it easy to move the grill from place to place.
The Good about Char Broil TRU Infrared Electric Patio Bistro 240
Even grilling
Large cooking surface
Reliable controls
Extra space for cooking
Sturdy and durable
Bottom Line
This electric outdoor grill has everything which you need for cooking while having a large capacity, performing superbly and being highly durable. It's a good choice like any of the best electric griddles for home use.
Buy from Amazon.com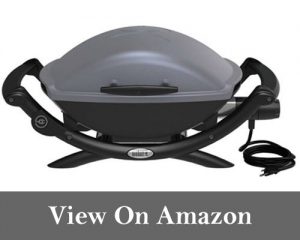 The quirky design is the first thing which you notice about this electric grill which can be used outdoors only. It is somehow reminiscent of a tribal firepit bowl, but you can rest assured that it's modern and technologically advanced.
The plastic cradle is stable and strong and enables you to place the grill firmly on any type of countertop.
Weber 55020001 Q 2400 is among the best outdoor electric grills because of its large cooking surface measuring 280 square inches. Below it is a 1560-watt electric heating element with an M shape. It produces a large amount of power allowing the grill to reach a very high temperature for searing.
The heat is spread evenly because of the element's shape. This is how all steaks, burgers and/or veggies on the grates get evenly cooked. You can expect similar performance from the Presto electric griddles.
Features
The main features of this electric outdoor grill are:
Cooking grates made of cast iron with porcelain enamel – The risk of the food sticking is practically non-existent while cleaning is a breeze. The grates are strong and resistant to rust. The enamel is strong and highly unlikely to flake and peel.
Cast aluminum lid and base – They are sturdy, rust-resistant and easy to clean. The lid closes tightly to keep the food succulent.
Control burner valve – It's easy to select the ideal setting for food preparation.
6-foot grounded cord It's reliable and gives you some flexibility when deciding where to place the grill.
Large handles – Carrying the unit around is very easy.
The Good about the Weber 55020001 Q 2400 Electric Grill
Excellent grilling
Very big cooking surface
Modern and dependable design
Comes fully assembled
Great durability
Bottom Line
This Weber outdoor electric grill is considered to be the top performer in its category. With it, you can prepare great tasting food easily and quickly.