Even if you have a high-end oven in your kitchen, heat may not be distributed evenly when you bake pizza or bread, especially in case you open the door from time to time. The best pizza stones for the oven eliminate this problem.
They spread the heat evenly to produce excellent results – a chew soft center and crunchy crust. But how do you make the ideal choice? Check out objective and detailed reviews of the bestselling models to make up your mind.
| Old Stone Oven Rectangular Pizza Stone | Pizzacraft 16.5" Round Cordierite Stone | Pizzacraft PC9899 20 x 13.5 Rectangular Stone |
| --- | --- | --- |
| | | |
| Check On Amazon | Check On Amazon | Check On Amazon |
| 16 x 14 x 0.8 inches | 16 x 16 x 0.6 inches | 20 x 13.5 x 0.7 inches |
| Stoneware | Cordierite | Cordierite |
Lets look in detail each of the best pizza stones.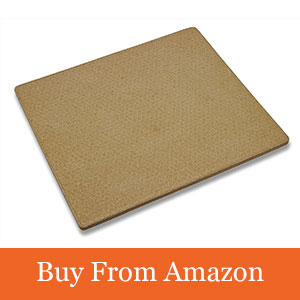 Measuring 14.5 by 16.5 inches, this rectangular pizza stone looks more like a square when you take a fist glimpse of it. Thanks to its shape, it's great for making larger pizzas and round and square bread loafs. The baking stone is made from a blend of clays, which are free from lead.
This material is similar to the one which is used for making the classic pizza brick ovens in Italy. It works does an excellent job in spreading the heat evenly so that the pizza crust can become absolutely delicious. Its aroma is comparable to that of the pizza crust braked in a traditional oven.
The Heat Core center is one of the most impressive features of this Old Stone Oven pizza stone. As you can guess by its name, it concentrates heat in the center of the stone so that the center of your pizza isn't soggy.
This is a fantastic solution to the fairly common problem of sogginess which typically occurs because of the abundance of topping in the center.
Thanks to the kiln-firing during the manufacturing process, this pizza stone is quite durable. It can withstand extremely high heat, up to 2000 degrees F.
It is also resistant to fluctuations in temperature. Provided that you use it correctly following the instructions of the manufacturer, you can expect to make pizza with it for a long time to come.
This product comes from a brand with long-term traditions and this is also a factor for its quality. The Old Stone Oven pizza stones were invented by the renowned food critic Pat Bruno and are made in the United States with the use of local materials only.

Pros
Convenient shape
Excellent even banking
Eliminates soggy centers
Great strength and durability
Cons
Heavy
Requires careful handling
Somewhat challenging to clean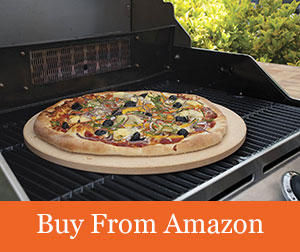 This round pizza stone is 16.5 inches in diameter. This is just the ideal size for making this tasty dish. It is a good choice for round bread loafs, regardless of the type of dough which you use. Given its make, this stone is also suitable for baking pastries.
If you love baking, you will certainly be able to make the most out of its versatile nature.
The fact that this pizza stone is suitable for both oven use and grill use adds immensely to its versatility. You can prepare pizza on the grill so that the crust gets that unique and truly unforgettable aroma which only the smoke from charcoal can produce.
If you are not in the mood for mixing flour, kneading dough and cutting all the ingredients for the topping, you can use this Pizzacraft bakingstone to preheat frozen pizza. This is a superb time-saving option for all busy people.
How does this one of the best pizza stones perform? It works very well. It concentrates the heat and makes it even. This is how you get the ideal crust. The crunchiness is awesome. Just keep in mind that this Pizzacraft stone may produce a bit odd smell the first few times when you use it.
It goes away afterwards. How about durability? This item is quite strong and resistant to thermal shock. You just need to stick to the instructions for use and be careful not to drop it on the floor.

Pros
Classic design
Extremely versatile
Even heat distribution
Suitable for reheating frozen pizza
Cons
Somewhat odd smell during the first few uses
A bit difficult to clean
The pizza should not be cut on it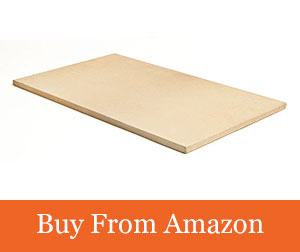 The length of this Pizzacraft pizza stone makes it stand out among the rest. It is 20 inches long and this makes it large enough to accommodate two smaller pizzas. You may even be able to fit a thin roll of baguette, which you can use for making bruschetta.
In this way, the pizza stone can save you time and effort, especially when you are cooking for a big party of guests. Just make sure that it will fit inside your oven. Remember that it should not touch its walls.
This pizza stone is quite versatile too. You can use it both in the oven and on the grill.
No matter which baking option you select, you can expect to get great results safely. The stone concentrates the heat and distributes it evenly to give you the crunchy crust that you want to taste.
Those who absolutely adore this Italian dish will also appreciate the fact that the stone is suitable for reheating frozen pizza. You can have it ready for serving in minutes.
This pizza stone from Pizzacraft is strong and durable. It is made to resist thermal shock, meaning it won't crack even if it's transferred from a very hot setting to a very cold one. You just need to ensure that you will handle it with care, adhering to the instructions for use provided by the manufacturer.

Pros
Suitable for making multiple pizzas and bread loafs
Highly versatile
Even baking
Quite strong and durable
Cons
May not fit all ovens
Heavy to lift
Takes time to heat
When choosing between the best pizza stones for the oven, consider their shape and size to pick the most suitable one for you. Once you are certain that the stone will fit, you can consider its qualities and performance.
You will make the most out of it when following the instructions for use strictly. One of the key things is to cover it with cornmeal to prevent the dough from sticking.