It is true that you can do most of the jobs which the best food processors perform by hand, but they do them much more quickly and the results are usually better. That is why they are among the most popular kitchen appliances.
Use this buying guide to get practical advice on how to pick the ideal food processor for you and on how to use it and maintain it too. You will also find unbiased reviews of the top 7 models in the market right now.
Top Food Processors in 2023
Why Buy a Food Processor?
It can perform multiple tasks involved in food preparation, from dicing vegetables and grinding nuts to making fresh juices. It works quickly and neatly too. You will never have to worry about making a mess.
This appliance can save you a lot of time, which you can devote to cooking more complex recipes or to fun with your family and guests, and help you to achieve excellent results when preparing food.
What to Look for When Buying a Food Processor
1. Capacity
There are small, medium-sized, large and extra-large food processors. Their capacity is measured in cups. A model with a capacity of around 12 cups could match the needs of a family perfectly.
2. Functions
The most common ones include slicing, chopping, dicing, shredding, grinding and grating. Some models can also be used as juicers. Advanced ones usually feature a dough kneading function too.
3. Power
The power should correspond to the capacity of the appliance. Generally, more power will enable a food processor to do its job more quickly and effectively.
4. Modes
The main ones include a standard mode and a pulsating mode. The latter gives you greater control over the tasks which you do.
5. Controls
The best food processors have a large control panel with clearly labeled one-touch buttons.
6. Feed tube
A wider one will make it easier to use the appliance and will speed up its work even further.
7. Storage case
This is an extremely useful accessory, especially for the food processors with multiple attachments.
Maintenance Tips
Every time after use, turn off the food processor and remove the bowl. Then take the blade or attachment out. Most bowls and blades are dishwasher-safe. You can also wash them by hand. If necessary, wipe base of the unit and the control panel with a damp lint-free cloth.
Usage Tips
Always measure the amounts of the ingredients before you add them to the bowl. The best food processors usually come with their own measuring cup to make this easy for you. Before you start doing any job, make sure that the lid is properly closed. Never leave the feeder open while the appliance is running.
7 Top Food Processors Reviewed
Lets discuss in detail each of our best food processors.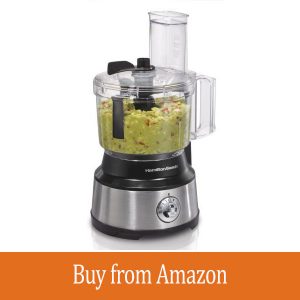 With its capacity of ten cups, this food processor makes a great family machine. It has 450 watts of power so you can expect quick and reliable performance. The large feed chute is another extremely convenient feature. It enables you to add large chunks of ingredients directly without having to cut them first.
This food processor from Hamilton Beach can perform multiple tasks with ease.  It is really a good chopper on the budget, filling all your chopping needs. The S-blade for chopping, mixing and pureeing does an excellent job. You can prepare soups, stews, salads and baby food with ease. You can prepare multiple recipes easily and quickly with the disk for slicing and shredding.
You can choose from two different speeds with this one of the best food processors around. This makes the appliance quite versatile. Use the pulse mode when you are want to be absolutely accurate about the size of the pieces.
One of the really great things about using this appliance is that it comes with an integrated bowl scraper which removes any food stuck to the sides of the bowl effectively and safely. The bowl, lid, blades and attachments are dishwasher safe.
Pros
Great capacity
Very powerful
A large variety of functions
Easy to clean
Cons
The control knob is quite small and you may switch easily from the pule mode to speed 1.
2. Ninja NJ110GR Express Chop, 200 Watts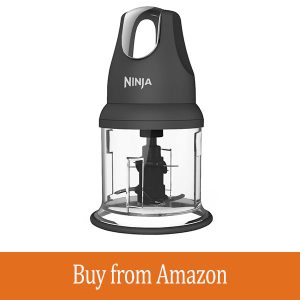 This is a mini food processor which is commonly referred to as a chopper. This particular model from SharkNinja has a 3-cup capacity. This makes it ideal for preparing sauces, dips, soups and other dishes, especially when you are not expecting a large number of guest for dinner.
For its small capacity, this appliance is quite powerful and versatile. With its 200 watts of power, it is incredibly fast and efficient.
You should expect to get ingredients in the form that you want them. Ninja NJ110GR Express Chop can perform four different functions – chopping, mincing, grinding and blending. The one touch pules gives you effective control over the appliance for achieving perfect results.
The ergonomic design is another major advantage of this mini food processor. You can hold the top with ease while the motor and blade do their work. The non-slip base enables you to position the appliance securely on the kitchen countertop.
Thanks to the anti-spill splashguard, you will be properly protected from making a mess by accident when cooking. You can wash the bowl, blade and splashguard in the dishwasher.
Pros
Compact size
A diverse set of functions
Ergonomic design
Reliable performance
Cons
If you cook a larger amount of food, it will take longer to prepare the ingredients due to the appliance's small capacity.
3. Cuisinart DLC-2ABC Mini Prep Plus Food Processor Brushed Chrome and Nickel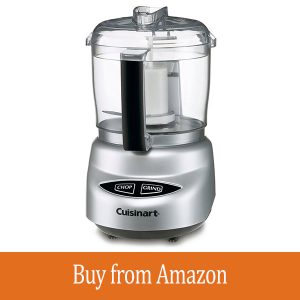 Even though this Cuisinart food processor falls into the mini category, it has a traditional design with the bowl sitting on a base, which holds the motor. This model has a capacity of 3 cups and uses 250 watts of power. This means that despite its small size, it is more than powerful. It works effectively and reliably.
This appliance can perform two functions – chopping and grinding. There is a button for each one on the control panel. Given this, Cuisinart DLC-2ABC is very simple and intuitive to use. The stainless-steel blade is sharp and strong.
You can expect it to keep working superbly for a long time to come. The bowl is quite convenient to use as it features a handle. The spatula which is included in the package will help you to transfer the ingredients even more easily without leaving large mounts on the walls and bottom of the bowl.
The bowl and the lid are dishwasher-safe and this makes cleaning a breeze.
Pros
Excellent make
Quite powerful for its size
Dependable performance
Extremely easy to use
Cons
Not particularly versatile, given that it has only two main functions
Also, check out the detailed reviews of Cuisinart DFP-14BCN 14-Cups Food Processor and Cuisinart DLC-10S Pro Classic.
4. Ninja QB900B Master Prep, 400 Watts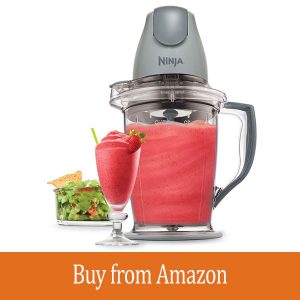 Versatility is the word which best describes this one of the best food processors. It comes with two bowls and blades which serve two purposes. The 2-cup (16-ounce) bowl and the small blade are to be used when you dice, chop, mince and puree ingredients like vegetables and fruit.
The 6-cup (48-ounce) pitcher and its long blade are ideal for frozen blending. You can use this set to make shakes, smoothies and cocktails. It is very easy to pour the drink into the glasses thanks to the ergonomic handle and the pour spout. The powerful 400-watt motor ensures that you will do any job perfectly in a very short time.
The quad blade technology of Ninja QB900B Master Prep makes it even more effective. With it, you will always achieve uniform cutting and ice crashing. You can forget about finding bigger than the desired chunks in your food or cocktail.
This food processor has a design inspired by the choppers. It has a power pod which you attach over the bowl or pitcher. It is very convenient to use. The anti-spill splashguard is another very useful feature as it can help you avoid a huge mess and lots of cleaning.
Pros
Versatile appliance with a bowl and a pitcher
Great power
Many and different functions
Effective and reliable performance
Cons
The bowl for the main functions like chopping and mincing is quite small
5. Oster Pro 1200 Blender 2-in-1 with Food Processor Attachment and XL Personal Blending Cup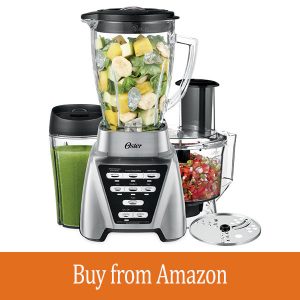 This is not simply one of the best food processors. It is one of the most advanced which you will find at present. It comes with a 3.5-inch dual-direction blend system which forces the ingredients down to the blade for the highest cutting precision. The blade and disk are made from stainless steel for maximum durability.
There are 3 different containers with this Oster Pro appliance – a pitcher enabling it to perform its functions as a blender, a 5-cup bowl for preparing sauces, dips and individual ingredients for other types of dishes and a personal blending cup which you can take anywhere with you.
This 2-in-1 appliance is extremely powerful. It uses 1200 watts of power for performing all of its functions except for ice crushing. In this case, the delivered power is 900 watts. The Smart Settings Technology gives you multiple options for preparing your favorite foods and drinks.
There are 7 different speeds to pick from. The pulse mode gives you even greater precision. There are 3 modes which you can select with the touch of a button – green and frozen smoothies, milkshakes and food chop/salsa.
Pros
Extremely versatile
A huge amount of power
Preprogrammed settings for ease of use
Excellent cutting precision
Cons
The blade may require more meticulous cleaning, especially after making smoothies.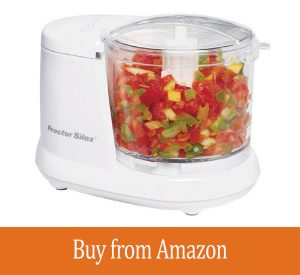 This is one of the most compact food processors which you can find. The capacity of its bowl is 1.5 cups. The entire appliance measures 8 by 5 by 4 inches. It is perfectly portable so you can take it with you when you go on holiday. It could be a great addition to a camper's kitchen.
Despite its small size, Proctor Silex 72500RY is sufficiently powerful to do its job smoothly and to produce good results. The stainless-steel blade cuts various types of products into perfect pieces. You can always choose the pulse mode to have better control over the size of the pieces which will be produced.
The bowl, the lid and the blade are dishwasher-safe for super easy cleaning.
Pros
Perfectly portable
Good performance
Easy maintenance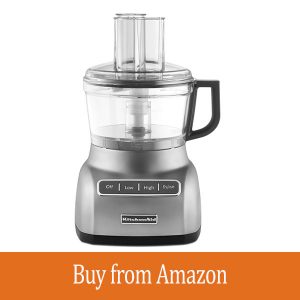 This appliance has sufficient capacity to save you time and effort during the food preparation process, when you cook for the whole family, thanks to the 7-cup bowl. This one of the best food processors comes with a blade, which can perform multiple tasks from mincing to grinding, an internal adjustable disc for slicing and a reversible disc for shredding.
You can select from two different speeds, high and low, with KitchenAid KFP0711CU. If you want bigger chunks, use the low speed. The pulse mode enables you to achieve even greater precision.
The 2-in-1 feed tube is perhaps the most impressive feature of this food processor. It has one larger opening and a narrower one. You can decide which one to use depending on the size of the ingredients which you will feed into the bowl. You will be able to work efficiently and save even more time and effort.
The UltraTight Seal is another truly wonderful feature which makes this food processor really stand out. This is a locking system with a ring resistant to leaks.
The system has been especially designed for this type of appliance. It enables you to fill up the preparation bowl all the way to the top without risking a spill.
Pros
Great capacity
Multiple operation modes and functions
Unique feed tube for more effective operation
Minimized risk of spills at full capacity
Cons
Getting adjusted to the controls may take some time
MORE: Review of Black & Decker FP1600B Food Processor.
Conclusion
The most important things which you need to consider when selecting between the best food processors are your individual needs and requirements. Decide on the optimal capacity for you and which functions you cannot go without.
Once you are certain that the appliance matches your needs, you can evaluate it based on factors like performance, power, durability and maintenance. This is the effective way to shop for a food processor.