Nowadays microwave oven has become the essential appliance in every kitchen. There are various reasons, that why people have shifted towards microwave oven, and use it so often and are satisfied.
Time is a precious resource for all, which never stops for anyone, but just go on and on. Advanced technologies have made our lives easier and make us enable to save our time in our daily routine chores.
If you are looking to buy microwave ovens, you have come to the right place. We have top microwave ovens from 2023 compared. Look below for the comparison table and short reviews with pros and cons of each model.
Top Microwave Ovens in 2023
What actually are Microwave Ovens?
In microwave ovens, electromagnetic waves of high frequency are emitted while food is cooked; these waves are also called microwaves. In this way it produces heat and empowers to cook each and every particle of the food efficiently.
Benefits of using Microwave Ovens
Saves both time and energy.
Makes heating and cooking easier and quicker.
Cleaning is not a big deal, but really needs some efforts. You can clean your microwave oven with Lemon.
No need to be conscious all the time, once the timer is set, relax until it alarms.
It alerts when the food is cooked, work as a food guard.
Retains food nutrients and vitamins, which enhances flavor of the food and makes it tasty and also best for health.
Safety Measures and Tips while using Microwave Ovens
Only use cookware that is safe for microwaves, all are not suitable especially traditional and metal cookware.
Never forget to wear gloves for protection from burning through hot food, while taking out from microwave.
If appliance has some problem, do not try repairing it yourself, better to call service provider for consultancy.
Strictly follow rules stated in the user manual.
Avoid trying recipes that requires lot of water while cooking like pasta in microwave, sometimes it does not cook well, instead on stove top it could be done in relatively less time.
It's preferable to cover food and dishes; it eliminates heating or coking time and avoids splattering.
Frequently turn, stir or rotate food if convection technology is not available or enabled.
While thawing food through defrost, power settings must be appropriate according to the requirements.
What to Consider Before Buying a Microwave Oven?
Size and Power
Firstly consider where you have to keep your appliance, check the dimensions and availability of space in your kitchen or dining room, wherever you are planning to install your microwave.
Secondly microwave oven varies in sizes, dimensions and wattage power consumption as per requirements.
Choose the appliance that best meets your needs and requirements and family size, as small microwave may not accommodate food for large family in it.
Kitchen Style and Features
You must decide it beforehand of buying it that which type of oven is required, whether counter-top, built-in or over-the-range.
Different microwaves vary in features such as convection, inverter technology and etc. Some also facilitates with special features like child lock system for safety, and other safety precautions and other features.
RELATED: Best Convection Microwave Ovens with Inverter Technology
Some microwaves have auto programmed features and sensors such as settings for cooking potato, pizza, popcorn and etc.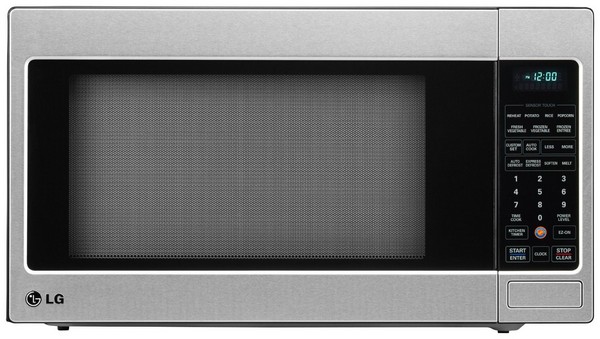 If you are looking for the latest microwave oven that not only cooks perfectly but also looks great while doing so, this one from LG fits the bill. It is a really intelligent oven fitted with a feature called sensor cook that cooks most of your food items without bothering you with adjusting timers and selecting power levels.
It is like having a chef that determines the cooking time of every recipe and delivers the best results time after time. The main function of this sensor technology is to assess the humidity levels inside the oven and set temperatures and timers accordingly to cook the food on its own.
LG LCRT2010ST has a decent capacity of 2.0 cubic feet and a rounded interior. It comes with a stainless steel finish. It looks beautiful and inspires confidence in the consumer.
This microwave model from LG is fitted with a patented technology called True Cook Pluswhich makes sure that your food is not only cooked very easily but also perfectly every time. It is easy to prepare your food using this appliance.
What makes this particular microwave model a darling for users is its large 16-inch turntable that allows them to place large cookware inside the oven easily.
Also, this microwave boasts with a feature called EasyClean interior. It allows the owner to clean the microwave easily not only from outside, but also inside. This is a big attraction for buyers as most of the microwave ovens available in themarket are quite challenging to clean.
If you are looking for the best microwave oven, LG LCRT2010ST comes pretty close to the top position. Consumers who have been using this microwave have only good things to say about it. They feel that it is a perfect example of a beauty with brains.
So if you are a person who would appreciate great visual appeal and functionality, this is the microwave you should opt for.
With 1200 watts of power, this microwave can quickly cook even the most demanding of dishes. It is a marvel of engineering for those who know how difficult it can be to clean the microwave inside and out.
This model has a rounded interior which means that there are no sharp edges inside. This means you can easily clean the interior by simply wiping it using a damp cotton cloth. One feature that is loved by consumers is the child lock.
When this feature is on, kids cannot operate the microwave even when it is plugged into a power point.
In the end, it would suffice to say that LG LCRT2010ST is a powerful, beautiful, efficient and versatile microwave oven that takes care of all your cooking needs.
Pros
Large 2.0 cubic feet capacity
Rounded interior
Child lock feature
Sensor cooking
Stainless steel body
Cons
Too many buttons and features
Not for people who prefer simplicity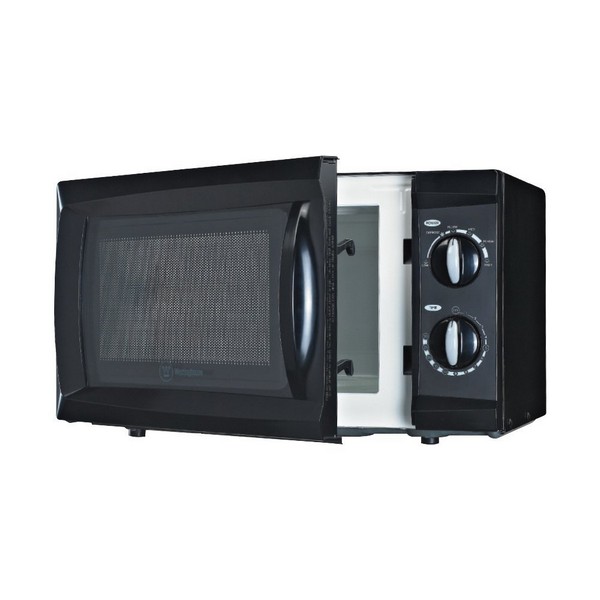 Westinghouse is a popular and trusted name in the world of kitchen appliances. This small-capacity microwave oven from the company is loved by consumers because of its efficiency and high quality. It consumes only 600 watts of power, but cooks food quickly to save electricity.
It is a perfect cooking unit for small families but not a very good solution for large families because of its limited cooking capacity (0.6 cubic feet).
This small powerhouse from Westinghouse is not only thrifty in terms of power consumption but also costs much less than other top microwave models available in the market. If you are not after big models and fancy features, this is the best microwave oven for a small family like yours.
You cannot ask for more at such a low price. This model offers everything which you need to prepare food at home. It has a convenient glass door with a handle. It is a great option for those who prefer to rotate the dial and set the timer to cook their food.
This means that Westinghouse WCM660B is the best microwave oven for those looking for appliance with simple, basic features.
This microwave oven is ideal not only for small families but also for those having limited space in their kitchen. With a cooking space of only 0.6 cubic feet, this appliance has small footprint and you can easily keep it on the countertop of a small kitchen.
You would appreciate the small size of this model if you are living in a studio apartment, for instance.
Any Westinghouse product inspires confidence in the mind of the consumer because of its strong build and high quality.
This microwave is no exception. It had the added convenience of manual setting of the timer for those who rely on their acumen and cooking skills to cook the food.
Westinghouse WCM660B measures 10.3X17.8X13.6 inches only and it also weighs just 23.1 pounds. What this means is that you can easily take this appliance from the kitchen to the game room or any other room to cook your food.
But the compact design is not the only advantage you get when you buy this model. You know that you are buying a high quality product when you choose this microwave oven even though you pay a fraction of the price being charged by other companies for similar products.
The fact that this model has received very high ratings from consumers is a testimony of the high efficiency of the microwave. It enjoys the highest rating among seniors who like simple features and basic operation.
Pros
Small size and low weight
Easy grip handle
Simple and basic operations
See through glass door
Cons
Very small capacity
Not very powerful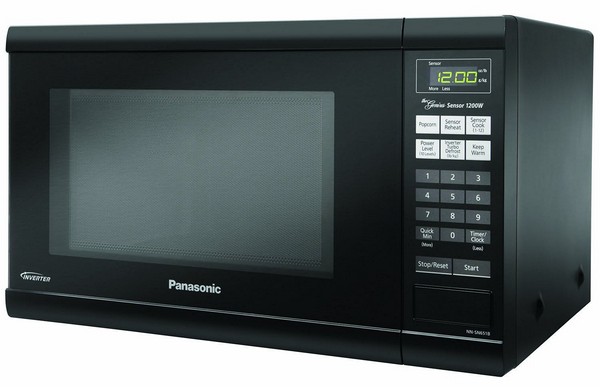 Panasonic is a leading brand name in the world of electrical appliances and needs no introduction. This particular countertop microwave oven from the company is extremely popular among consumers because of its high efficiency.
Thanks to its invertor technology, it is able to cook food quickly and evenly. It is also loved for its super quick defrosting. This microwave has 1220 watts of power and this makes cooking very fast. Sensor cooking allows even the newbie chefs to cook food easily. The microwave sets cooking time on its own after sensing humidity levels.
RELATED: Review of Panasonic NN-H76BF Genius Microwave Oven
Panasonic NN-SN651BAZ Black 1.2 Cu. Ft boasts with a 13.5-inch turntable to allow users to cook food even inside large cookware. The dimensions of the cooking space inside are 9X13X14 inches. This means that you can cook food for your large family without any problems.
There is an indentation at the upper left corner of the glass door to open and close the door easily. You also get clear view of the food cooking inside this microwave.
This model from Panasonic is fitted with a patented Inverter technology that perfects the art of microwave cooking and delivers evenly cooked delicious food in a very short time. The food prepared inside this microwave is full of flavors and aromas and has texture that is simply outstanding.
Food items cooked inside this microwave boast with a divine taste and also look amazing. All these qualities make this model the best microwave oven for consumers in the market.
If you take a look at this microwave, you will find that it has compact design, fitting easily into any section of the counter-top in your kitchen. Surprisingly, this appliance is able to cook an ample amount of food for a large family.
This is possible thanks to the specious interior. The patented inverter technology makes sure that your food is cooked at the optimal temperature continuously to allow for even and faster cooking. This technology also comes into play during quick defrosting of meat and vegetables.
So whereas microwaves are generally able to speed up the cooking process, this one from Panasonic doubles the speed of cooking to the delight of users.
This is a very versatile microwave oven from Panasonic that allows the user to cook almost anything inside it. This means that it is ready to serve you everything, from breakfast to full meals, in just a few minutes.
Cooking food in this microwave is a very simple and easy task even for those who are using such an appliance for the very first time.
Pros
Large turntable (13.5 inches)
Lots of power (1200 watts)
Inverter technology for fast and even cooking
Small footprint, maximum cooking space
Cons
The build does not inspire much confidence
Unreliable for some consumers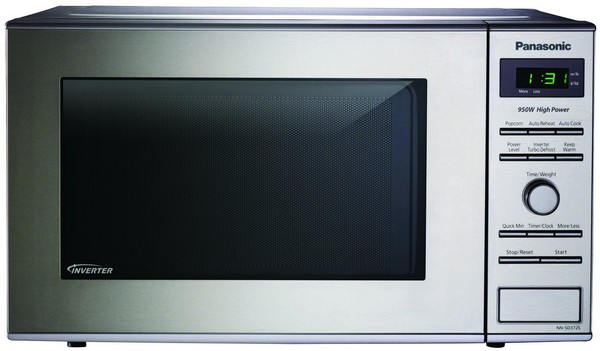 This is another winner from the range of Panasonic. After all, the Japanese company is known for its highly reliable and efficient products.
This counter top microwave occupies little space inside your kitchen but provides a decent cooking space of 0.8 cubic feet inside to allow for the cooking of entire meals at one time. This microwave with a small footprint is fitted with the revolutionary inverter technology patented by Panasonic.
This means that you get evenly cooked food which is ready quickly – you can forget about long waiting. This technology is loved by users because of its turbo defrosting. It defrosts frozen meats and vegetables in no time at all.
Despite the small size of this microwave from Panasonic, consumers get a decent power of 960 watts to make sure that their food items are cooked at a high speed. The One Touch Auto Cook feature allows even first timers to cook food like a pro.
This feature also works for reheating so that you do not have to sit nearby and wait until the food is ready to be eaten. Another feature loved by the owners of this versatile microwave is the large diameter of the turntable.
The 11.25-inch turntable allows you to place large cookware inside to cook food in large quantities in one go. The microwave has a stainless steel body that inspires confidence. There is no separate handle on the door but a small indentation at the top left corner that makes it very easy to open and close the door.
This compact microwave oven fitted with patented Inverter technology is ideal for small families as it does not take a lot of space inside, but prepares evenly cooked and delicious meals pretty quickly.
You will love to make your popcorn using this microwave. But you will also love to prepare many other foods thanks to its ease of operation and auto cook setting. The unit is small and lightweight though it still has a lot of cooking space inside.
If you are not adept to cooking food using a microwave, this unit will surprise you with its auto cook feature. Just press this button and forget all your worries as the appliance detects the food and starts its auto cooking to give you delicious food in a few minutes. There is also a button called One Minute. It allows you to set the time in increments of 1 minute.
This microwave is a good choice for your family if you have small kids. The unit has a child lock feature. With it, you can make sure that the unit will not be operated if your kids get access to the buttons and controls.
Pros
A small yet powerful appliance
Cooks food fast thanks to the Inverter technology
A large turntable inside the compact unit
An easy-to-clean stainless steel body
Cons
The text under the buttons is hard to read in low light
You cannot tell the power level when food is cooking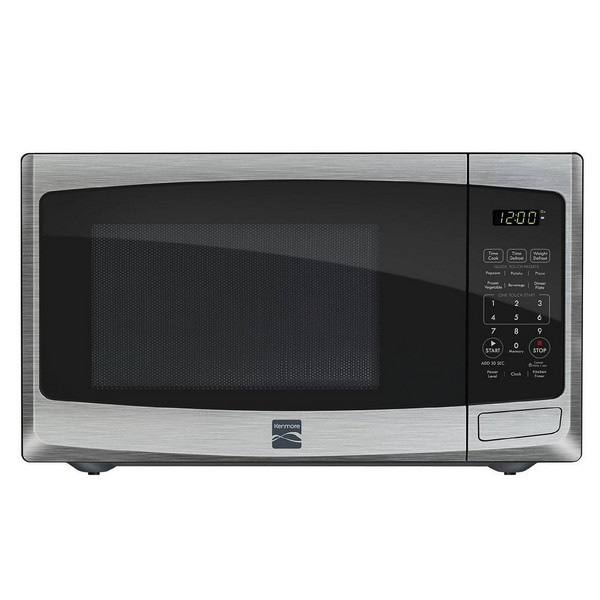 Kenmore is a very popular and highly trusted American kitchen appliance brand. This microwave model is a great offering from the company. It cooks delicious food very quickly. If you prepare a few selected recipes frequently, this is a very good microwave thanks to its memory cooking.
It saves the power and cooking time details to do the cooking on its own once you place the food inside. Get the crispiness and the flavours to your liking with customized cooking options such as power levels and cooking time.
You can easily cook a variety of food items using this versatile microwave from Kenmore with 10 power levels. You need not worry about whether the food has been evenly cooked or not as this appliance has 900 watts of power.
You are free to make use of power combinations to carry out multi stage cooking with the help of this microwave. This means that once set, the unit operates with memory and starts the next stage with pre-set controls on its own.
The controls of this microwave from Kenmore are all electronic. You are always sure that what you are doing's right with the help of the bright red LED display at the top of these controls. More than 70% of the users have given this microwave from Kenmore a rating of 4 or higher on Amazon.
This indicates the kind of popularity it enjoys among people. The compact size of this microwave oven should not mislead you. There is plenty of space inside. This is the reason why it is loved by users who can easily place it on the kitchen countertop without sacrificing a lot of space.
Most microwave models available in the market have one-minute buttons that allow the user to increase the cooking time in increments of one minute.
But this unit allows the user to increase the cooking time by intervals of 30 seconds only. This microwave has a stainless steel front with a door wrap that makes it look beautiful. It is a kitchen appliance that will help with enhancing the decor of your kitchen.
The dimensions of the Kenmore 0.9 cu. ft. countertop microwave are 19.1X14.8X11.5 inches and it weighs 27 pounds. Thus it is a microwave with a small footprint and you can also move it from the kitchen countertop to the backyard if there is a party with friends and you are cooking the food.
One feature of this microwave loved by its owners is that the light inside stays on when the door is open. This helps when users have to operate the unit in low light conditions.
Pros
Compact size
Beautiful design
Large cooking space – 0.9 cubic feet
Multiple cook settings
Powerful 900-watt cooking
Affordable price
Cons
The door opening mechanism is not very reliable
The turntable sometimes dislodges on its own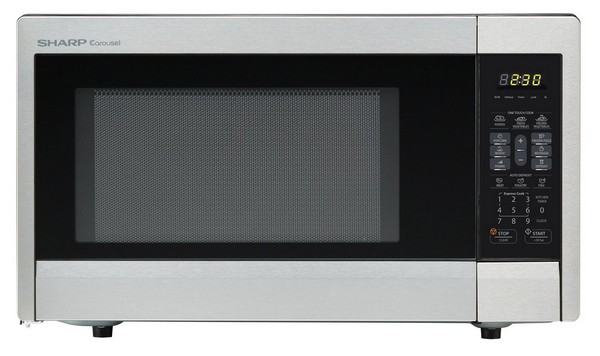 This stainless steel countertop microwave oven from Sharp is a very popular model among consumers in the country. Cooking becomes easy and fast. This versatile microwave is as reliable as it is efficient.
In addition to the 5 auto cook options, it boasts with 11 different power levels. It comes with 1100 watts of power to make sure that food is cooked quickly and evenly. There are 4 one-touch cooking options to allow even people without much experience to cook delicious food.
This counter-top microwave from Sharp has a cooking capacity of 1.1 cubic feet. This is good enough for medium sized families. The child lock ensures that your kids remain safe as the unit does not work when this feature is on.
MORE: Best Sharp Microwave Ovens
With the Auto Defrost feature, you need not set the timer as it automatically thaws the meat or the vegetables accurately and optimally. If you are looking for the best microwave oven that thaws and cooks meat and vegetables evenly on its own, this model from Sharp is certainly a top contender.
The Sharp countertop microwave oven ZR331ZS 1.1 cu. Ft has a stainless steel body and a glass door that is scratch resistant. The brushed steel finish gives a very attractive look to this appliance and it addsglamour to the decor of your kitchen too.
This microwave is a very popular one among first-time users because of its user-friendly features. These include carousal turntable, auto defrost and one touch controls. In fact, Sharp is the company that invented the carousal turntable for microwaves.
This Sharp unit comes fitted with a +30 seconds button that allows you to increase the cooking time by 30 seconds at the time. This is a very convenient feature as it does not require rotation of the dial to cook the food for a little more time.
Sharp is a company renowned for manufacturing appliances that are made keeping in mind the comfort of the user. This is a midsized microwave that can be placed on the kitchen countertop. It is also easy to move from one place to another.
The dimensions of this microwave are 12X20.3X14.9 inches and its bodyweight is just 29.3 pounds.
Pros
One touch cooking options
Brushed steel body with a tampered glass door
Accurate thawing with auto defrost
Multiple cook settings
Evenly cooked food with large turntable
Powerful performance – 1000 watts
Cons
The turntable is not very stable
Makes noise during operation
7. Oster OGH6901 0.9 Cubic Feet 900-Watt Countertop Digital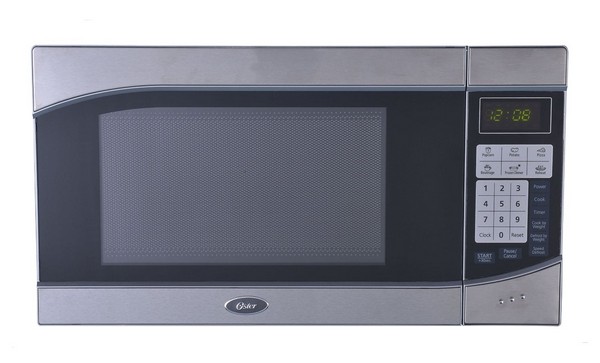 Oster OGH6901 0.9 Cubic Feet 900-Watt Countertop Digital Microwave Oven, Stainless Steel/Black
Oster is not a newcomer to the world of kitchen appliances. Its microwave ovens are popular amongconsumers because of their sturdy design and easy operation.
This counter-top microwave from Oster is a top selling oven that gives a decent cooking space and also the power to cook evenly and quickly. The 900 watts are certainly impressive. In fact, if you have a small budget and want the best microwave oven, this particular model from Oster might be a good choice for you and your family.
This countertop microwave oven with stainless steel body boasts with 6 different one-touch auto cooking options. Thus it is a boon in disguise for all those who want their food to be microwaved but know nothing about the operation of this type of oven.
The Express Cooking feature is a delight for those who want to cook different types of food quickly to cater to the requirements of different family members.
The Oster OGH6901 0.9 cubic feet 900-Watt countertop digital microwave oven (see detailed review here) has a digital display. You can see the timer as well as the digital clock on this LED display.
Whether you have to cook food on a daily basis or just reheat readyfood like soups and curries, this is a very handy applianceto have in your kitchen. It has a small size and this makes it just right for a small kitchen. You can readily place it on the countertop.
The dimensions of this digital microwave from Oster are 21.5X16.1X13.3 inches and it weighs 31.2 pounds. This oven boasts with a 10.83-inch glass turntable that not only provides an even surface for cooking but also gives you the optionof placinglarge cookware.
The interior space of this microwave has been utilized in a very impressive manner thanks to this turntable.
The power which the unit has is sufficient to cook food quickly and evenly. If you take pride in your culinary skills, this microwave becomes your partner and gives you the option of multilevel cooking. All you have to is to enter the details of the power levels and timings and the rest is taken care of by this marvellous microwave.
It continues to cook through the various stages as per your instructions. It is likehaving a personal sous chef in the kitchen.
This microwave is a beauty on its own and stands out inside the kitchen. It is made from stainless steel and black plastic to look mesmerizing and impress everyone who enters your kitchen.
The transparent glass door and the digital control panel add to the glamour of this appliance. You can check the buttons for cooking by weight and defrosting by weight. They make it easy for you to defrost and cook.
This microwave is pretty much universal as it allows you to cook all types of recipes besides giving you the option to make popcorn, potato chips and pizza. Make hot beverages or just reheat your soups. The start button can also be used to increase the cooking time in increments of 30 seconds.
Pros
Digital control panel
Different auto cook settings
900 watts of power
Optimal size and performance
Beautiful design
Affordable price
Cons
Blue LED makes it difficult to read the numbers
Noisy operation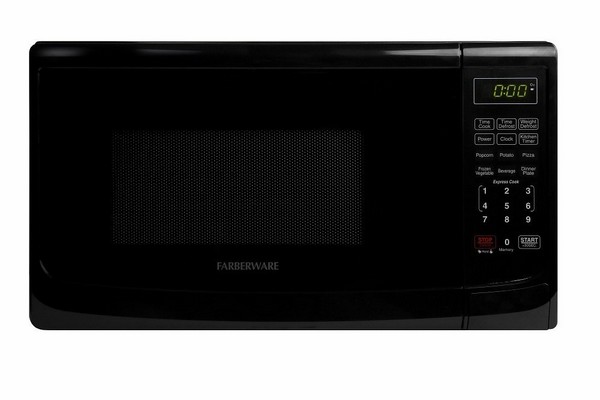 Are you looking for a microwave for your kitchen that is good-looking, stylish and also inexpensive? Then look no further than the Farberware FMO07ABTBKA Classic 700W microwave oven, 0.7 cu. Ft.
This microwave looks beautiful sitting on the countertop ofyour kitchen and also proves its abilities when it comes to cooking different types of food. It has small cooking space (0.7 cubic feet) but makes up for it with the help of 700 watts of power to allow the user to cook his food quickly and evenly.
The dimensions of this microwave from Farberware are 17.8X12.9X10.1 inches and it weighs only 22.9 pounds. This means that you can easily move this unit from the kitchen to your backyard to cook the food when throwing a party for your friends.
This compact and lightweight microwave oven is a great addition to any kitchen as it makes food preparation fast and easy. Despite its compact size, this microwave is perfectly functional as it is able to accommodate standardsized dinner plates as well as take out containers.
Take one look at the control panel and you will know that this microwave means business. You will be pleasantly surprised to see the digital buttons indicating the different controls. Defrost frozen food by weight or time according to your liking.
There are auto cook options for potatoes, pizza, and your favorite popcorn. Imagine becoming a chef in your own right without knowing anything about cooking with the help of these auto cooking controls.
You can use the Express Cookfeature to heat the food for anywhere from 1 to 6 minutes. There is also a +30 seconds button that allows you to continue the cooking cycle for another 30 seconds. Keep pressing it and the microwave cooks or heats food for extra increments of 30 seconds.
With a rotating 9.6-inch turntable and continuous supply of heat, food is cooked quickly and evenly inside this microwave. With a robust design and digital controls, you feel confident when preparing food with the help of this appliance.
Pros
10 power levels and 700 watts of power
Multistage cooking to suit your requirements
Accurate defrosting by weight and by time
Large removable turntable
Keypad lock to keep your kids safe
Cons
Turntable gets displaced occasionally
The keypad does not inspire confidence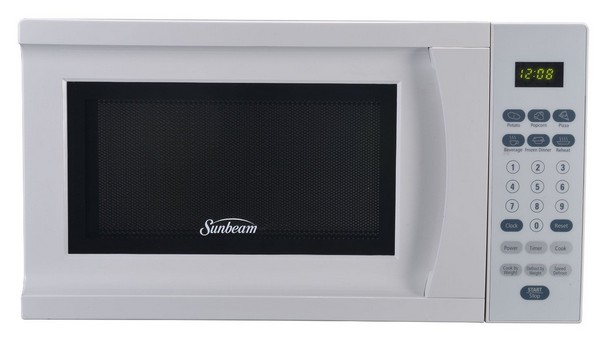 This is a very good offering from Sunbeam, a respectable name in the world of kitchen appliances. It packs a power of 700 watts in a 0.7 cubic feet. The microwave oven boasts with 10 different adjustable power levels.
Like some other in its category, this microwave comes fitted with 6 different auto cooking options to allow anyone to cook food easily even if he or she knows nothing about microwave cooking.
You get the option of Express Cooking to cook for anywhere from 1 to 6 minutes with the additional feature of +30 seconds. You can use this control to cook or heat foods or beverages in increments of 30 seconds.
There is an LED display with timer on the right side of the microwave. Below it is the digital control panel with all the buttons. It is easy for anyone to see the clock and the timer from a distance and also in low light. This Sunbeam microwave offers a power packed performance in the kitchen.
At the same time, it is available for quite a reasonable price. The company has been able to come up with a robustly designed unit with electronic controls and a great performance to delight the consumers.
The dimensions of this countertop microwave from Sunbeam are 17.8X13X10.3 inches, making it a very compact appliance suitable for all kitchens. It easily fits in small spaces and does not take costly room on the countertop.
RELATED: Best Sunbeam Microwave Ovens
It weighs only 23.1 pounds and this makes it extremely portable. This microwavefeatures a large 9.65-inch turntable made of glass that can be easily taken out. This turntable provides an even surface for fast and easy cooking.
You have the option of multistage cooking to allow the microwave to go through these stages with different power levels and cooking times. Imagine getting such advanced technology at such a low price. This is what you get when you buy the Sunbeam SGS90701W-B 0.7-cubic foot microwave oven.
There is no shortage of people who say that at its price, this is perhaps the best microwave oven available in the market.
Pros
Digital control panel
Hidden handle in the form of indentation in top right corner
Different auto cook options
Very affordable pricing
Compact and lightweight
700 watts of power and capacity of 0.7 cubic feet
Cons
The glass tray dislocates frequently
Doesn't sit properly on the countertop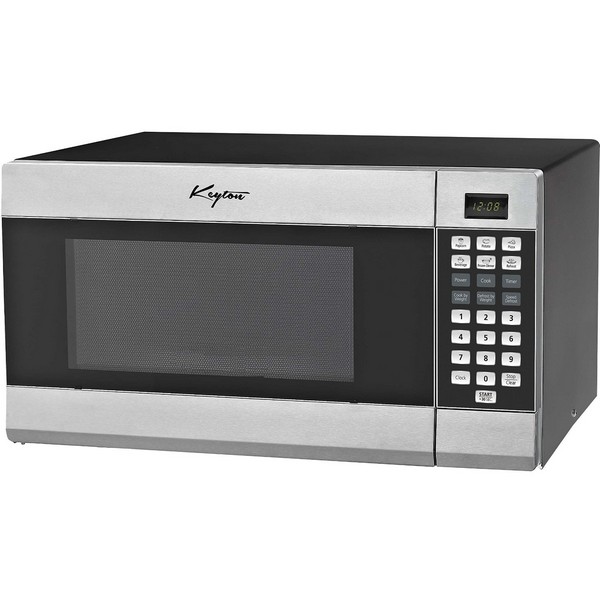 Keyton Stainless Steel Microwave Oven – 6 Instant Cooking Settings & 10 Power Levels With A Digital Display, Built In Clock & Child Safety Lock, UL Approved – 1.1 Cubic Feet.
You may not have heard a lot about Keyton, but this one of its creations is certainly a promising candidate if you are searching for the best microwave oven for your kitchen. Its price may be on the higher end, but you will appreciate this oven when you discover its features.
You will probably nod in approval when you see that this microwave has received the highest rating by the real users. Like other digital ovens, this appliance has a digital control panel on the right and a glass door on the left.
This door can be easily opened with the push of a button. It boasts with 6 cooking settings that turn you into a chef instantly even if you have no experience in coking food in a microwave oven. Make popcorn, pizza, potatoes and hot beverages or reheat leftovers by simply pressing a button.
There is no need to worry about the safety of your kids at home when you buy this microwave oven as it has a child lock which makes operation impossible for the youngsters. The dimensions of this microwave are 21.2X11.8X17.25 inches and it weighs 39.4 pounds.
Of course it is a heavy microwave but then it also has solid performance and you do not need to move it from the countertop once you have placed it on it.
The Keytonstainless steel microwave oven (6 instant cooking settings & 10 power levels with a digital display, built in clock & child safety lock, ul approved – 1.1 cubic feet) is made from shiny stainless steel to look beautiful and elegant inside your kitchen.
It has a rather large cooking space of 1.1 cubic feet inside that allows for cooking food in large amounts at the same time.
Pros
Beautiful and innovative design
Touch control panel
Auto cooking options
Child safety lock
1000 watts of power
Cons
Not the ideal microwave for those who prefer basic operation