It's easy to understand why so many people prefer to buy Presto electric griddles. The US company is one of the oldest and most reputable manufacturers of electric cookware in the country.
It is known for making top-quality products with innovative designs and features. The question is how to choose between the various electric griddles of the brand. Read detailed and unbiased reviews of the bestselling models right now to make up your mind.
Best Presto Electric Griddles in 2023
1. Presto 07061 22-inch Electric Griddle with Removable Handles
Buy from Amazon.com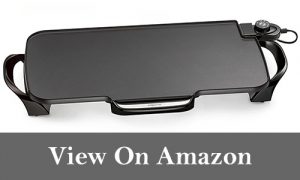 If you want an extra-large electric griddle, you should consider getting this model which is 22 inches wide. You can prepare food for the whole family and a considerable number of guests very quickly.
The rectangular shape with curved edges makes it very easy to fit many items on the cooking surface while leaving a sufficient amount of space between them.
This model is one of the best electric griddles thanks to the even distribution of heat too. All of your ingredients will be perfectly grilled. Forget about some remaining raw while others getting overcooked.
Features
Here is an evaluation of the main features of the Presto 07061 22-inch electric griddle:
Nonstick surface – You should know that it is textured with tiny diamond-shaped buds and not perfectly smooth. Still, the texture is not imprinted on the food and doesn't make cleaning more difficult. Quite the opposite, it guarantees that nothing will stick.
Drip tray – It is big enough to collect fat and oil. You can easily slide it out to dispose of its content and to wash it.
Control Master heat control – It does a fantastic job in maintaining the cooking temperature constant at all times. It's removable for easy storage and washing of the griddle.
Cast aluminum base – You will never have to worry about warping and corrosion given the properties of this metal.
Removable handles – They have excellent ergonomic design making it easy to carry the griddle. There is a simple manual mechanism for releasing the handles. There is no need to use tools. When they are removed, the griddle is easy to wash and convenient to store.
The Good about the Presto 07061 22-inch Electric Griddle
Extra-large surface for cooking
Even heat distribution
Clever design
Sturdy and durable
Easy cleaning
Bottom Line
The major advantage of the Presto 07061 22-inch electric griddle over competitors including the Oster electric grills is its size. Additionally, it is a reliable performer. You can use it to cook great food for years to come.
Buy from Amazon.com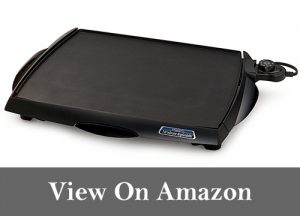 This model is not named Big Griddle for nothing. It is 1.5 times bigger compared to most of its jumbo counterparts, with the cooking surface alone measuring 18.5 by 15 inches. The manufacturer states that the surface is large enough for preparing 12 French toasts.
You can only imagine how many sausages will fit on it. Whether you have a large family or love to entertain or both, this one of the bestselling Presto electric griddles could be the right match for you.
When it comes to performance, you can expect perfection from this electric cooking appliance. The even heat distribution results in fluffy pancakes, crispy bacon and tender meat and poultry. You just need to set the temperature accurately and wait for the results. The food will be ready very quickly.
Features
When deciding whether to buy this electric griddle, you should consider the following features:
Heavy cast aluminum base – It's solid and resistant to all kinds of damage, from denting, bending and twisting to rust and corrosion.
Nonstick cooking surface – You don't have to use oil or butter to cook food with this electric griddle. Cleaning is super easy too.
Cool touch rim on the front and both sides – It makes the griddle safer and more convenient to handle when you are preparing food.
Patented Tilt n' Drain feature – By pulling out the handles, you can tilt the cooking plate of the griddle for cooking meat, so that the extra grease is collected more effectively. To make the surface even for preparing eggs and pancakes once again, you just need to push the handles into their places.
Backstop ledge – This built-in feature makes food handling a lot easier. It is very convenient to have.
Drip tray – It holds the excess grease. You can slide it out and empty it quickly and easily.
Control Master heat control – It maintains the chosen temperature to give you the best cooking results. It's removable so you can wash the griddle easily and immerse it in water fully, if required.
The Good about the Presto 07046 Tilt 'n Drain Big Griddle Cool-Touch Electric Griddle
Large cooking surface
Clever design
Even cooking
Advanced features
Easy cleaning
Bottom Line
Should you buy the Presto 07046 Tilt 'n Drain electric griddle? It does an excellent job while being safe and easy to use. You can expect it to be one of the most frequently used electric appliances in your kitchen for years to come.
Buy from Amazon.com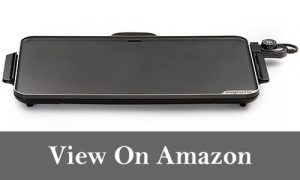 This electric griddle is large, but slim. It is just 1.75 inches tall, while most of its counterparts have a height of 2 to 3 inches. The slim design makes it great for cooking food and serving it directly at a buffet-style breakfast, lunch or dinner.
You will be happy to discover that the cooking surface measures 22 by 13 inches. It is one of the largest which you can get in the group of the best outdoor griddles and indoor ones.
This one of the popular Presto electric griddles performs as well as its counterparts. Heat is distributed evenly along the cooking surface thanks to its heavy cast aluminum make. This makes food preparation quick and hassle-free. It's a breeze to use this griddle for cooking even though it doesn't have some of the fancy features that its counterparts of the same brand boast with.
Features
What can the Presto 07072 model offer? Here are the main features which you need to assess when making a buying decision:
Heavy cast aluminum construction – It's responsible for the fabulous cooking results which you will get with the griddle and for its strength and durability too.
Nonstick surface – You'll be able to cook all types of food without any grease to prepare healthier meals for your family. Cleaning is super easy. Forget about soaking and scrubbing.
Drip tray – It is well-designed and big enough to collect grease released from the food which is being cooked. You should find it easy to slide it out to dispose of the grease and to wash it.
Removable heat control – The Control Master component is completely reliable. It maintains the temperature that you have set to ensure that your food is cooked exactly as you want it. With the heat control removed, you can immerse the griddle in water for cleaning.
Elegant handles – They are slim like the rest of the griddle's body, but enable you to hold it firmly.
The Good about the Presto 07072 Slimline Griddle
Slim design
Very large cooking surface
Perfect grilling
Durable and dependable
Hassle-free cleaning
Bottom Line
Presto 07072 is best described as a simple electric griddle with a large cooking surface which pulls off great performance while being easy to clean and to keep in good condition. It's a fine choice for every household.